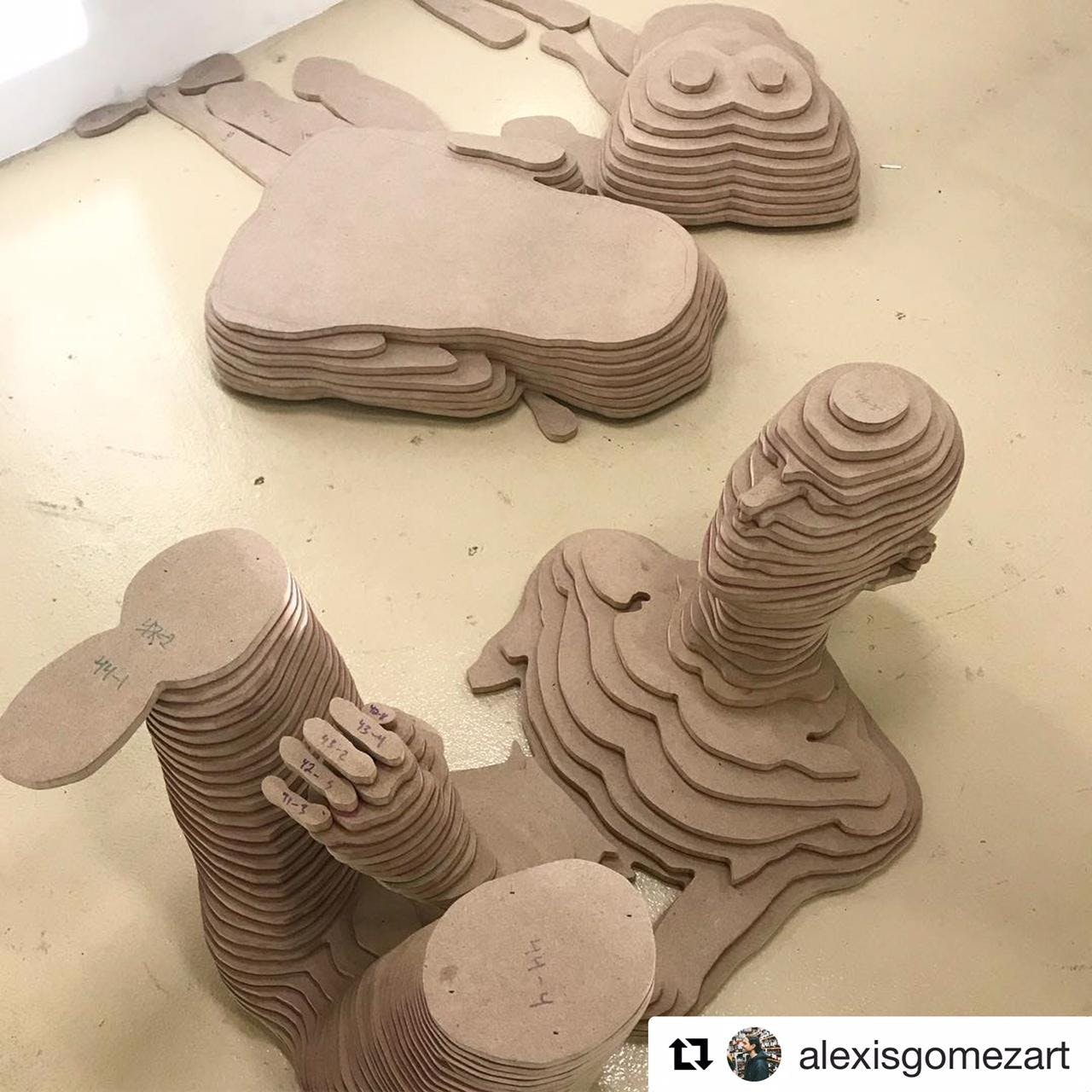 Torpedo Factory Art Center, 105 North Union Street, Alexandria, United States
Torpedo Factory Art Center
Spread the word
New and Cutting-Edge art from artists across the region, as well as artists from the Torpedo Factory Art Center. Stop by for opening receptions, special artist projects, and new media, including videos, performance art, and augmented reality.
The Late Shift is a free monthly after-hours series featuring exhibition receptions, music, live performances, artist talks, and more. Select Fridays, 7 - 11 pm.
Friday, May 25 7 - 11 pm Torpedo Factory Art Center 
Art on the Edge
New and Cutting-Edge art from artists across the region, as well as artists from the Torpedo Factory Art Center. Stop by for opening receptions, special artist projects, and new media, including videos, performance art, and augmented reality.  
7 - 9 pm Reception, 8 pm Talk: Opening Reception: 2018 Open Call for Solo Exhibition: Caroline Hatfield – Target Gallery (Studio 2)
In "Unearthing", Caroline Hatfield creates sculptural landscapes composed of industrial relics, geological formations, and mutable material boundaries that accumulate into form. The combined objects and materials emanate a cyclical energy of transformation and process. The work references the sublime experiences of our world as well as a shift outward towards a science fictional sublime.
Growing up in a Southern Appalachian coal mining community, the subjects involving environmentalism and land use have a lot of personal significance to Hatfield who often recalls the region's ironic juxtaposition of protected wilderness and mined land as a major influence on her work. Hatfield's work explores concepts of utopia and science fiction through the experience of sites, landscape, and materiality in their interdisciplinary practice. Sculptural landscapes composed of industrial relics, geological formations, and mutable material obscure boundaries and accumulate into form. The combined objects and materials emanate an energy of transformation and process, often with a cyclical quality. Depicting elemental landscapes and geological force, their work references the sublime experiences of our world while shifting outwards towards a science fictional sublime. Foreign but familiar, the models, miniatures, depictions, and descriptions of alternative worlds offer a glimpse of potential found in the balance of presence and absence.
Caroline Hatfield received their BFA in Sculpture at University of Tennessee, Knoxville, TN, and is a candidate for MFA in Interdisciplinary Studio Art at Towson University, Towson, MD.
The jury panel for this opportunity was: Jarvis DuBois, Independent Curator; Carolina Mayorga, D.C.-based Artist; and Victoria Reis, Director of Transformer.  
Gallery Receptions, Open Studios, and Special Activities  
7 – 11 pm: Augmented Reality Project: Alexis Gomez – Grand Hall
The Grand Hall of the Art Center comes alive with Augmented Reality art pieces, courtesy of Post-Grad Studio Resident Alexis Gomez. Stop by the AR table to view the artworks via our exclusive Art on the Edge app. Then visit his studio on the third floor (Studio 319) to see a sampling of Gomez's latest projects.
During his residency, Gomez integrates the virtual and physical realms as he experiments with new-media including VR/3D animation in conjunction with figural sculpture. Originally from Fairfax, Virginia, Gomez received his bachelor's of fine arts from the Corcoran School of the Arts & Design at the George Washington University. Gomez is an interdisciplinary artist with a focus in figural sculpture, painting, and animation. He is a Sparkplug member at the District of Columbia Arts Center and Flatfile artist at Transformer Gallery. He is currently living and working in Virginia.  
7 – 11 pm: Shade Renee: Installation Piece (One Night Only) – The Pop-Up Studio (Studio 9)
Visit artist Shade Renee and her brand new immersive art experience for one night only during our Late Shift. She has taken over Studio 9 for one month while the space undergoes a renovation in preparation for the new cafe. Stop by and see her pop-up project before it is gone!
Shadé Reneé, a graduate of Parsons School of Design, specializes in couture, fashion that is custom and made-to-measure. Her work is treated with opulence, love, and fierceness. She's best known for hand-embroidery and bead work, dedicating more than 3,000 hours to this talent. Recently, she was the local emerging artist selected for the "Experimentation/Exploration" Emerging Artist Residency in the New Project Studio by Jessica Kallista of Olly Olly.  
7 - 11 pm: Duende District Pop-Up: Artist-in-Residence Ashley Dequilla Opening Reception - New Project Studio (Studio 8)
Duende District, a DMV-based pop-up bookstore by and for people of color – where all are welcome – celebrates with an opening reception for Ashley Dequilla, their current Artist-in-Residence.
Founded in February 2017 by Angela Maria Spring, Duende District's mission is to bring a highly inclusive and pleasurable general bookstore experience in Washington, D.C. and surrounding areas, serving a multicultural community with an equally multicultural ownership/staff, and all are welcome.
Ashley Dequilla is a Filipina-American artist and educator who currently resides in Washington DC. She attended the College of William and Mary and the Maryland Institute College of Art, and has shown her works in the United States and in the Philippines. She is published in the Filipino American Artist Directory, and is currently training as a Visionary Responder for the Sanctuaries, a non profit organization in Washington DC whose mission is to ignite the power of the sacred arts for social and political change.  
8:30 pm - 9:30 pm: "Suffocate With Your..." Live Interactive Performance by Heloisa Escudero – Various Locations in the Grand Hall
Phobias and irrational fears can have an unhealthy affect on the lives of someone who suffers from it. In this interactive performance suffering is replaced by a humorous action of literally wiping and suffocating the symptoms away with your posterior cheeks. This action a form of non-religious prayer will help you or someone to get closer to achieving that goal via laughter.
Heloisa Escudero received her BFA in Photography and concentrations in Sculpture from the Massachusetts College of Art and MFA in Sculpture with concentration in New Genres at San Francisco Art Institute. She currently works at the Hirshhorn Museum as an Exhibition Specialist. Escudero's art piece, "One Star Double The Wishes" is currently on display in the Torpedo Factory Art Center's Grand Hall for the "Art in Common Spaces" exhibition through September 2018.  
7 - 8 pm: Fiber Demonstrations with Annemarie Feld and Heasoon A. Rhee - Fiberworks (Studio 14)
In recent years, the the tradition of fiber art has undergone a renaissance. Working with a wide range of materials to include silk, paper, leather, wool, cotton and recycled materials, Fiberworks creates both wearable and decorative works of art and is a founding studio at the Art Center. Stop by Studio 14 for art demonstrations by two Fiberworks members - Annemarie Feld and Heason A. Rhee. Live demonstrations in the studio begin at 7 pm (Rhee) and 7:45 pm (Feld).
Annemarie Feld
Born in Switzerland, Annemarie Feld worked as a crafts teacher before moving to the U.S. in 1975. She received an additional degree in Communication Arts and Design from the Virginia Commonwealth University and opened Feld Design in 1980, designing award-winning visual communications materials for multi-national clients based in Europe and the United States. Feld's designs create tension by counterbalancing the soft, irregular shapes of natural leather or fabrics with hard-edged metal handles and clasps ordinarily used in farm equipment. Re-purposed hardware, natural imperfections on leather, irregular shapes and recombination of vintage buttons lead to the design solution.
"The challenge of weaving a dramatic story with textures and shapes instead of words, gives me satisfaction. Successfully combining the mix of fabric, leather, organic fibers and other materials in fresh and unexpected ways is a wonderful creative challenge. Fish leather enhances the Llama fleece vest and the closures on my clothes might be combinations of vintage buttons and modern day machine parts."  
Heason A. Rhee
Rhee was trained as a textile scientist and worked in a textile chemical companies, yet was always intrigued by the design aspect of textiles. There are two components in designing textiles: one is pattern, the other is color. When she was in reproducing fabrics for antique cars restorations, she became familiar with weaving structures. This led her to design her own patterns. In the development process, the patterns are created with a combination of creating rough sketching and Photoshop software. Currently, most of her works are created with a 40 shaft dobby loom. Beginning in May, she started weaving with a Jacquard loom which allows graphic imagery and pattern to be woven with articulation.    
7 - 8 pm: Extended Hours and Art Demonstration - Scope Gallery (Studio 19) and Fire On (Studio 22)
As one of the original medium-specific cornerstone galleries of the Torpedo Factory Art Center on the waterfront of historic Old Town Alexandria, Scope Gallery has been providing visitors with the highest quality of clay art work since 1974.
The gallery provides a vast array of ceramics including functional artisan high-fire pottery, sculptural forms and decorative vessels. More than 30 local Washington-area artists exhibit at Scope, representing more than a dozen international regions and countries, resulting in a depth and blend of diverse forms seen nowhere else. Each artist personalizes his or her art form and technique, affording visitors the opportunity to examine endless possibilities in clay and more specific aspects of glazing, firing, construction and decorating techniques.
Scope Gallery and Studio 22 artist Tracie Griffith Tso will be demonstrating Chinese brushpainting from 7-8 p.m. Learn how traditional compositions are made, centering on black ink and disciplined strokes of natural-hair bamboo-handled brushes and catch her new work, debuting in Studio 17 Friday and Saturday. Visit traciegriffithtso on Instagram, Facebook, Pinterest and at inksart.com    
7 - 8 pm: Extended Hours and Art Demonstration - Potomac Fiber Arts Gallery (Studio 29)
Visit Studio 29 in the Grand Hall to view the gallery works up close, and for a live art demonstration with Potomac Fiber Arts Gallery Member Grace Mehanes.
Potomac Fiber Arts Gallery was the first fiber arts gallery in the metropolitan Washington, DC, area. It was established in September of 1974 and was an original occupant of the Torpedo Factory Art Center in Old Town Alexandria, Virginia. It is a cooperative association of up to 70 fiber artists, many of whom teach and have been published.
Grace Mehanes is an active member of Potomac Fiber Arts Gallery. She will provide demonstrations of this unique craft beginning at 7 pm.    
7 - 11 pm: Extended Hours - Printmakers Inc (Studio 325)
For over 35 years Printmakers Inc has been a workshop/gallery where professional printmakers share facilities, materials and ideas while interacting with and educating the public about this art form.
Prints by member artists are included in many collections worldwide, among them the Library of Congress, National Women in the Arts, British Airways Smithsonian National Museum of American History and many more.
Stop by all night for extended hours and to view the current exhibition of prints in their gallery by Printmakers Inc Member and new studio resident M. Alexander Gray (Studio 344).  
7 - 11 pm: Hands-on Art Making with the Mobile Art Lab - Grand Hall
Join Alexandria Office of the Art's beloved movable art project as they set up shop in the Torpedo Factory Art Center for a night of fun art-making.