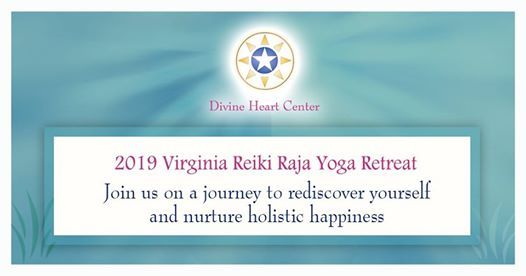 Ashburn, Virginia, United States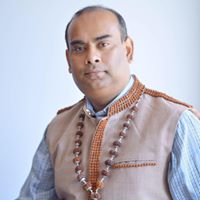 Divine Heart Center
Spread the word
Divine Heart Center (DHC) invites you to this year's Virginia Reiki Raja Yoga Retreat, August 2-4, Ashburn, Virginia.
You will achieve deep states of meditation for inner peace, burning karma, and self-realization. New seekers will be initiated into the channels of Reiki Raja Yoga where they will be taught a wide variety of power techniques that can be practiced anytime of the day, enabling us to be in a meditative state at all times.
A number of these meditations have been practiced by realized Yogis for hundreds of years. While many other techniques have been designed specifically by the wisdom and insight of Shailesh Kumar, founder and Guru of DHC.
Reiki Raja Yoga meditation strengthens an individual's connection with the universal powers of love and will.
Benefits of Reiki Raja Yoga:
• Gain clarity into the purpose of life,
• Increases initiate's level of awareness,
• Nurtures love for self and others,
• Dissolves mental blocks,
• Strengthens perseverance,
• Transforms overall quality of life by dissolving fears and anxious thought patterns, and
• Helps in cultivating inner peace.
You do not have to believe in a particular faith or God to harness the power of Reiki Raja Yoga. It is more about your connection with a higher power or the Absolute, as it makes sense to you. No matter where you are in life, Reiki Raja Yoga will evolve you to the next level of awareness.
Read more about Reiki Raja Yoga:
https://www.divineheartcenter.com/pages/about-reiki-raja-yoga
This retreat is suited for dedicated Yogis looking for self-realization and liberation along with busy individuals living a corporate lifestyle.
For new seekers, who would like to know more.
Attend a free Satsang (Sanskrit word that means "gathering together for the truth" or, more simply, "being with the truth") on August 2, 2019, 8-9:30 PM to make yourself aware and experience what DHC has to offer for your spiritual well being.
ABOUT DIVINE HEART CENTER
Divine Heart Center teaches integrated Reiki Raja Yoga for modern times - an evolutionary spiritual discipline to bring about holistic happiness in the life of an initiate.
https://www.divineheartcenter.com/pages/a-message
EVENT DETAILS
Whether you are an existing initiate or a new interested seeker, please check the link below for different registration options.
Dates: August 2-4, 2019
Location: Ashburn, Virginia
To register, please visit:
https://www.divineheartcenter.com/products/2019-virginia-retreat
For any questions, contact:
services | divineheartcenter ! com
Gaurav Chikara:
gaurav ! chikara | divineheartcenter ! com
or 571-354-0110