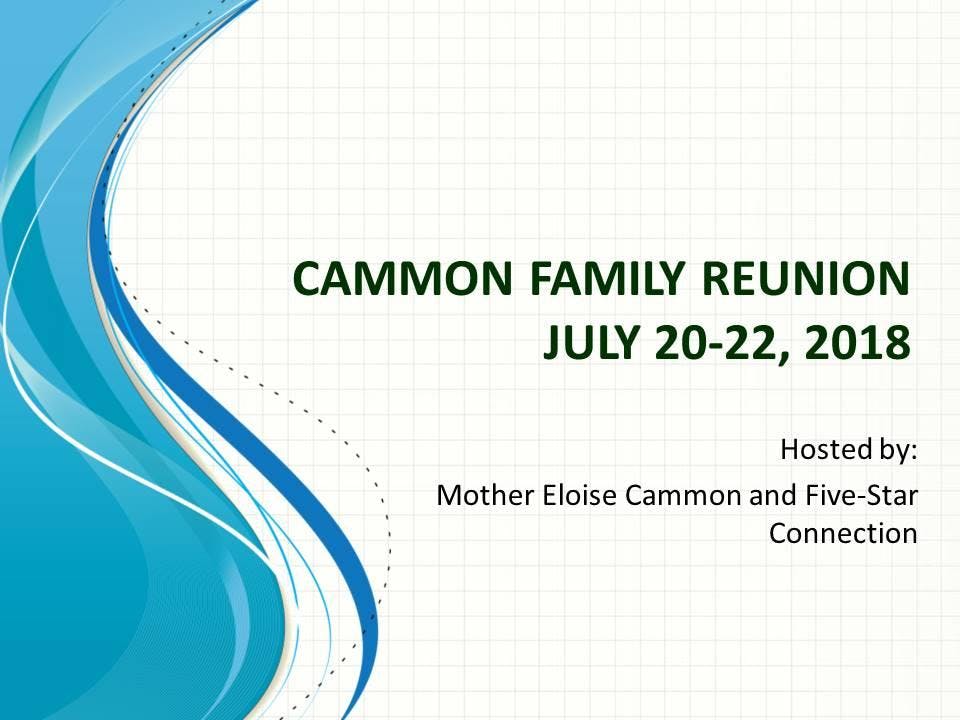 Embassy Suites Dulles - North/Loudoun, 44610 Waxpool Road, Ashburn, United States
Eventbrite
Spread the word
Mother Eloise Cammon and Five-Star Connection
c/o Deborah Atkins
P. O. Box 444
Gainesville, VA  20156                                                      
atkinsdbi | msn ! com
Hello Family!
 Our Family Reunion Theme:  Being Planted and Rooted in Love Keeps Our Hearts Connected!
Our Cammon Family Reunion is fastly approaching! This letter contains VERY important information for those who plan on attending. 
1.     If you are attending the reunion we need your deposit of $45.00 per adult and $25.00 per child (5 – 14 years old) by March 3, 2018. Our plans are coming together and the vendors require head counts and cash deposits; therefore our final decisions will be based on the number of those who send in their deposit by March 3, 2018. 
2.     ALL REUNION DUES MUST BE PAID BY JUNE 2, 2018.  Your cost for attending the reunion is $90.00 per adult and $45 per child (5 – 14 years old).  Please send your deposit by money order or cashiers check to Deborah Atkins at the P.O. Box above.  If you wish to send funds electronically you may do so using the CASH APP.  Your deposit will be deducted from your total reunion dues. 
3.     You must make your hotel reservation by 22 June 2018. We cannot guarantee that you will get a room at the special rate after that date.  You may make your hotel reservation at the following link 
http://embassysuites.hilton.com/en/es/groups/personalized/W/WASNLES-CFR-20180720/index.jhtmlor
call the hotel directly and use code "CFR" to get the reduced rate of $119.00 per night.  The hotel name and address is:  Embassy Suites, 44610 Waxpool Rd, Dulles VA, Phone:  703 7235300. 
4.     To order your T-shirts use the enclosed form or contact me with the information. 
5.     Also, we need a list of children ages 6 – 12 that will be attending with you (this information is needed for one of our vendors).  You may provide this information on the enclosed T-Shirt Order form or contact me as soon as possible with the information.  
We are looking forward to having a grand time with games, touring, eating and just good old fashion fellowship!  We look forward to seeing you in July!  If you have any questions or concerns please feel free to call me.
 With Love,
 Deborah Atkins