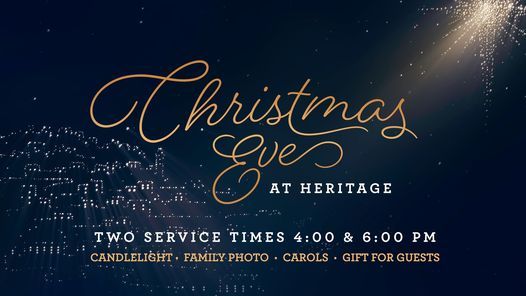 Heritage Baptist Church, 21700 Shellhorn Road, Ashburn, VA 20147, Ashburn, United States
Heritage Baptist Church
Spread the word
Celebrate Christmas Eve at Heritage Baptist Church. Enjoy singing Chrismas carols, experience wonderful music, and be encourage with a message filled with hope from Pastor Steve.
Times and Location
December 24th
4:00 & 6:00 PM
*Each service will only be 60 minutes
Heritage Baptist Church
21700 Shellhorn, Rd.
Ashburn, VA 20147
Candlelight Portion
The service will also include a special candlelight time your family can enjoy together.
Just for kids
Quality and clean childcare will be available for children 5 years old and under, and all children will receive a candy cane when they arrive.
Free Family Photo*
We will have a special Christmas photo booth and a photographer available for you to take a beautiful family photo and create a great memory.(*Photos will be available for you to download off of our Facebook page)
Healthy and Safety
Enhanced health and safety precautions will be taken during both services.
- Masks or faceshields are required
- Social distancing will be obeserved
- Touchless handsantizers provided
- All volunteers will be in proper PPE
- Unused candles used for each service
Enhanced Cleaning will take place before and between services.
Questions
Please contact Pastor Steve Miller with any questions about Christmas Eve at Heritage.
steve | myhbc ! us
iCause.com promotes public events for free and helps event organizers connect with nonprofits to attract more participants like you.
Additionally, the iCause Global Foundation enables good people to fund great causes around the world. Together, our impacts are limitless!