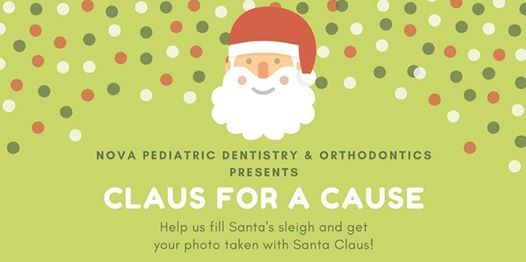 NOVA Pediatric Dentistry & Orthodontics, 21785 Filigree Court 208, Ashburn, Virginia 20147, Ashburn, United States
NOVA Pediatric Dentistry & Orthodontics
Spread the word
NOVA Pediatric Dentistry & Orthodontics is proud to team up with Mobile Hope to help those less fortunate this holiday season.
SIGN UP and RESERVE your spot now:
https://m.signupgenius.com/#!/showSignUp/9040C4CAAAC2CA1FB6-claus
Please bring one of the following items (unwrapped) to donate to Mobile Hope:
· New T-shirts for boys of all sizes
· Diapers (size 4,5,6) and wipes
· Backpacks of all sizes (Elementary-High School)
· Crayons/Colored Pencils, Markers
· Pencil Pouches
· Gift cards (Grocery Stores, Gasoline, Uber/Lyft, Bus Tokens, Restaurants)
In an effort to make your family pictures with Santa go smoothly, please arrive within your designated time slot so that we can complete your session in a timely manner.
IN ADDITION TO HAVING YOUR PHOTO TAKEN WITH SANTA, THIS EVENT WILL HAVE CRAFTS AND LIGHT REFRESHMENTS.