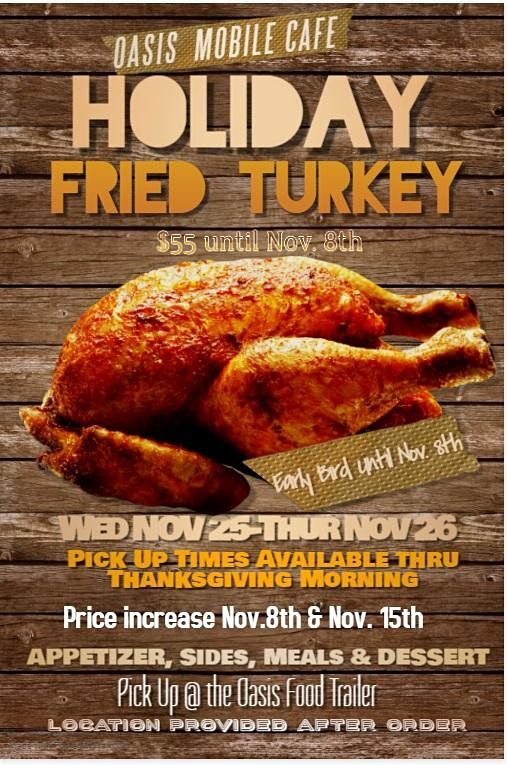 Ashburn, United States
Eventbrite
Spread the word
All turkey orders will be available at pre-arranged pick-up times @ the Oasis Food Trailer w/ Re-heating Instructions
About this Event
All turkey orders will be available at pre-arranged pick-up times at the Oasis Cafe Food Trailer in Ashburn, VA. Re-heating instructions will be provided with each order.
Take home and serve it up! Delicious side items available! Our Cajun Style Fried Turkeys are now available for pick up during the Holiday Season! We recommend you reserve your turkey as soon as possible since quantities are LIMITED. Pick Up times will begin Wednesday November 25th at 9am and will run through Thanksgiving (November 26th) until 10am.
Our Cajun Fried Turkey has delicious crispy skin on and tender juicy meat on the inside. Frying a turkey is the best way to ensure that the meat doesn't dry out. We inject all of our turkeys with a spiced butter marinade that helps the meat stay juicy and gives it incredible flavor. Our turkeys are usually between 12-14 lbs and can feed 4-6 people.
We have boneless fried turkey breast for those who don't care for bones.
Reserve your order today!
Early Bird Specials Until November 8th! Limited amount!
Delivery available for a small charge!
Dinners include Cabbage, String Beans, Potato Salad, Sweet Potatoes, Mac & Cheese and Dressing
Corporate and Holiday Dinners available a la carte!  Call for pricing
iCause.com promotes public events for free and helps event organizers connect with nonprofits to attract more participants like you.
Additionally, the iCause Global Foundation enables good people to fund great causes around the world. Together, our impacts are limitless!