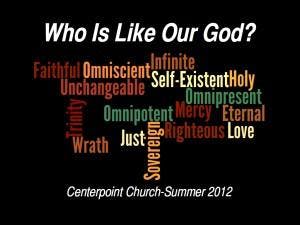 Bridge Community Church, 21660 Red Rum Drive, Ashburn, United States
Eventbrite
Spread the word
This is a 6 week study that will provide an in depth look andexamination into who God is. It is designed to:
Teach students a systematic approach to studying God
Reconcile the things about God that you have trouble accepting,
Give you a greater understanding of who He is,
AND fall in love with him to a level you have not reached before. 
Space is limited. Cost $10 for materials.
Time: 7:00 to 8:30
When: Every Wednesday starting May 2nd  and ending on June 6th
For questions please contact Jennisse Silvestri at  703-298-0981 or 
jjsilvestri | gmail ! com