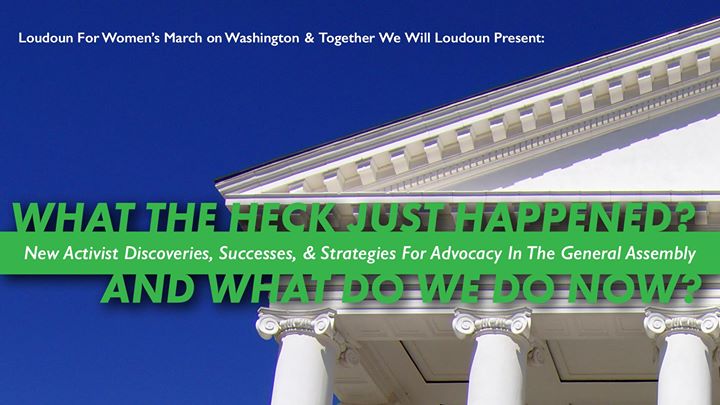 Ashburn Library, 43316 Hay Rd, Ashburn, United States
What The Heck Just Happened? And What Do We Do Now?
New to citizen advocacy and engaging with Virginia Lawmakers? So Are We! We're Talking Discoveries, Successes, and Strategies after the whirlwind General Assembly Session in Richmond.
Join Loudoun For Women's March and Together We Will Loudoun for a fun and informative session.
Saturday March 17th
10:30am – 12:30pm
• Recap of General Assembly session
• A look at the grassroots activism that occurred and its impact on the conversation in Richmond—were our efforts successful?
• Advice and lessons learned from this session and tips for moving forward
• Update from lawmakers and ways to work with them in the coming months
• Next step actions to stay engaged.
****************
We are still finalizing our speaker list but are thrilled that we'll be joined by:
• Delegate David Reid (32nd District)
• Delegate John Bell (87th District)
• Barb Jones, Director of the New Activist Center at the Virginia Civic Engagement Table (VCET) in Richmond
• Holly Seibold, Founder and Executive Director of BRAWS (Bringing Resources to Aid Women's Shelters)
Keep checking back, we will be adding more guests soon!