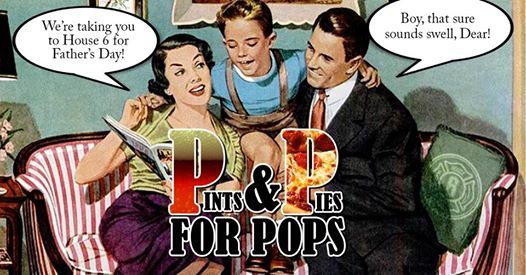 House 6 Brewing Co., 44427 Atwater Dr suite 160, Ashburn, Virginia 20147, Ashburn, United States
House 6 Brewing Co.
Spread the word
We've teamed up with our friends Mellow Mushroom to bring their delicious pizza right here to House 6 for Father's Day. The result? Pints & Pies for Pops! Skip the usual neckties and cologne this year and give Dad what he really wants, a relaxing afternoon at his favorite brewery! Space is limited so get your tickets today. Here's what's included:
Mellow Mushroom catered Father's Day Menu
Oh, Kale Yeah Salad - baby kale and spring mix with fresh avocado, dried cherries, house-made candied pecans and bleu cheese crumbles, served with viniagrette
Two slices of Mellow Mushroom pizza, your choice of Kosmic Karma, House Special or Holy Shiitake:
House Special - mellow red sauce with mozzarella, pepperoni, sausage, ground beef, ham, applewood smoked bacon, mushrooms, black olives, roma tomatoes, green peppers, onions topped with extra mozzarella
Kosmic Karma - mellow red sauce with feta cheese, mozzarella, fresh spinach, roated tomatoes and roma tomatoes with a pesto swirl
Holy Shiitake Pie - olive oil and garlic base with shiitake, button and portobellow mushrooms, caramelized onions, mozzarella and montamore finished with a garlic aioli swirl and a spritz of black truffle oil; garnished with fresh chives and shaved parmesan
House Baked Gourmet Cookies - choice of triple chocolate chunk and peanut butter made with Reese's peanut butter cups
Includes your choice of a pint of House 6 beer.
(Under 21 ticket includes your choice of available non-alcoholic beverage.)