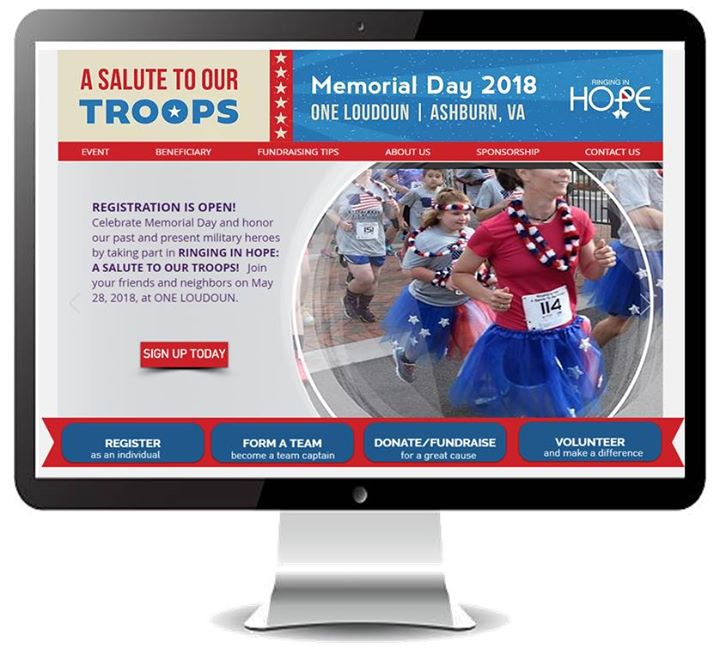 One Loudoun, 20626 Easthampton Plz, Ashburn, United States
One Loudoun
Spread the word
Celebrating 5 Years at One Loudoun! Benefiting Boulder Crest Retreat
Celebrate Memorial Day and honor our past and present military heroes by taking part in RINGING IN HOPE: A SALUTE TO OUR TROOPS! Join your friends and neighbors on May 28, 2018, at One Loudoun— Loudoun County's new downtown—and make this Memorial Day a truly memorable one. Run, Walk or Jog and celebrate with us as we honor and celebrate the men and women who serve our country!
SIGN UP TODAY:
www.ringinginhope.com
Race Times:
8:00 am 5K
8:10 am 10K
9:30 am 1K
VENUE LOCATION!
One Loudoun (main plaza): 20626 Easthampton Plaza, Ashburn, VA 20147
Designated Charity: BOULDER CREST RETREAT
Healing Heroes. One Family at a Time.
Boulder Crest Retreat in Loudoun County is the first privately funded non-profit wellness center for veterans and their families healing from combat-related stress providing.
Please consider making a donation, fundraise, or secure a Corporate Matching Donation to Boulder Crest Retreat. Additionally, participants will be asked to bring a donated item to Packet Pickup or on Registration Day.
Race Lineup
Here are just a few of the things you will enjoy:
· More than $5,000 in awards and prizes to race participants!
· Family Fun Activities and an Activity Center for the Kids!
· Technical T-shirts for 5k and 10k participants
· Festive and Patriot Music
· Dog tags and Finishing Ribbons for 1K participants (children)
· Food at the finish line
· Free massage at the finish line
· Team Competitions
· Stay Post Race to Eat & Celebrate at One Loudoun!
5K Timed Event
$30 Until Midnight April 1, 2018 (Early Bird Registration)
$35 From April 2 – May 24, 2018
$40 May 25th – May 28th (increases after online registration closes)
10K Timed Event
$35 until Midnight April 1, 2018 (Early Bird Registration)
$40 From April 2 – May 24, 2018
$45 May 25th – May 28th (increases after online registration closes
1K Fun Run/Walk
$15 per person 3 and older (under 3 is free)
*Walkers under 12 must be accompanied by a parent/guardian. If parent/guardian is registered for 10K or 5K race, parent/guardian is free for 1K event. 1K admission includes a dog tag and finisher ribbon to proudly display as participant makes his/her way around the 1K course
​
5K & 10K Co-ed Team Competition
Get your running buddies, family, friends and co-workers together and have fun challenging other teams. A trophy will be awarded to the fastest team (top 4 finishers) as well as the team with the most participants (in both the 5k and 10k event). All teams are coed, with a minimum of 5 people. A minimum of 2 persons of each gender are required to form a team. No exceptions. A single team may have as many members as desired. The top 4 on each team will score. Scoring is Cross-County Style; lowest aggregate time of the top 4 team members wins.
TECH SHIRT DEADLINE: To be guaranteed an Official Ringing in Hope Tech shirt, please be sure to register by May 14th. After that date, shirts will be available on race day following the race on a first come, first served basis, if still available. The event offers a uniquely designed commemorative short-sleeved technical t-shirt to registrants in the 5K and 10K Race. Sizes available are Unisex; Youth Medium and Large, Adult Small, Medium, Large, X-Large, **-Large and XXX-Large. Runners will receive the t-shirt size they have ordered as indicated on their bib in order to help ensure participants receive what they requested.