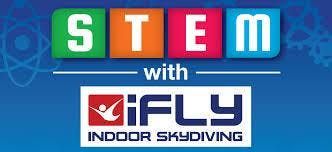 20315 Commonwealth Center Dr, Ashburn, United States
Eventbrite
Spread the word
Come celebrate the end of the school year with iFLY Loudoun!
It's Summer! You have worked hard all year, now it's time to celebrate with iFLY's STEM Pizza Party! Come and explore how science comes alive with flight. This exclusive event will include an exciting presentation, ball demonstration in the wind tunnel, and flights while learning about STEM at iFLY! This event is specifically for Elementary-High School level students and will start promptly at 10:00am on Friday, June 14th!
What will the event include?
Ball demonstration and experiments in the vertical wind tunnel
Fun presentation with our STEM Educators
2 flights per flyer, including all flight gear and training
Q&A with an iFLY Certified Instructor
Pizza Party! 
Learn more about our STEM Program here:
All participants should check-in at iFLY no later than 10:00am on the date of the event. Those late may miss some of the activites.
The event will start at $49.95 per flyer, a $30 discount from our normal pricing ($79.95 for 2 flights only)!
Parents accompanying children are FREE, but must pay if they wish to fly.
Cancellations and refunds are not permitted after June 12th (2 days before the event).
If you have any additional questions about the event, please reach out to the iFLY Loudoun Team at 571-210-5964 or
sales ! loudoun | iflyworld ! com
.
*iFLY Loudoun reserves the right to change or cancel the event if necessary. Thank you.