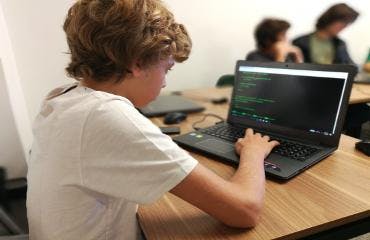 SpiderSmart Learning Center of Ashburn, 20915 Ashburn Road, Ashburn, United States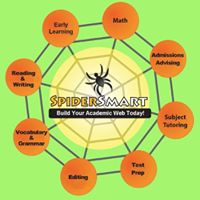 SpiderSmart of Ashburn
Spread the word
Welcome to Programming with Python!
This is an introductory course on programming with Python, which does not require prior programming experience. During this course we will cover key components of the Python programming language to help you build an entry-level understanding of the following programming concepts as they relate to Python:
 Environment Setup Interacting with IDLE & the Python Shell Variables / Expressions / Statements Decisions / Looping Functions Data Types & Data Structures Modules (Standard Library) Exception Handling AWS Project
The course will culminate with a team-based Hack-a-thon capstone project that draws on the students' knowledge of programming and cloud computing.
NOTE: This is an intensive 2 week course that does include homework. Outside study time is expected. Come prepared to learn and to code!
About the Instructor  
Charles A. Hessifer has been involved in the designing and building of large scale data centers around the world, taught law enforcement and government officials on forensics, incident response, and data security; managed information system infrastructures for organizations such as DEC (Digital Equipment Corporation), Microsoft, Guidance Software, US-CERT (United States Computer Emergency Readiness Team) Travelocity, Yahoo, and Amazon Web Services (AWS). With more than 20 years of industry experience in Information Technology (IT) and Security Engineering, Charles has been responsible for training IT professionals and students on topics such as information security, forensics, Linux, networking, and programming. Charles currently works as a Systems Development Manager, responsible for leading a team of DevOps Engineers in support of Amazon's Route 53 service. Charles has been active in a number of professional organizations including CSI (Computer Security Institute), HTCIA (High Tech Crime Investigation Association), GFIRST (Government Forum of Incident Response and Security Teams), ISSA (Information Systems Security Association), and more. He has provided training and lectures at various events including Department of Homeland Security Conference, SANS (SysAdmin, Audit, Network, Security), University of California Berkley, HTCIA, CEIC (Computer and Enterprise Investigations Conference), and more.
FAQs  
Are there ID or minimum age requirements to enter the event?
The minimum age for this course is 12 and the maximum age for this course is 18.  
What are my transportation/parking options for getting to and from the event?
Free parking is available at the center.  
What can I bring into the event?
You must bring a laptop on which the student has administrative priviledges.  
How can I contact the organizer with any questions?
Contact Jessica at
Ashburn | SpiderSmart ! com
with any questions.
Do I need to already know how to program for this course?
No, some experience will be beneficial; however, it is not required.
How long is the course?
The course takes two weeks (12 classes), requiring class attendance from 6pm to 9pm (Mon – Sat). The first hour is used for tutor time and additional hands-on practice. The last two sessions of the course you will participate in a Hack-a-thon, where you will work in teams to produce an actual product.
How long does each session last?
Each session will last for 3 hours, which will give you 12 hours of tutor time and 24 hours of instructor lead exposure to programming in Python.
Will there be take home work?
Yes, we recommend that students practice what they have learned during the week for 35 minutes a day.
Will we receive a certificate at the end of the course?
A certificate of completion will be awarded to those students who have an attendance rating of 90% or better.
What happens if the instructor is unavailable for a session?
Our instructors will make every attempt to attend each class; however, if there is a class cancellation do to instructor absence, a make-up day will be offered to the students.
What is the minimum classroom registration requirement for the course?
To maximize productivity and efficiency, each course requires a minimum of 5 registrants.
What happens if the course I registered for is canceled?
A complete refund will be granted.
What material is required for the course?
your tuition includes the cost of the textbook used in this course.
If we are unhappy with the course do we get our money back?
You have up to two sessions of training to cancel your enrollment. Upon cancellation, we will provide a refund (course cost – 20% registration fee) within 30 days of successful cancelation.
How do I cancel my registration?
Please contact Ms. Jessica at
Ashburn | SpiderSmart ! com
. 
What if after successfully taking the class, I am still having difficulty comprehending the material?
Each student is afforded the opportunity to reseat the class for which they registered once in a twelve-month period.
Are there any rewards for referring students to the course?
After successful completion of the course by a referred student, the individual responsible for that referral will choose between a $20.00 gift certificate to Amazon or a 20% discount on registration to one of our courses.