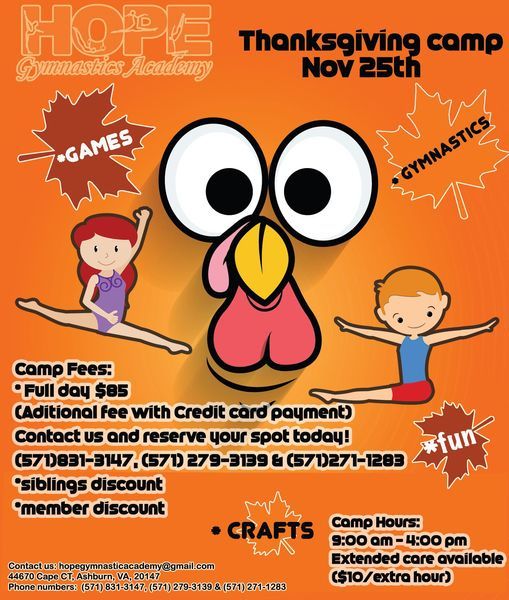 HOPE Gymnastics Academy, 44670 Cape Ct, unit 120, Ashburn, United States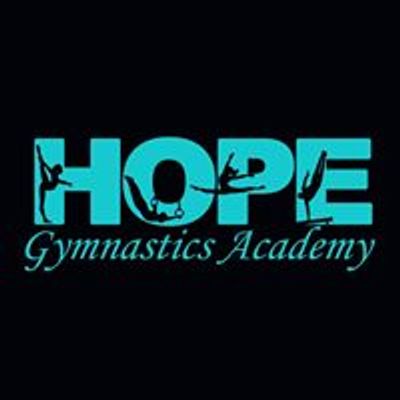 HOPE Gymnastics Academy
Spread the word
HOPE Gymnastics Academy gives children aged 4 - 14 the oportunity to experience learn and enjoy Gymnastics.
Our camp is available for November 25th.
You can make theregistration on the link below.
At this moment we have limited spots available and we follow a strict protocol to enter and exit of our facility following CDC guidelines for COVID-19.
https://app.iclasspro.com/portal/liberoathleticcenter/camp-details/245?typeId=1&filters=%7B%22ages%22:%226%22,%22genders%22:%220%22%7D
Camps are coached by professional staff who continually and creatively look for ways to motivate campers through our rewards points system, emphasizing leadership, good sportsmanship, teamwork, and above all - FUN!
* A lot of activities for all ages.
* Open to Members and non members.
* Kids 4 years old and up.
* Potty trained require.
Don't forget to ask about siblings discount.
Before and after care available $10/Per hour.
Due to Covid-19 we have the following protocol:
Coaches are asked to have clean shoes for gym only and change into them right after entering the building.
NO personal items allowed in the building unless they are able to be placed in your bag or backpack. Please "social distance your bag/backpack from the belongings of other coaches.
Frequent hand washing will be encouraged by all athletes and coaches while in the facility.
At the end of practice please have all athletes wipe their station and equipment. The equipment that was not disinfected by the athletes needs to be cleaned by the coach before the next group starts their practice.
Bring water bottle. Water fountain is closed until further notice (touch less water bottle refill station will remain open).
Coaches are required to wear masks while coaching.
Coaches are required to practice social distance with the athletes while in the gym.
Coaches are not allowed to spot the athletes until further notice.
IMPORTANT (for athletes and coaches) DO NOT ENTER THE GYM IF...
- You have fever of 100.4 or over
- You have shortness of breath or difficulty breathing
- You have sore throat, chills or muscle pain.
- Anyone in your house is sick
- You have been in contact with anyone who has Covid-19 in the last 2 weeks
Rules and guidelines that have been shared with athletes and families:
We have in place a new social distancing layout that offers each gymnast the opportunity to work in her own space.
All used equipment will be wiped and disinfected after each group.
Girls will be asked to wash their hands frequently. We will have several hand sanitizing stations in the gym.
Coaches will be wearing masks during the practice.
Coaches are not allowed to spot the gymnasts until further notice.
Note: Hope gymnastics reserves the right to cancel camp activities due to insufficient enrollment, fees non-refundable, peanut free facility and we are zero tolerance bullying facility.
iCause.com promotes public events for free and helps event organizers connect with nonprofits to attract more participants like you.
Additionally, the iCause Global Foundation enables good people to fund great causes around the world. Together, our impacts are limitless!