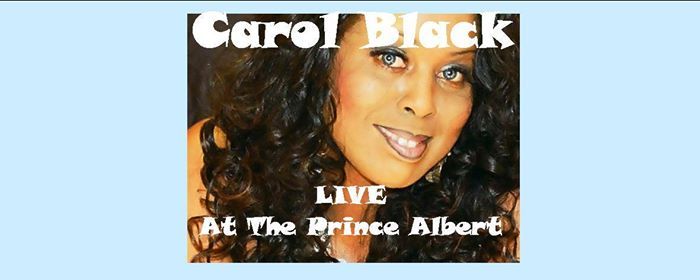 The Prince Albert, 2 Broadway, DA6 7LE Bexleyheath, Bexley, United Kingdom, Bexley, United Kingdom
The Prince Albert
Spread the word
We always look forward to Carol coming back to perform for your entertainment.
Take a look below for some more info about her and her mucical style.
Carol Black has performed up and down the U.K, the Middle East, North Africa, America & Europe doing clubs, as a solo singer, or as part of a band up to a seven piece. She would often be the warm up act for a number of other acts, such as the late Mike Reed, Jim Davison and Joe Pescalli.
She has toured with Matt Bianco doing venues such as the Blue Notes throughout Japan, and stadiums across Europe. She has shared the stage with some of music's greats such as, James Brown, Chaka Khan, Mica Paris, Level 42 and Imagination.
Through the years, her close relationship with a small Indie record label Mass Music, along with Lovecat music, based in New York and L.A, provided her the forum to become part of a writing team that would go on to write songs that would feature in a number of film and T.V shows. She has been credited for music in the movie Babel, In America, Hell to Pay, Brave One and TV shows such as Sex & The City, Ugly Betty, Sweet 16 and more.
Carol's influences are many, as she lists them as: Stevie Wonder, Luther Vandross, Marvin Gaye, Donny Hathaway, Al Green, Bob Marley, Dennis Brown, Nina Simone, Ella Fitzgerald, Nat King Cole, Gladys Knight, Chaka Khan, Betty Wright, Phyllis Hyman, Denise Williams, Teena Marie, Karen Carpenter, and many more.
We Are really looking forward to having her her for your entertainmen