United Skates of America - Refugee Rd., 3362 Refugee Rd, Columbus, Ohio 43232, Bexley, United States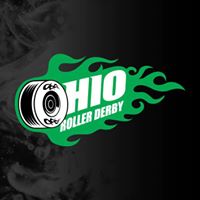 Ohio Roller Derby
Spread the word
WannaBe Clinics are two hour clinics, led by dedicated Ohio Roller Derby skaters, that teach basic derby skating skills. You'll cover all the basic skills, but no contact drills. Clinics are a great workout and an awesome way to learn more about roller derby! Plus, if you're interested in joining our rec league, attending a clinic is the first step to doing that.
Clinics are only $10! (Cash only, please.)
Feel free to RSVP here, but you must contact
recruiting | ohiorollergirls ! com
to officially sign up and hold your spot in the clinics.
While it helps to have some basic skating skills, it is not required. All attendees must be at least 18 years old.
Rental skates are available at no extra charge, but if you have your own gear, please bring it. You'll need a helmet (for wannabe clinics, bicycle helmets are acceptable), a mouth guard, elbow pads, wrist guards, and thick, hard-shell knee pads.
If you don't have gear, you can borrow it from us. Please let us know when you sign up that you need to reserve gear and/or buy a mouth guard for $2.00.
Please don't waste your money buying skates without any experience; rather, save it until you can be fitted and buy proper derby skates, and ask questions of our experienced skaters about what to buy.
Wear comfortable workout clothes or anything that allows you to move freely. We recommend you wear something that covers your thighs, Bring a water bottle and a bandana (required if you are borrowing a helmet).
Clinics are not mandatory for trying out for OHRD, but they are mandatory for the O-H! Rec League. We recommend clinics before trying out for OHRD because they provide the opportunity to work on the basic skills needed for a good foundation for playing roller derby.
Checklist for those participating:
1. Email
recruiting | ohiorollergirls ! com
to sign up.
2. Indicate if you need to purchase a mouth guard and/or borrow gear.
3. On the day of the clinic, bring $10 cash, your gear, a water bottle, a bandana and $2 if you need to buy a mouthguard.
4. Wear comfy clothes.
5. Have fun -- and don't be nervous!