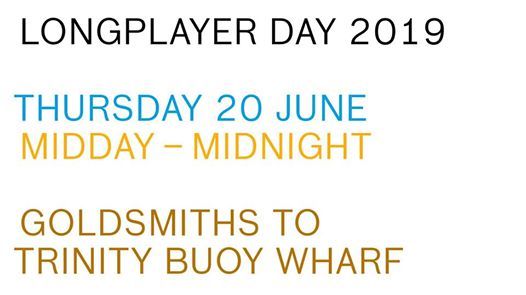 South East London, Bexley, United Kingdom
Longplayer
Spread the word
::LONGPLAYER DAY 2019::
Thursday 20 June 2019 | midday - midnight
Various Locations: Goldsmiths (New Cross) to Trinity Buoy Wharf (Poplar)
All events are free to access.
Featuring: Ryoko Akama, Ele Carpenter, Oliver Coates, Rhodri Davies, Tess Denman-Cleaver, Max Eastley, Shiva Feshareki, Jem Finer, Clare Gasson, Hither Green Drone Orchestra, Debbie Kent, Aleks Kolkowski, Graham Lambkin, John Lely, 'Gertrude Stein, The Making of Americans' Reading Group, Phil Minton, Áine O'Dwyer, Lee Patterson, Marcus du Sautoy, Lindsay Seers, Blanc Sceol, Gavin Starks, David Toop and Jennifer Walshe.
On Thursday 20 June 2019, from noon until midnight the Longplayer Trust and Goldsmiths, University of London will host the second of the biennial festival Longplayer Day. The day is peripatetic: the audience move from one location to another, choosing their agenda for the day from the time-specific events, free to join proceedings when they choose. Performances happen in parks, abandoned police stations, churches and on the Thames shoreline, mapping the route to the end destination of Trinity Buoy Wharf (Poplar) at sunset.
Longplayer Day is inspired by Longplayer, a one thousand year-long composition by the artist Jem Finer. Its curated programme of new commissions, performances, talks, publications and collective activities explore time and duration, and seek to inspire audiences into new consideration of long-term behaviours, environmental awareness and durational thinking. In keeping with the festival's themes, Longplayer Day takes place biennially on or around the summer solstice (the longest day of the year).
::LONGPLAYER DAY 2019: FULL PROGRAMME AND TIMINGS::
1.
RHB 167, GOLDSMITHS, UNIVERSITY OF LONDON
SE14 6PP | 51.47441, -0.03639
12:00
GAVIN STARKS
Introduction
12:10
LINDSAY SEERS
'For Whom the Bell Tolls'
A self generating talk possibly based on John Donne, the Immediate Data of Consciousness and Tibetan Book of the Dead, amongst a multitude of other things that will spontaneously arise.
2.
BACK FIELD, GOLDSMITHS, UNIVERSITY OF LONDON
SE14 6NW | 51.47323, -0.03647
12:30
RHODRI DAVIES
'Wound Response'
Wound Response forms an attempt to find fluid pitch and rhythmic relationships: to work with multiple voicing that don't settle into a groove but stay around long enough to tumble into another set of compound parts.
3.
BACK FIELD, GOLDSMITHS, UNIVERSITY OF LONDON TO OLD DEPTFORD POLICE STATION
SE14 6NW | 51.47323, -0.03647
12:50
HITHER GREEN DRONE ORCHESTRA
Pauline Oliveros - 'Horse Sings From Cloud'
"Horse Sings From Cloud" is based on a simple text score that involves deep listening, self control and a curbing of the desire to constantly change. For this realisation of the score the Orchestra will be walking from one venue to the next.
4.
OLD DEPTFORD POLICE STATION
SE14 6LG | 51.47942, -0.0319
13:30
DAVID TOOP
Time & Paper Studies
David Toop will be doing time, sounding flaking skin of time, intravenous time, rusty dirty decomposing not fit for purpose pond W**d time heard from below the surface, time as disturbance and withdrawal, time that he himself being human can't comprehend, a resonating time that Sly Stone once said only takes a minute that thought a nostalgic time that comes up again and again, time and paper studies and research into the time cracked voices that hang around as ghosts in old places, locked up and yearning to be released as pure unmeasured time like marks that sink away into nothing.
5.
ST. NICHOLAS'S CHURCH, DEPTFORD
SE8 3DQ | 51.48192, -0.02274
15:00
RYOKO AKAMA
'so no ma ma'
A solo performance in response to the long player day, with objects found in the markets, streets or skips everywhere - rustic, damaged and dysfunctional. St Nicholas' Church will become a very quiet and equal experience where nothing seems to be happening, but perhaps one may find something.
Performance hosted in collaboration with DeptfordX
15:30
JENNIFER WALSHE, ÁINE O'DWYER AND LEE PATTERSON
Performance
Walshe, O'Dwyer and Patterson have spent many years working together and apart to investigate the nature of time through their work, including performances in the UK and Europe both as a trio and as part of a nine-piece ensemble performing the experimental opera TIME TIME TIME, co-written by Walshe and the philosopher Timothy Morton. For Longplayer Day they will continue their idiosyncratic explorations, encompassing Walshe's fast-paced digital time, Patterson's deep geological rhythms and O'Dwyer's liminal eternal drones.
Performance hosted in collaboration with DeptfordX
6.
HOUSE OF PHOENIX, DEPTFORD
SE8 3GG | 51.48537, -0.02436
16:15
JOHN LELY
Site-specific performance
A solo set on the EMS VCS4, a unique & very characterful synthesiser prototype which never went into production. This will be its first public airing in 20-years.
With gratitude to Simon Desorgher, Goldsmiths EMS and the Goldsmiths Alumni and Development Fund.
7.
PETER THE GREAT STATUE, GREENWICH RIVERSIDE
SE8 3ER | 51.48335, -0.01916
17:00
MARCUS DU SAUTOY
'The Music of the Primes'
How do you make a piece of music that doesn't repeat for a thousand years? The answer…mathematics. But Longplayer is not the first to tap into numbers to create large expanses of time. Marcus will reveal how French composer Olivier Messiaen used prime numbers to create a similar effect by in his piece The Quartet for the End of Time written when he was a prisoner of war in Stellag VIII A. But it turns out that Nature has been using the same prime number trick well before composers recognised their power.
8.
PETER THE GREAT STATUE, GREENWICH RIVERSIDE to GREENWICH FOOT TUNNEL
SE8 3ER | 51.48335, -0.01916
17:30
TESS DENMAN-CLEAVER
'WritingWalking'
Artist Tess Denman-Cleaver will lead a perambulatory group writing activity that invites the Longplayer audience to generate words and marks with (rather than about) the landscape they are moving through. This part of the Longplayer journey will combine sound walking and deep listening techniques with performative and collaborative approaches to writing. It will provide audience with a brief moment to reflect and respond to the programme through an act of automatic and collective writing.
9.
GREENWICH FOOT TUNNEL
SE10 9HT | 51.48345, -0.01015
18:00
BLANC SCEOL
A project by artists Stephen Shiell and Hannah White.
'Bells (walk as a herd)'
A participatory intervention for people and bells.
10.
ISLAND GARDENS PARK
E14 3FA | 51.48725, -0.0075
18:15
'GERTRUDE STEIN'S 'THE MAKING OF AMERICANS' READING GROUP'
Group long-durational reading of Gertrude Stein's 'The Making of Americans,' curated by Irene Revell
Over New Year's Eve of 1974/5 Fluxus artist Alison Knowles, composer Annea Lockwood and Jean Rigg, manager of the Merce Cunningham Dance Company, together organised a fifty-hour 'marathon reading' of Gertrude Stein's novel The Making of Americans (1925). At 4pm a group will gather in Island Gardens Park (or The Great Eastern pub nearby in the case of rain) for a 'mini-marathon' reading of the same book in the format of a 'reading group'. The experiment will culminate when the walking group join with refreshments for everyone.
11.
ISLE OF DOGS BEACH - NORTH BANK
E14 3UX | 51.49517, -0.00581
18:45
GRAHAM LAMBKIN
'Flower Training'
A shoreline rite of passage for locally sources flora/fauna in a sympathetic aural environment.
12.
EAST INDIA DOCK BASIN
E14 3UX | 51.49517, -0.00581
19:30
OLIVER COATES
Performance
Oliver will play recent pieces and improvisations using the cello amplified in different states of processing. Each part of the performance will be a response to the evening and the site for the music.
13.
TRINITY BUOY WHARF
E14 0JW | 51.507643, 0.008219
20:45
MAX EASTLEY
Max Eastley with Aleks Kolkowski and Phil Minton
'Still and Silent, Moving and Sounding'
A work creating intersecting lines of time and space through improvisation, scored structures and objects: moving and still, silent and sounding.
21:45
SHIVA FESHAREKI
'Duet with Longplayer'
Using dubplates cut of the Longplayer material that occurs at the time of the performance (21:45-22:45, 20 June 2019), Shiva will transform this material with her turntabling techniques, in duet with the real-time version that will be playing in the lighthouse. In turn, the duet will explore our perception of time.
23:00
JEM FINER
'Starfield (Longplayer for Stars)'
To date Longplayer has always been played using singing bowls, a type of standing bell, in either physical or recorded form. In this experimental performance a brief excerpt will be played using the sounds of several stars, from the lows of red giants to the highs of white dwarfs with a variety of other star types making an appearance.
23:20–00:00
LONGPLAYER
Longplayer is a one thousand year long musical composition. It began playing at midnight on the 31st of December 1999 and will continue to play without repetition until the last moment of 2999, at which point it will complete its cycle and begin again.
------------------------------------------------
CREDITS
Curated by James Bulley, Helen Frosi and Phil Serfaty.
Graphic Design by Joe Hales
Assistance from Greg White
Administration by Sarah Davies
With thanks to:
Arts Council England
Unit for Sound Practice Research, Goldsmiths
The Longplayer Trust
DeptfordX
Goldsmiths Library
Goldsmiths ICE Fund
Goldsmiths Music Department
Dr Ozden Sahin (co-editor of pamphlet)
Dr Iris Garrelfs (advisory board and volunteer manager)
Professor John Levack Drever (advisory board and field recording)
St. Nicholas' Church & Edwin Hind
House of Phoenix / Jimmy Ping
John Burton / Urban Space Management
Trinity Buoy Wharf
John Burton (Urban Space Management)
Annea Lockwood
Simon Desorgher
Women's Art Library
Dr Althea Greenan
Andrew Gray
Lee Valley Nature Reserve / East India Dock
Imogen Burman
Will Cenci
Dr Marcus Leadley
Ed Burton
Old Deptford Police Station / Andrew Rickett
Nathalie Boobis / Deptford X
'Gertrude Stein, The Making of Americans' Reading Group: Holly Antrum, Beth Bramich, Sop Brown, Lisa Busby, Daniela Cascella, Karen Di Franco, Sabrina Fuller, Cathy Lane, Conal McStravick, Vanda Playford, Nina Roth, Ed Webb Ingall and others; and Helena Reckitt and the Feminist Duration Reading Group.
The Hither Green Drone Orchestra (Longplayer Day 2019 edition):
Sam Fendrich, Paula Garcia Stone, Iris Garrelfs, Martin Hackett, Tarik Haskic, Freya Hellier, Aliki Karvelis, Jonny Martin, Lurca, Paul Morris, Anthony Osborne, Emma Pierce, Pete Robson, Richard Sanderson, Stephen Shiell, Felix Tigersonic, Clive Thomas, Hannah White.