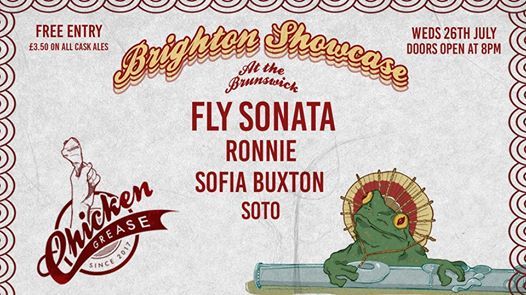 The Brunswick Live, 1 Holland Road, BN3 1JF Brighton and Hove, Brighton And Hove, United Kingdom
Chicken Grease Presents:
Spread the word
Chicken Grease Presents: The Brighton Showcase !!
Get down to The Brunswick to some of the talents the south coast has to offer!!
Free entry & £3.50 on cask ales throughout the night...
// Fly Sonata \\
A female-fronted, Brighton-based future-soul creature that chews up flavour's of 90s hip-hop, R&B, jazz and trip hop into a fine paste then spits it out across walls and furnishings of various music venues leaving a sort of viscous stain that smells funky and that leaves one wondering what the hell went down here last night and are people OK? Don't worry. THEY ARE! (ish).We know little of the beast other than it is solitary, mostly nocturnal, has very little impulse control but doesn't mean anyone harm. Although not considered dangerous the creature lures in unsuspecting audience members causing them to move, feel and react involuntarily. Symptoms include: Euphoria, Head nodding, Crotch thrusting, Crying (not at the same time - unless you're into that), Gun Fingers and Shouting "Dude, this band is sooooo cool, I wonder if they have Insta" Well they do, AND Facebook because that's just the way it is now, so come and see for yourself. You might just like it.
// Ronnie \\
Drawing influence from neo-soul, jazz and pop - Ronnie blends melismatic melodies with dreamy chords progressions to tell stories of love and personal growth, citing Lianne La Havas, Adele and Amy Winehouse as inspiration. After graduating from the Brit School in 2015, Ronnie moved from her home town of North London to Brighton where she has developed her songwriting and is accompanied by a group of talented musicians.
// Sofia Buxton \\
Swedish singer/songwriter Sofia Buxton, was brought up with classical musical influences, as her father is an opera singer. From a young age she was singing in choirs and musicals. She is now based in the UK performing with her band and releasing her own Pop songs. She released two singles last year called "Such A Shame" which became BBC introducing Souths track of the day and "You and I". Sofia's emotional songwriting explores love, loss and lust, with angelic harmonies delivered through impactful lyrics. She is now continuing to write songs with her band and performing her material around the south of the UK.
// Soto \\
Brighton based three-piece UK Jazz / Soul / R&B / Funk