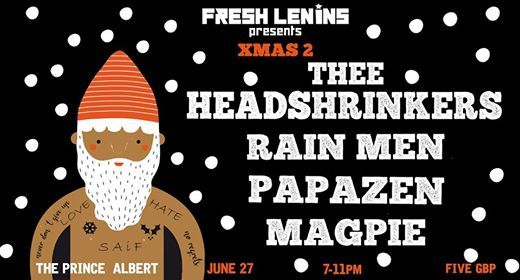 The Prince Albert, 48 Trafalgar Street, BN1 4ED Brighton, Brighton, United Kingdom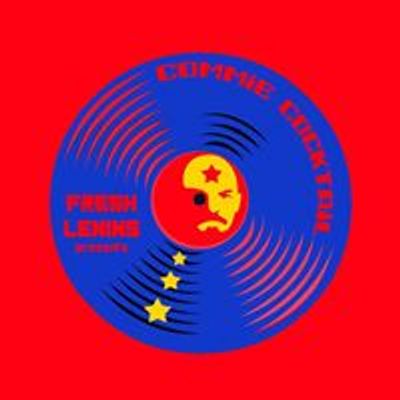 Fresh Lenins
Spread the word
Ho-ho-ho. It's almost that time of the year again. Only 225 days too early. Fresh Lenins and 4 brave bands bring a summer Xmas experience to the Prince Albert. Everything you always wanted to do in June but were too afraid to indulge in: tinsel, ugly sweaters, Brussel sprouts, talking to relatives... Get yourself an advent calendar and start eating your way to June the 27th. Peace on Earth and Happy holidays!
THEE HEADSHRINKERS
Proto punk garage weirdness, think Mark E Smith's ghost fronting the Stooges and you're halfway there. Influences: the post-Manson 1960s, cheap Japanese guitars and the Texas Chain Saw Massacre soundtrack.
https://www.facebook.com/squeezemyhead
/
RAIN MEN
Taking influence from artists Marmozets, Mr Bungle, Frank Carter, and The Dillinger Escape Plan, RainMen's chaotic fusion of fuzzy, rambling punk with experimental metal is the cause of many great live performance shenanigans that are fun for all of the family.
Providing performances that "couldn't be more memorable", RainMen, formed by guitarist and Vocalist Jed Downey, Guitarist Reuben Harman-Mitchell, Bassist Dan Pearse and Drummer Sam Male, erupted out of Brighton early 2016 with the launch of their debut singles, Meat and How About the Bombs and started to gig around the Brighton DIY circuit shortly after.
A year later, after recruiting Alex Tana on Drums, they recorded their debut album 'Original Sin' in their friend's shed in Horley and released the album Original Sin in April 2018. Now as of the present day, the band took on Guitarist Roberto Neri to push their music across the United Kingdom, writing and experimenting with new sounds, making their mark on the alternative music scene as the #1 Filth band and, potentially one day, they can start on world dominion.
https://www.facebook.com/pg/rainmenuk
/
PAPAZEN
Making babies cry since 2016.
https://www.facebook.com/pg/brightonpsychrock
/
MAGPIE
4 piece Rock n Roll, swelling atmospheres tied together with emotive vocals, guitar lead melodies, and rolling characterful beats.
https://www.facebook.com/pg/iammagpie