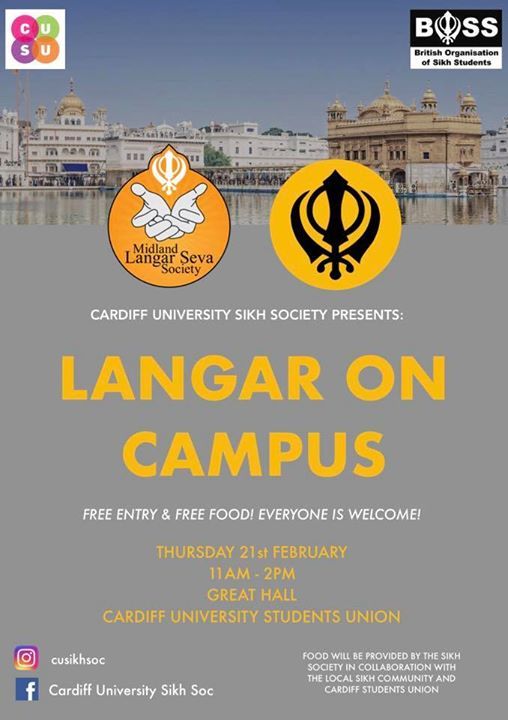 The Great Hall, Cardiff SUPark Place, CF10 3QN Cardiff, Cardiff, United Kingdom
Cardiff University Sikh Soc
Spread the word
"Recognise the whole human race as one" (Guru Gobind Singh Jee)
JOIN US FOR A FREE MEAL
FREE MEAL CONSISTS OF:
Daal (lentils), Sabji (carrot and potato curry), Roti (chapati) and samoseh! - vegetarian and vegan
WHERE: GREAT HALL SU
WHEN: THURSDAY 21st FEBRUARY
TIME: 11am - 2pm
Bring your friends!
Langar literally translates into "free kitchen" and in the Sikh world it relates to the Guru's Kitchen.
The story of langar starts with Guru Nanak Dev Jee who was the founder of the Sikh faith. One day Guru Nanak Dev Jee was given 20 rupees by His father and asked to go out for the day and return with a profit. His father had grown weary of His son's disinterest in worldly affairs and hoped the challenge would spark an interest in business.
Guru Jee wandered through the local area and came upon a group of Hindu saints. The saints preached from city to city and lived hand to mouth. They had torn clothes and no food. Guru Nanak Dev Jee believed no action could be more profitable than serving those in need so He bought food and clothes with His father's money and personally served the saints. Upon returning home Guru Nanak Dev's Jee's father was not pleased with His actions but Guru Nanak Dev Jee explained that sharing our earnings with those less fortunate is the most fruitful and profitable action because it serves the light of the one God that resides in each Human Being.
The main principles of Langar are: fighting hunger, equality in action and teaching compassion.