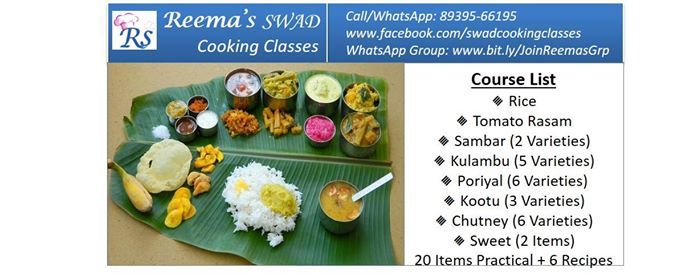 Reema's Swad Cooking Classes, Ranjit Apartment, 38, Jermiah Road, Vepery, Chennai, India 600007, Chennai, India
Facebook
Spread the word
Reema's Swad Cooking Classes schedules vegetarian South Indian Cuisine Workshop... ??
〰〰〰〰〰〰〰〰
Date: 3-May
Time: 11-3 PM
This class includes:
? Rice
? Sambar
?Tomato rasam
?Kara Kulambu
?Coconut Kulambu
?Beans/carrot Poriyal
?Cabbage Poriyal
?Potato Fry
?Ladies Finger Poriyal
?Chow Chow Kootu
?Pumpkin Kootu
?Coconut Chutney
?Onion Tomato Chutney
?Ridge Gourd Chutney
?Payasam
?Rava Kesari
All the above will be taught as practical and other items will be given as extra recipes
〰〰〰〰〰〰〰〰
Highlights:
✅All sessions are practical sessions
✅Individual attention given
✅Printed Recipes
✅Sessions are exclusively for Girls and Ladies only
✅All material for the class will be provided
〰〰〰〰〰〰〰〰
?Limited seats only! Enroll your names at the earliest ??????
?Share the message with your friends and WhatsApp Group Lists ...?
Contact
?Reema (Chennai)
(+91)8939566195
044-49525790
For more details,
?Facebook page:
www.facebook.com/swadcookingclasses
?Instagram: instagram.com/reema_swad_cooking_classes_
?Reviews:
www.bit.ly/ReemaReviews
?Short Intro Video: rebrand.ly/ReemaSwadTour
WhatsApp
? For class updates, join my WhatsApp Group: rebrand.ly/ReemasCookingClass (Click to join)
? Message on WhatsApp: rebrand.ly/MessageOnWhatsApp (Click to message)