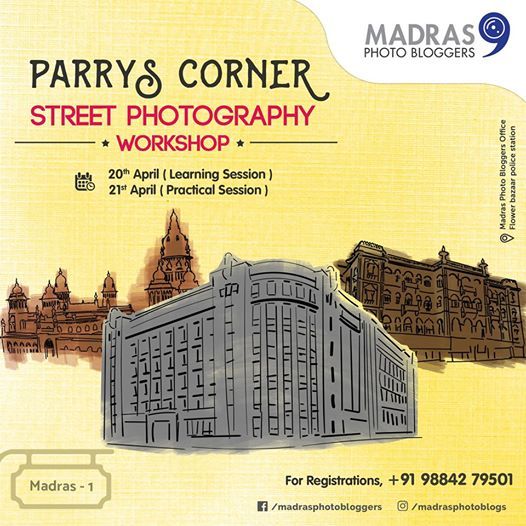 Parry's Corner, Mannady, Chennai, India 600001, Chennai, India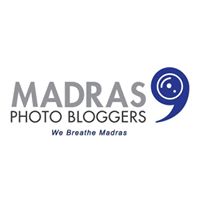 Madras photo bloggers
Spread the word
Parry's corner called as "Pari Munai" is one of the busiest places in Chennai junction, where one can buy any type of goods including imported things at a very reasonable rate. The location name Parry's is named after Thomas Parry, he was doing wood furniture commercial business in 1780's, followed by several partnerships in the decades after this and it became Parry & Co. The streets on Parry's corner offers wide opportunities for the amateur Videographers to take video of streets, vendors, street food, merchandise and many other dimensions of the bazaar atmosphere there.
Madras photo bloggers organize the Street Photography workshop & Photo walk in Chennai. Street Photography workshop is a very interesting genre. Step outside the boundaries of the four walls and your comfort areas, with your camera; smell and experience the dirt on the roads, noise, stares and madness of rush on the streets. The world that you see is the background and the light available is all that you have and everything is beyond your control to set, yet it is a beautiful way to experience life, recording the candid moments unfolding in front of you, capturing the live moments of life. Street Photography workshop does not mean only the people, it can be the atmosphere and environment, small businesses, food, houses or character of the place. Take videos of the vendors, food stalls, people rushing home from work, kids playing, the modern life and the traditional life; literally every aspect of life in its real form from every possible angle, the movements and the moments, every dimension and aspect of life at Parry's Corner, feel and record the moments of real life!
On April 20th, (2 hours)
-Experiential Learning Session with composition technique.
-Creative angles to make better images.
-Overcoming the fear of confidence.
-Practical experience.
-Technical aspects for Street Photography
-Inspiration
On April 21st (2 hours)
-Reviewing the photos of participants.
-Discussion on suggestions, Improvements and better results.
-Showcasing the best images of Street Photographs
-Clarifying the doubts about street Photography.
Scheduled Date: April 20th & 21st 2019
(Saturday & Sunday)
Time - Saturday morning (6 AM to 8 AM) & Sunday afternoon (Review and discussion - 3PM to 5 PM)
Venue - Parry's Corner
Entry Fee : 1,200 per head
Things to carry
Carry your DSLR with Wide angle lens and one prime lens. (20th April)
Laptop and your street photographs (21st April)
REGISTRATION AND PAYMENT
Please click on the "BOOK NOW" tab on the bottom of this page to register yourself. Once you fill in your details and click submit, you will be redirected to the online payment page.Your registration is completed and confirmed only after a successful payment process. In case of any
difficulty, please connect with us - Vivek(+91 9884279501)