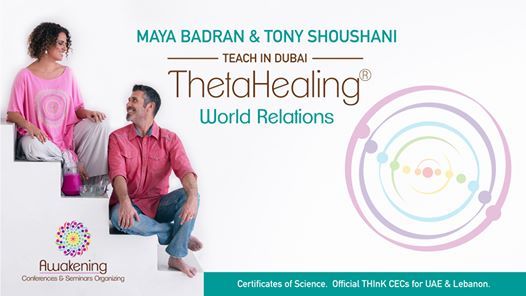 The Westin Dubai Mina Seyahi Beach Resort & Marina, Dubai Marina, PO Box 213084, 213084 Dubai, United Arab Emirates, Dubai, United Arab Emirates
Awakening the Masters
Spread the word
COURSE: World Relations
PRE-REQUISITE: Dig Deeper //or// Intuitive Anatomy //or// Basic instructors+ Advanced instructors
The World Relations Course is a powerful tool for removing inner and outer conflict in yourself towards others. This seminar focuses on specific cultures and beliefs to trigger present and past issues with races, religions, and people. Once these belief issues come to light, the hidden hatreds and resentment that goes back centuries will be released. This will allow the participants to embrace and accept the people and cultures of the world with true unconditional love.
5 days focusing on how your feel towards countries, religions, races, cultures, ethnic groups and the acceptance of them with true unconditional love.
In this day and age the world has become a much smaller place, and our belief system plays a major role in bringing world peace to the planet.
Releasing all these genetic blocks will improve on your clarity with source and open up your manifesting powers.
LANGUAGE: The seminar will be taught in English.
SCHEDULE: (5 days) – 28 August to 1 September 2020
- Fri 28, Sat 29 August: from 9am to 6pm
- Sun 30, Mon 31 August, Tue 01 September: from 3pm to 10pm
REGISTRATION FEE:
-To register: A 50% deposit is required (non-refundable & non-transferrable)
COURSE FEE (including VAT):
-Total class fee: AED 5,565
-Early Bird fee: AED 5,145 (if registered by 10 July 2020)
- Repeat fee: AED 2,782.50 (please bring your manual)
The price includes:
- A ThetaHealing World Relations Manual by Vianna Stibal
- Official World Relations Practitioner Certificate from ThetaHealing Institute of Knowledge, USA.
- Daily seated continental lunch & 3 tea breaks on weekends, and 2 breaks on weekdays.
DUBAI LOCATION:
Westin Mina Seyahi
CONTACT US:
+ 971 50 8491237
maya | awakeningthemasters ! com
Plenty of love & Gratitude,
Maya Badran & Tony Shoushani
Official ThetaHealing Representatives & Hosts for UAE & Lebanon
Masters & Certificates of Science in ThetaHealing
iCause.com promotes public events for free and helps event organizers connect with nonprofits to attract more participants like you.
Additionally, the iCause Global Foundation enables good people to fund great causes around the world. Together, our impacts are limitless!