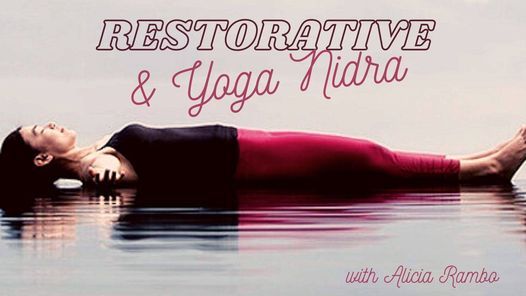 Easton Yoga, 524 Northampton St, Easton, United States
Easton Yoga
Spread the word
Reconnect to the stillness within. This quieting, heart-opening Gentle/Restorative Yoga retreat explores a nurturing combination of movement, supported yoga postures & meditative breathing practices designed to open, soothe & calm the entire system. All levels welcome, No previous yoga experience is necessary
Unfold and release in this 2.5 hour yoga workshop. Learn to unwind your body and uplift your spirit with the help of props to relax completely.
Restorative yoga is an important tool for everyone. It is useful when you feel weak, fatigued, or stressed from daily activities or major life events. Restorative yoga is especially good for those suffering from stress, cancer, menopause, injury, depression or other challenges. Even those who feel perfectly healthy report that restorative yoga has helped them develop more energy and sleep better. The power of restorative yoga lies in its ability to nurture ones own internal healing processes.
To complete this class Alicia will guide you through a yoga nidra practice. Yoga Nidra brings an incredible calmness, quietness and clarity. Yoga Nidra is one of the deepest of all meditations, leading awareness through many levels of mental process to a state of supreme stillness and insight.
All props will be assigned, and available for use, however you are welcome to bring your own blankets/props if you prefer
***all blankets/props will be cleaned & disinfected after class by EY staff.
You will need at least two blankets, a bolster and 2 blocks and a strap.
iCause.com promotes public events for free and helps event organizers connect with nonprofits to attract more participants like you.
Additionally, the iCause Global Foundation enables good people to fund great causes around the world. Together, our impacts are limitless!