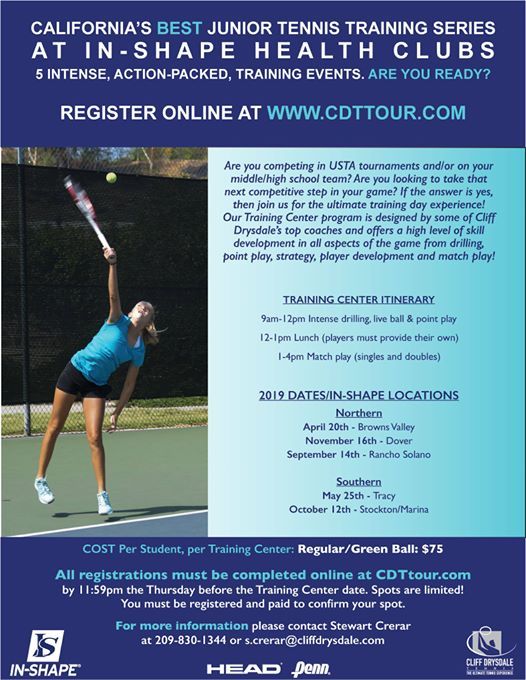 Cliff Drysdale Tennis at In-Shape: Rancho Solano, 3250 Rancho Solano Pkwy, Fairfield, California 94534, Fairfield, United States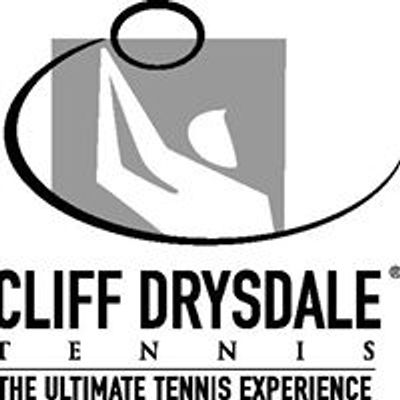 Cliff Drysdale Tennis at In-Shape: Rancho Solano
Spread the word
CALIFORNIA'S BEST JUNIOR TENNIS TRAINING SERIES AT IN-SHAPE HEALTH CLUBS. 5 Intense, action-packed, training events.
** Register Online at:
WWW.CDTTOUR.COM
**
Are you competing in USTA tournaments and/or on your middle/high school team? Are you looking to take that next competitive step in your game? If the answer is yes, then join us for the ultimate training day experience! Our Training Center program is designed by some of Cliff Drysdale's top coaches and offers a high level of skill development in all aspects of the game from drilling, point play, strategy, player development and match play!
TRAINING CENTER ITINERARY
9am-12pm Intense drilling, live ball & point play
12-1pm Lunch (players must provide their own)
1-4pm Match play (singles and doubles)
2019 DATES/IN-SHAPE LOCATIONS
Northern
April 20th - Browns Valley
November 16th - Dover
September 14th - Rancho Solano
Southern
May 25th - Tracy
October 12th - Stockton/Marina
COST Per Student, per Training Center: Regular/Green Ball: $75
All registrations must be completed online at CDTtour.com
by 11:59pm the Thursday before the Training Center date. Spots are limited! You must be registered and paid to confirm your spot.
For more information please contact Stewart Crerar
at 209-830-1344 or
s ! crerar | cliffdrysdale ! com