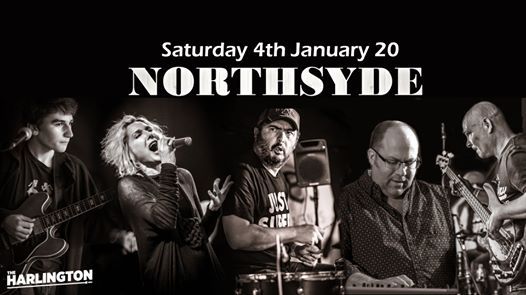 The Harlington, Fleet, United Kingdom
The Harlington, Fleet
Spread the word
Bar: 6:45pm / Doors: 7:15pm / Show: 7:45pm
Tickets: £15.00 Advance / £17.50 Door
General Admission
Saturday 4th January
Plus: Late bar until midnight
They're back!
One year on from their last performance, The Harlington are proud to present the return of the mighty 'Northsyde' to the live music scene and it's going to be very special indeed. Following the sad loss of guitarist Jules Fothergill earlier this year, there were fears the band would never perform live again. The future was uncertain. But now they're ready to rise again and move forward into a brand new era.
Four have now become five, with the introduction of two new recruits in the form of the hugely talented Jules Grudgings on keyboards and none other than Marcus Praestgaard Stevens, who will be taking on guitar duties. Marcus is already a favourite on the music scene and has jammed with Northsyde frequently in the past, so his addition is a natural progression and will be of no surprise to those familiar with his playing style, which has many of the stylings of Jules himself – quite an accolade for any guitarist, let alone one still so young. Northsyde are no ordinary band and almost impossible to categorise, attracting rave reviews wherever they play. They can best be summed up as a grooving combination of rock, funk, blues, jazz and soul, hitting the stage like a whirlwind and turning every gig into a party. So if you like your live music exciting, fun and full of surprises, and you want to start 2020 with a bang….this is the gig for you.
Opening the show will be the sensational Paddy Maguire Band, featuring Jenna Hooson Maguire on vocals. If you've not seen them before you really are in for a treat. We are gifted with some amazing female vocalists on the UK music scene at present, so to have two on one bill is a massive treat.
We're honoured that Northsyde have launched our last two years here at The Harlington in such blistering style, and that they've chosen to make their official return here amongst friends on this special date. Nights like this are unique and it will sell out, so we recommend that you book now to avoid disappointment.
www.northsyde.co.uk
Facebook: NORTHSYDE.UK