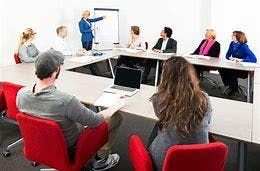 160 City Road, London, Greater London, United Kingdom
Eventbrite
Spread the word
There is ample evidence to show that good leadership and management are necessary for organisational success. This is why, as part of our staff survey action plans for 2018, and the need for on-going support for managers and staff, the City Road Management Team and HR have agreed to run a number of HR Workshops for everyone with line management responsibilities. Managing people is not just something that is left until there is a problem, it is what proactive organisations and managers do. 
The workshops are set up in cohorts depending on the banding of managers to make it easy to address the unique HR challenges and priorities relevant to the different band groups. All those new to managing staff either through the recent admin and clerical review or promotion are expected to attend one of these workshops.
Please book yourself on the workshops relevant to your banding and senior managers are encouraged to ensure that their direct reports are also registered on one of these workshops. The workshop will cover a number of HR topics and discuss some of the recent policy changes that impact on day to day management of staff, including informal resolution - skills and process. Full agenda details will be circulated nearer to the date.
Before you book, kindly note the venue for each individual workshop according to the different levels of management below. Please do not book unless you intend to attend.
Venue
1.Tuesday, 30th October 2018
 2:00 – 5:00 pm (Band 6 & 7)
IT Training Room 1 - Basement. HR Department, Kemp House, City Road
2. Tuesday, 6th November 2018
09:00 – 12:00 noon – (Band 8s and above))
LHS Board Room, 4th Floor, Kent House
3. Monday, 12th November 2018
1:30 – 4:30 pm (Band 6 & 7s)
RHS Board Room, 4th Floor, Kent House
4. Friday, 23rd November 2018
1:30 – 4:30 pm (Band 8s and above)
IT Training Room 1 - Basement. HR Department, Kemp House, City Road
5. Friday, 7th December 2018
10:00 – 1:00 pm (Band 6 & 7)
IT Training Room 1 - Basement. HR Department, Kemp House, City Road
6. Wednesday, 12th December 2018
10:00 – 1:00 pm (Band 6 & 7)
IT Training Room 1 - Basement. HR Department, Kemp House, City Road