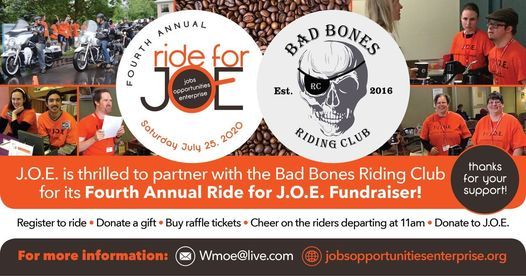 Community Living Guelph Wellington, 8 Royal Road, Guelph, ON, Canada N1H 1G3, Guelph, Canada

JOE
Spread the word
FUNdraise RIDE for J.O.E. July,31, 2021 Rain or Shine.
Hosted by BAD BONES RIDING CLUB and J.O.E.
All proceeds will support J.O.E. (Jobs.Opportunities.Enterprise.) A not-for-profit Charity organization focused on innovative, community-based employment and job training for adults with developmental disabilities.
ALL ARE WELCOME -FREE PIZZA for EVERYONE (Generously donated by PIZZA NOVA.
50/50 and RAFFLE TICKETS Available All Day you can write your info on the ticket if you don't want to stay for the draw and we will contact you if you WIN. Tickets Will be Drawn following the ride!)
Registration 8:00 am to 10:30 am, Kickstand up at 11:00 am.
$20 Registration Fee for RIDERS. $10 Passenger Will give you a chance to WIN one of TWO PAIRS of Blue Jays Tickets Value of $220.00
J.O.E. Staff will be selling coffee and baked goods during the registration period from 8am to 10:30am. PIZZA will be served at 2pm & lots of GREAT RAFFLE PRIZES will be drawn at the end of the ride at 2pm.
The J.O.E. (Job.Opportunities.Enterprise) Story
J.O.E started with eight young men and women with developmental disabilities and their families. All of the young adults dreamed of being employed in the community. Facing barriers, they decided to create jobs for themselves. In 2013 they pitched a tent in a parking lot and launched a pop-up coffee shop in partnership with Planet Bean Coffee.
Now J.O.E. operates Three coffee nooks in Guelph—at the Downtown Public Library, Guelph Medical Place and Westminster Woods. J.O.E. also runs pop-up cafés at special events in the Guelph community serving fair trade coffee from Planet Bean and baked goods from College Heights Secondary School.
Visiting a J.O.E. coffee nook is a unique experience. Along with coffee and snacks, customers enjoy chatting with J.O.E. staff and hearing a "J.O.E. joke of the day."
Thanks to our growing list of community supporters, J.O.E. has helped over 30 adults with developmental disabilities gain work experiences and training.
There's more to J.O.E. than a great cup of coffee. By working at J.O.E., our staff build employment skills, confidence and community connections. Supporting J.O.E. means celebrating ability, diversity and inclusion.
RAIN or SHINE.
FUNdraise for J.O.E. -- Invite your friends!
iCause.com promotes public events for free and helps event organizers connect with nonprofits to attract more participants like you.
Additionally, the iCause Global Foundation enables good people to fund great causes around the world. Together, our impacts are limitless!