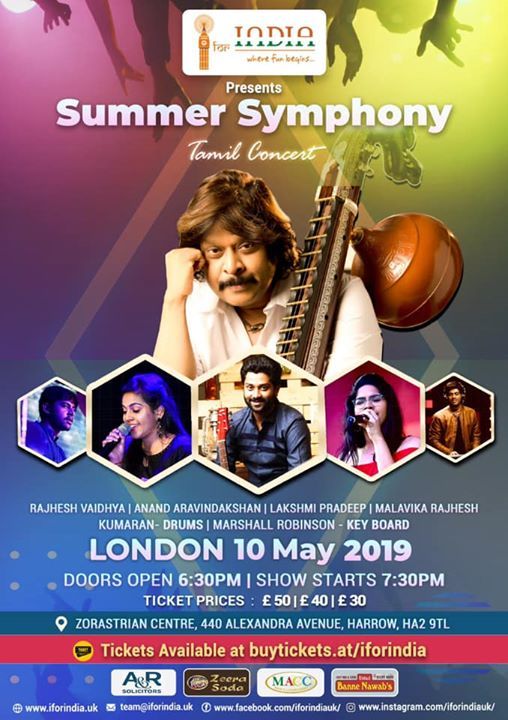 Zoroastrian Centre, 440 Alexandra Avenue, HA2 9TL Harrow, United Kingdom, Harrow, United Kingdom
I for INDIA
Spread the word
About the Event :
I for India are extremely pleased to host Shri. RAJHESH VAIDHYA and his troupe once again, this time in a different instrumental and vocal format in an event aptly titled SUMMER SYMPHONY.
Rajhesh Vaidhya - a very versatile Veena maestro and celebrity artiste in his own right who needs no introduction. Besides stage performances, he has also worked with Vidyasagar, Harris Jayaraj, Bharathwaj, Devi Sri Prasad, Srikanth Deva, Isaignani Ilaiyaraaja and A.R.Rahman. He has performed with musicians and composers like Sir Elton John.
For the U.K tour, Rajhesh Vaidhya would be accompanied by Guberan on drums and Vijayan on keyboard. Providing a perfect complement of voices to them on this tour are Super Singer stars Anand Aravindakshan, Lakshmi Pradeep and Malavika Rajhesh.
We have also secured a very fitting and centrally located venue – Zoroastrian Centre, 440 Alexandra Avenue, Harrow HA2 9TL.
Surely all this is so much music to your ears and you can't wait….right ?? The good news is our booking plans have opened with our ever-popular Early Bird offers.
Language: Tamil
About the Organiser :
I for India is an event management company aimed at bringing to the Indian community in London and other parts of United Kingdom the best possible entertainment and experience through innovative ideas.
It is a "One Stop Shop" for entertainment, sports, culture, professional networking for the Indians in London and other parts of the UK whether they have just arrived, or been here for few years or settled here for decades.
All our past events and photos can be seen at
http://iforindia.uk
/