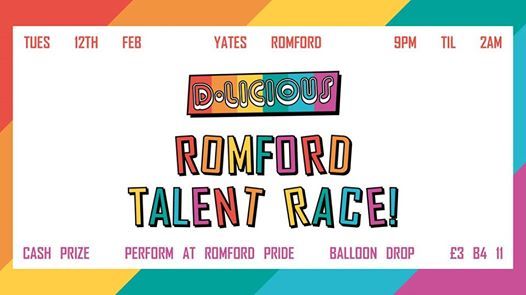 D-Licious RomfordYates Romford, RM1 1PA London, United Kingdom, Hornchurch, United Kingdom
D-Licious Romford
Spread the word
❤ This is D-Licious Romford ❤
? Havering's LGBT+ club night presents the Romford Talent Race
? The ultimate talent competition - we are looking for Drag Queens, Drag Kings, magicians, dancers, singers, comedians, jugglers, mime artists, tight rope walkers, and everything in between!
You could WIN a cash prize, and the chance to PERFORM the HEADLINE slot at Romford Pride 2019 ?
? Sign up tomorrow night D-Licious at Yates Romford, or message us here on Facebook!
PLUS
The iconic D-Licious Balloon Drop on the dance floor @ 1am where you could WIN PRIZES ?
DOORS
► Doors open @ 9pm
► £3 B4 11pm, £4 after
► £2 entry on the D-Licious Guest List (Before 11pm)
► A percentage of door entry goes to funding Romford Pride 2019
PROMO TEAM
► Would you like to join the D-Licious Romford promo team? Drop us a message today!
D-Licious Romford on Facebook
https://www.facebook.com/dliciousromford
D-Licious Romford on Twitter
https://twitter.com/dliciousromford
D-Licious Romford on Instagram
https://www.instagram.com/dliciousromford
❤ This is D-Licious Romford ❤