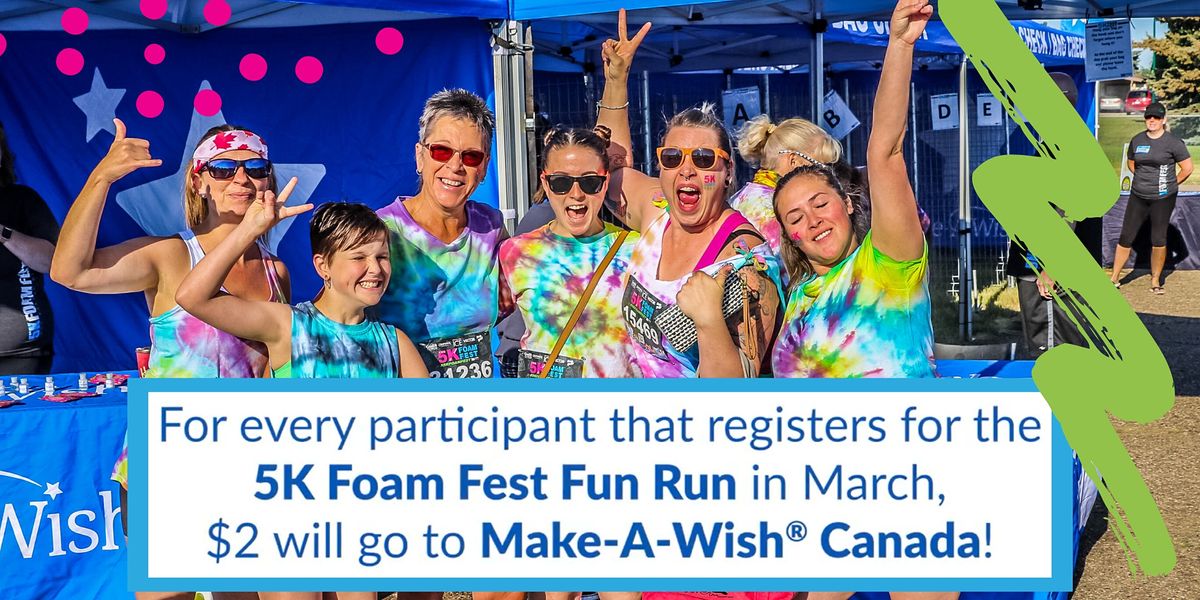 Chicopee Ski Hill, 396 Morrison Road, Kitchener, Canada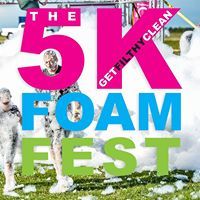 5k Foam Fest Fun Run
Spread the word
The World's #1 Fun Run! #GetFilthyClean
About this EventIMPORTANT NOTICE: We have moved registration platforms! To register and find out more please click HERE
The 5K Foam Fest is a one of kind Obstacle Course based Fun Run. Join us for over 22 obstacles including the world's largest inflatable waterslide, mud pits and 2.5 MILLION cubic feet of foam! Rock out all day to 12,000 watts of awesome (family friendly) music, enjoy a FREE kids zone for kids 7 and under, taste delicious food, shop from local vendors and celebrate your success in our well-stocked beer garden. With a variety of obstacles and a ton of foam, the 5K Foam Fest run is an exciting challenge for experienced and beginner runners alike.. Walk it, run it, charge it, fun it; this course should be enjoyed at your own pace and all obstacles are optional!
THE EARLIER YOU REGISTER THE MORE YOU SAVE! TICKET PRICES JUMP TO $85 BY EVENT DAY!
amp;feature=youtu.be
WHAT ARE PEOPLE SAYING?
ADDITIONAL INFORMATION
Ages 8 and up. All children must be physically, mentally, and emotionally capable to complete the course with proper course etiquette. Kids aged 8 to 12 years must run with a Registered Adult. Parents must use proper judgment and help the youngsters decide on what obstacles to do or not based on their ability, size and confidence level. Kids 13-17 years do not require an adult chaperone but must adhere to all course rules and regulations. Event waiver(s) must be signed by the legal guardian of any participant under the age of 187 years and under cannot run the 5k Foam Fest, but they can join us for FREE in our Kids FUN Zone, where they can try out our mini Inflatable Obstacle Course and Bounce House (adult supervision required). Waiver(s) must be signed by the child's legal guardianNo refunds on entries or paymentsFirst wave/start time is at 8 am and then every 15 mins until 2 pmSpectators have free access to the festival area, vendors, and beer garden
RUNNING WITH A TEAM?
There are no limits to team size. Teammates can purchase separately, simply select the same wave time at purchase to start the course together on event day! If your team's wave is full please email us and we will sort you out so more foamy homies can join in on the fun with you :)
FAMILY PASS AND MILITARY/FIRST RESPONDER TICKET OPTIONS
We have a family pass ticket option available for up to 5 immediate family members (partner/kids) Click 'register' for details.
Military and First Responders receive reduced rates, including your family (partner/kids). PROOF OF SERVICE REQUIRED. Please provide your Badge/ID# when registering and bring a copy to the event to check in. Click 'register' for details.
CORPORATE GROUPS
The 5K Foam Fest is the perfect team building event! We are happy to offer corporate group rates. Please email info | the5kfoamfest ! com for more info.
CHECK OUT SOME OF OUR OBSTACLES! (ALL OPTIONAL)
WANT TO RUN A LONGER DISTANCE?
Ask us about adding a 2nd lap for $20 on event day. Space permitting, inquire at registration booth when checking in.
INTERESTED IN SPONSORING OR VENDING AT THE 5K FOAM FEST?
With 5000-7000 participants the Foam Fest is the perfect place to sample, sell and interact with all our consumers.
For national sponsorship inquiries please contact sponsorship | 365sports ! ca
iCause.com promotes public events for free and helps event organizers connect with nonprofits to attract more participants like you.
Additionally, the iCause Global Foundation enables good people to fund great causes around the world. Together, our impacts are limitless!