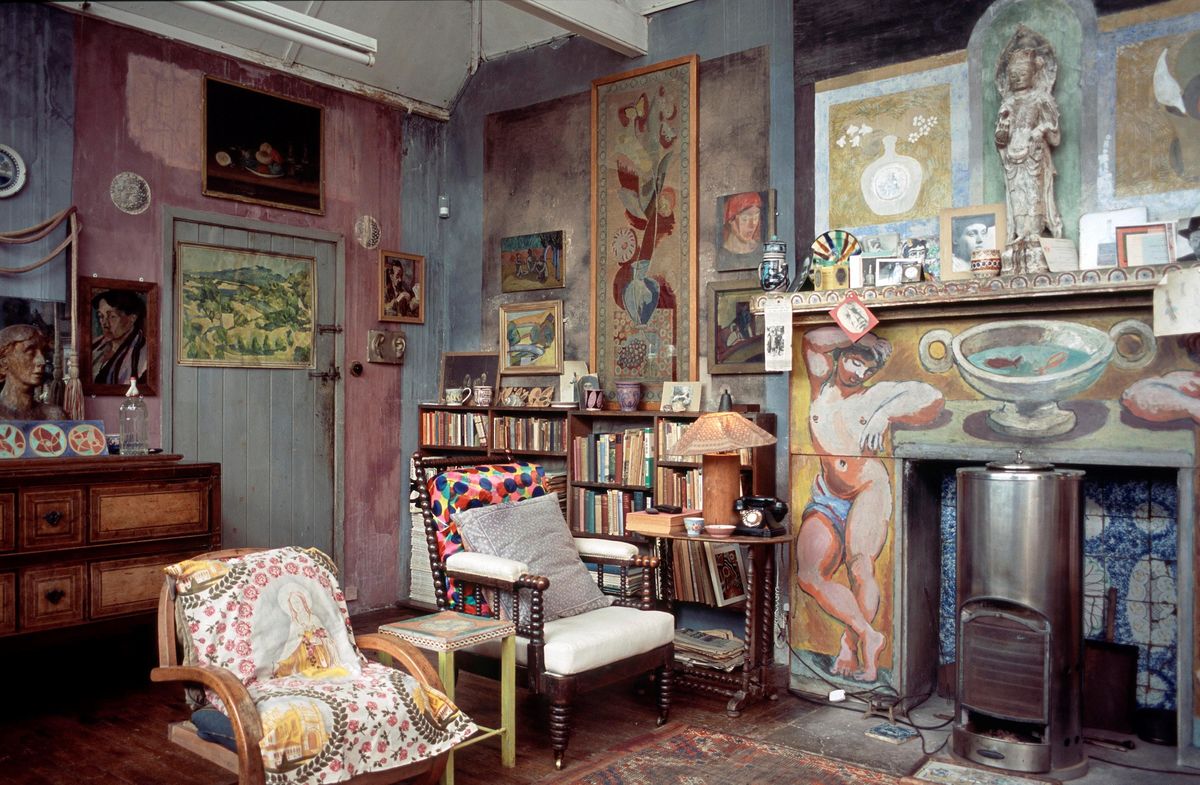 Charleston Trust, West Firle, Lewes, United Kingdom
Eventbrite
Spread the word
BIID Members are invited on a day out to Charleston – the Bloomsbury home of art and ideas and one-time residence of painters Vanessa Bell, Duncan Grant and their many famous friends. To keep with the tradition of the boundless creativity that the Bloomsbury Group installed in all their efforts, Charleston is now also home to artists workshops for visitors. To get into the spirit, BIID guests have been invited to turn a piece of wooden furniture into a painted Bloomsbury style artwork with artist Melissa White.  
WHAT TO EXPECT
Morning: Private Tour of CharlestonCharleston leaves no surface untouched from the key artists of the Bloomsbury Group; Vanessa Bell, Duncan Grant and Roger Fry, whom all now occupy a significant place in British art of the early twentieth century. French Post-Impressionism touched both their easel painting and decorative art, while the influence of Mediterranean culture is apparent in the uninhibited colours and patterns of walls, ceramics and furniture decorations.
Lunch in The Threshing Barn, Charleston's café 
Afternoon: Painted Box Workshop with Melissa WhiteTake inspiration from the painted interiors at Charleston. Learn the various paint effects and antiquing techniques that can be used to recreate this distinctive look. Transforming final pieces with glazes and waxes to create heirlooms of the future.
The ticket price covers the private tour, workshop and all materials, entrance to the exhibition, lunch and afternoon tea.
Programme10am – welcome - teas, coffees and pastries10.15am – private tour in small groups of 6 11am approx. – workshop part 1 1pm – lunch, opportunity to visit exhibitions, garden and shops2pm – workshop part 2, with a quick break for tea & cake mid afternoon4pm approx. – goodbyes
WHAT TO BRING
Guests will not need to bring anything with them as all materials will be provided. 
WHAT YOU WILL LEAVE WITH
An insight into the wonderful poetic landscape of 20th Century adventurers The Bloomsbury Group and a piece of your own hand painted furniture in the Bloomsbury style, perfect for a gift or keepsake. 
WHO SHOULD ATTEND
BIID Members (BIID Registered Interior Designers, Associates, Students, Employees of Registered Design Practices).
GETTING TO CHARLESTON
The Charleston Trust has a comprehensive guide to getting to the venue on their website, please click here for details.
If you are taking the train and would like to taxi pool from Lewes Station with other guests, please note this on your registration when prompted. 
Additional information
Prices are not inclusive of VAT.
Please note this tour is for BIID designer members only and spaces are strictly limited, book now to avoid disappointment! 
If you have any queries, please email the office at
info | biid ! org ! uk
or call 020 7628 0255.
All BIID events and training courses are subject to standard terms and conditions which can be read in full below:________________________________________Terms and Conditions:1. If you wish to cancel your booking to a paid event, please send a refund request via Eventbrite. A full refund will be issued if your refund request is received 10 working days prior to the day of the event. 2. The full delegate fee will be forfeited for non-attendance (for any reason) without prior notice or cancellation of your booking.3. A replacement delegate nominated and confirmed by you is permitted but must be confirmed in writing to
info | BIID ! org ! uk
prior to the event.4. If you wish to cancel your booking to a free event, please do so via Eventbrite as soon as possible so that your ticket can be reallocated. 5. The BIID reserves the right to make changes to the programme.6. The BIID reserves the right to cancel the event if unavoidable circumstances arise.7. This event will be photographed and videoed. Attendance constitutes consent for these images/videos to be used, by the BIID and its partners, for promotional purposes.8. All data will be processed in accordance with the BIID Privacy Policy.9. Your name may be shared with the venue. 10. These terms and conditions shall be governed by and construed under the laws of England and Wales and you submit to the exclusive jurisdiction of the Courts of England and Wales.