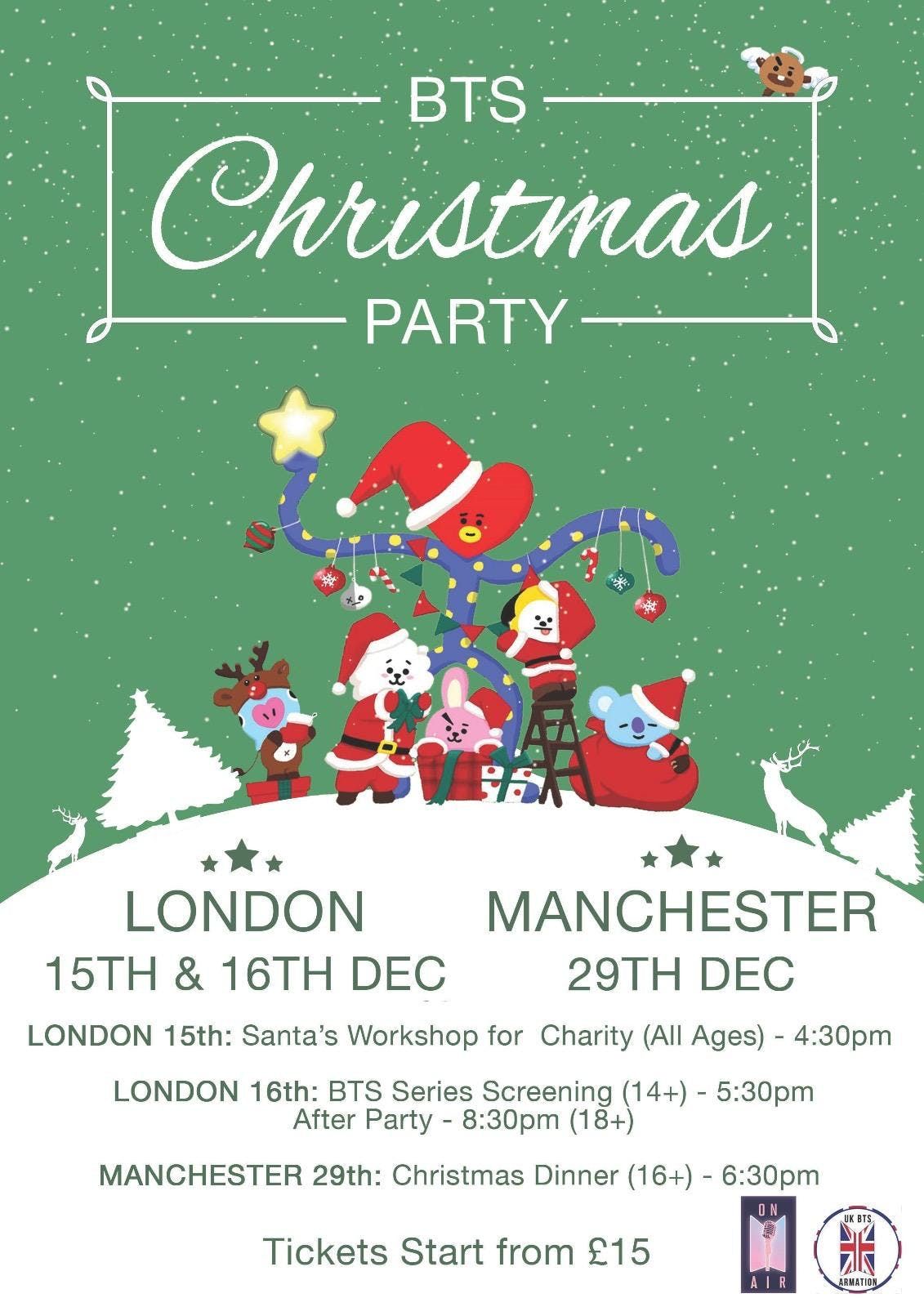 London & Manchester, United Kingdom
UK BTS ARMY
Spread the word
Happy Holidays ARMY! 
UKBTSARAMATION & BTSRADIO UK present to you our first annual BTS Christmas meet-up! The events will be occuring at two locations and across different dates to please pay attention to the date and location you select when purchasing tickets! The details are as follows: 
London
Event Dates: 15th & 16th of December 
Location: White Conduit Project, 1 White Conduit Street Islington London N1 9EL    
15th of December - Santa's Workshop       
 Time: 16:30 - 19:30    
  Welcome ARMYs to Santa's workshop! We will be spending the day putting together Christmas packs for teens 13 - 18 at Great Ormond Street Hospital. Teens are often forgotten so they are our main focus and some may be fellow ARMYs, how exciting! There will be a card making station, and a christmas pack station. We will provide BTS music of course, food and snacks throughout the day. Even more exciting there will be raffles!  For your consideration: portions of the ticket sales will go towards purchasing items for the gift packs that will be given to the teens, if you would like to donate a toy please DM us on Twitter. This event is ALL AGES! 
16th of December - BTS Series Screening                       
 Time: 17:00 - 20:00                   
 For our second day of BTS Christmas London, we wanted to do some ARMY bonding by watching a series of BTS videos which, you can vote on when purchasing your tickets. We are looking at either BTS Bon Voyage seasons 1-3. Or BTS Run! This is a social mixer for those hoping to make new ARMY friends and there will be a few episodes shown, food and a raffle for all who attend.This event is 14+
London After Party             
Time: 20:30 - 22:30           
  Hello 18+ ARMY we have not forgotten about you! We wanted to give older ARMY a chance to mingle and party the night away to BTS Music, at Club ARMATION. If there are high request of tickets we will extend the time. The theme for this party is come as your most merry self, dressing up is encouraged! This event is separate from all the other events and must be purchased as a lone ticket. 
Manchester
 Event Dates: 29th of December         
 Location: AATMA, W 11 Stevenson Square, Manchester M1 1DB  
 Time: 18:30 - 22:30                           
Manchester ARMY! ARMATION & BTSRADIOUK Brings you the ever so popular holiday party! Dance the night away, enjoy food, and play fun games to win awesome prizes! Most importantly bond and meet new ARMY whom love the boys as much as you. Do not that portions of the proceeds from this event will be donated to the Love Myself UNICEF campaign, so be sure to pick-up a ticket and join our hosts for a lovely night of BTS FUN! This event is 14+