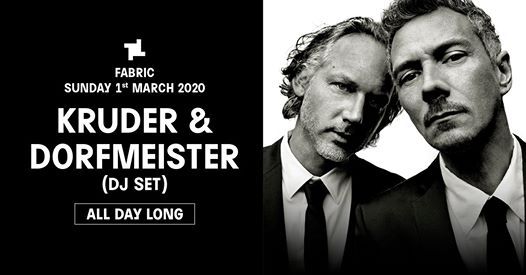 fabriclondon, London, United Kingdom
fabriclondon
Spread the word
fabric
Kruder & Dorfmeister (All Day Long)
Kruder & Dorfmeister return to Farringdon for a rare all day long performance. Active since the early 90s, the Austrian duo are universally acclaimed for their trademark downtempo sound, a style they championed long before it had garnered widespread appeal. The pair first broke through with their debut 'G-Stoned' release in 1993, drawing influence from hip-hop, dub and acid jazz to craft a new fusion of these usually disparate genres. Through their influential label G-Stone they established a new scene, laying the foundations for the trip-hop movement alongside UK artists like Massive Attack and Portishead. They first visited us together in Farringdon way back in 2000, and would go on to perform both live and behind the decks. Though they're perhaps best known for their live performances, they're also renowned for their killer DJ sets, where they typically integrate drum & bass, broken beats and four-to-the-floor within their usual downtempo template. In recent years they've not played all that often, so we're thrilled to welcome them back to EC1 for an 8-hour DJ set in Room One.
Advance tickets are now on sale via RA: fabricldn.co/aeynyg
--
fabric is an over 19s venue
Please remember to bring ID with you. No ID, no Entry.
fabric operates a zero tolerance policy to drugs. Anyone found with illegal drugs will be banned from the venue and reported to the police.