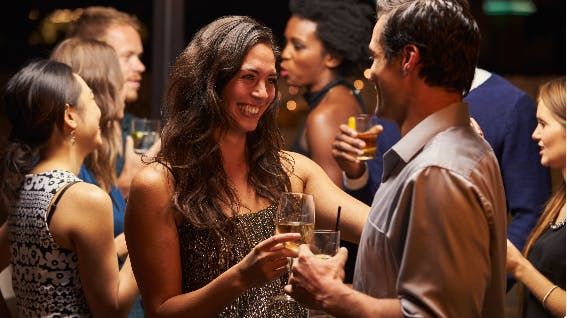 Jewel Piccadilly, 4-6 Glasshouse Street, London, United Kingdom
The Expats Club
Spread the word
Please join us as we help you make new friendships with both ladies and gentlemen without any of the pressure, shyness and nervousness normally associated with meeting new people. This is for ladies and gentlemen between the ages of 18 to 39. (It is fine if you are a few years either side of these parameters)
Please be aware that this meetup has an event fee. It costs you less to attend if you purchase your tickets early. Tickets start at £5 and increase to £10. If you prefer not to buy advance tickets then you can pay £15 cash when you attend. The link to purchase tickets in advance is given below.
WHY SPEED FRIENDING?
In our speed friending we arrange for you to meet and chat with each other. This gives you an easy and convenient way to meet new people in a way that completely dissolves barriers. This is NOT speed dating and so you will be meeting both ladies and gentlemen in mixed groups. The intent is to create friendships.
One of the greatest benefits is that this tears down the walls of shyness. Many people have deep-seated anxiety when it comes to talking to people they don't know. But when you push outside your comfort zones, this speedy connection opens up the door to allow you to easily communicate and work together with other members of the group.
Speed friending allows you to identify other people with common interests. The conversations that take place don't have to be deep, profound or even scripted; simply discussing likes and dislikes may lead to future friendships. Often, people want to make new friends, but they aren't quite sure how to go about it. With speed friending, you can start pursuing that goal without appearing socially awkward or desperate.
Speed friending is the easiest and most effective way to build connections and relationships in a short amount of time.
Here's how it will be set-up:
1) Half of the group (mixed gender) will be in a fixed place and the other half of the group (mixed gender) will rotate. During these intervals, each pair of people will get the opportunity to talk to each other.
2) Himani will be hosting the evening and she will organize the speed friending. She will indicate when you should move to the next person.
3) We will meet from 6.00pm onwards. You should get yourself a drink and also any food before 7.00pm.
4) The Speed friending part will start exactly at 7.00 pm onwards and continue till about 9pm, so please try and be there on time. If you are late then you can join the speed networking midway.
5) Our function room is booked for Himani /Meetup. The Jewel Bar has 3 or 4 function rooms over 3 floors. Please be sure to read the events board to know which room is ours on the day. You can also ask the security guard on the ground floor.
6) Please be aware that over 85% of attendees are attending for the first time and over 95% of attendees come alone. You will not be alone. Himani will welcome you and help you get comfortable.
--------------------TICKET LINK:
Tickets in advance: 
Early Bird tickets - £ 5 each (plus charges)Regular 30 tickets - £10 each (plus charges)CASH at the door on the day-£ 15 each--------------------------
This meetup is organized with
www.connectwithlocals.com
Please watch the video below to see why you should attend our meetups.
http://bit.ly/whyattendoursocials