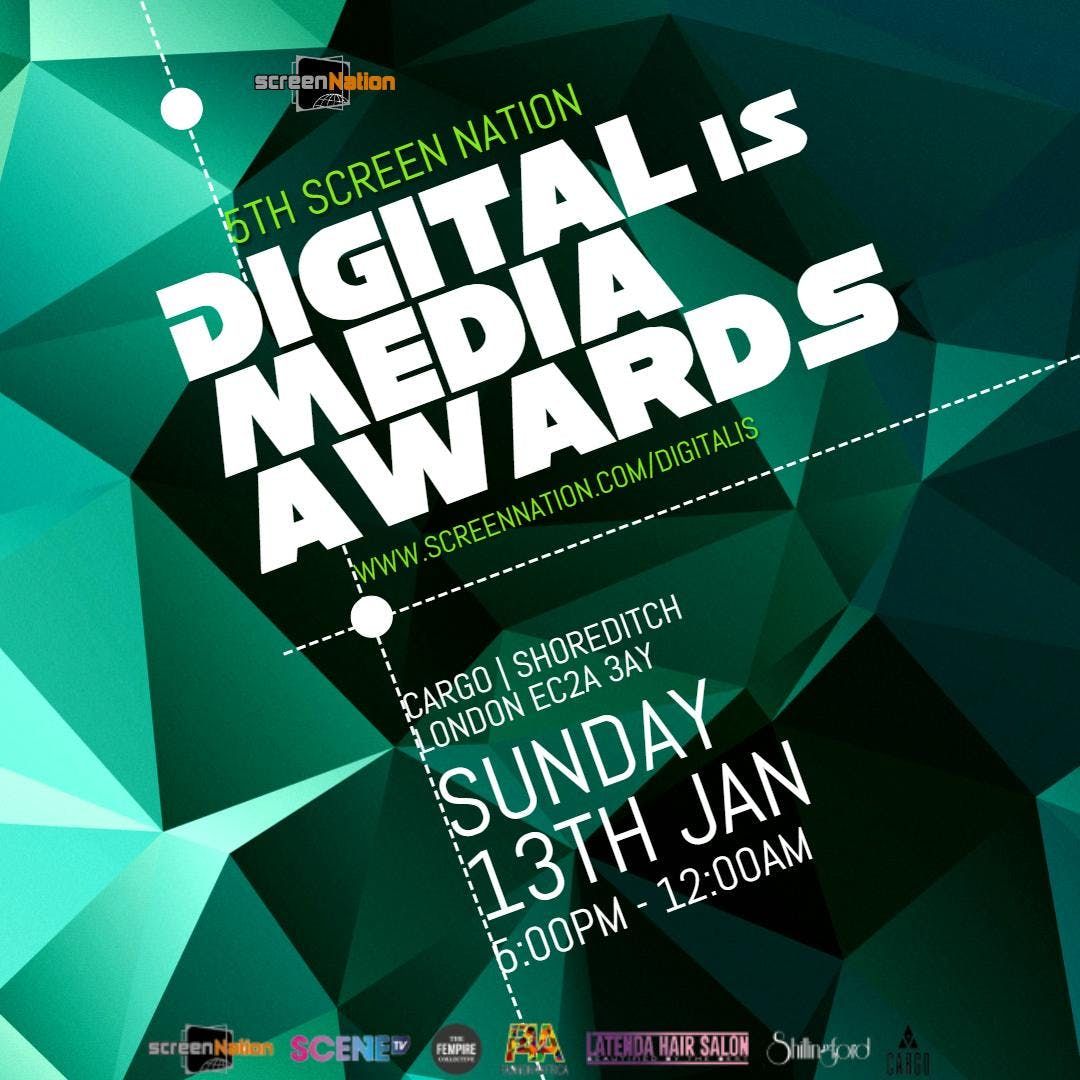 Cargo, 83 Rivington Street, London, United Kingdom
SCREEN NATION AWARDS
Spread the word
CARGO |  Reception  |  Screening  |  Awards Ceremony  -  THE LIGHTHOUSE |  After Party  
Venue Partners: Cargo & The Lighthouse   |   Online Media Partner: Scene TV   |   Social Media and Gifting Partner: The Fempire Collective   |   Styling & Hostessing Partner: Fashion4Africa   |   Hair & Makeup Styling Partners: Latenda Hair and Yolanda Shillingford   |   Menswear Styling Partner: Kojo Vandie   
Doors Open: 5.00pm
Red Carpet: 5.00pm - 7.00pm 
Drinks Reception: 5.00pm - 7.00pm 
Short Film Screenings: 7.00pm - 8.00pm
Awards Ceremony: 8.00pm - 9.00pm
After Party: 8.00pm - 1.00am      
The awards ceremony is co-hosted as usual by two urban digital media talents of the moment who will be joined in the presentation by a host of hot young personalities from the worlds of film, TV, media, sports, social media and culture!  
A VIP Drinks Reception will be held between 5.00pm - 7.00pm in the Cargo Lounge Bar with a complimentary glass of wine, lager or soft drink (and hot snacks) for all Ceremony VIP guests.    
The Awards Ceremony is to be held in the 200 seat Cargo Live Room for Nominees, Guest Presenters, VIP's and Guests    
The official After Party is open to all Ceremony guests and the Public and will be held between 8.00pm - 1.00am in The Loft on the first floor of The Lighthouse Bar where a fun-filled themed nightclub with music by a selection of award-winning club and radio DJ's will be hosted including surprise PAs.   
++++++++++++++++++++++++++         
If you've been to one of our Digital is Media Awards After Parties over the years then you definitely know our swagger, if you haven't then sign up and get to know. We promise you won't regret it
Imagine jumping up with Joivan Wade (Shiro's Story) or Percelle Ascott (The Innocents) or watching Mo the Comedian (The Big Narstie Show) & Michaela Coel (Chewing Gum) strut the latest moves or just networking with other inspirational people. This will be a truly fun and memorable night allowing you to mingle freely with countless familiar faces from the worlds of Online media, TV, Film, Music & Sports including nominees and winners. You know how we do.Confirmed and invited guests to include stars of Dr Who, X Factor, The Apprentice, Strictly and more plus top Comedians and a sprinkling of some of your favourite Online Media stars, Singers, DJ's, top Influencers, Designers, Promoters and Entrepreneurs and even a bunch of UK Nollywood stars!
  EXPECT STARS, LAUGHS AND GREAT MUSICAL PERFORMANCES   
VIP Awards only £25 (Earlybird) to guarantee entry (£30 from 17/12)
---------------------INVITATIONS ARE LIMITED to the FIRST 100 on a first come first serve basis.For those of who missed the deadline last time please be sure to respond to this invitation as soon as poss, so you have no complaints. Accepting on Facebook does not guarantee entry. The Select Guestlist CLOSES MIDNIGHT FRI 11TH JAN or as soon as we reach capacity.We very much look forward to hosting you on the 13th January 2019Dress Code: Red Carpet Swagga Style!See you there!Merry Christmas and much Blessings for a rewarding New Year!Screen Nation Select
Guestlist--------------------INFOguestlist | screennation ! co ! uk
 07741 281 650 (text only)  
All attendees should note that attendance on the Awards night in person grants rights to Screen Nation and the media present to record and use your image for broadcast and media distribution and exhibition  
========================
PRESS
www.screennation.com/digitalis/press
/>
Press Accreditations (at above url only) - Opens: 12pm 17 Dec | Closes: 12am 4 Jan(Successful applicants advised by 12pm Mon 7 Jan)

Enquiries -

press | screennation ! co ! uk



=============== 

 

++++++++++++++++++++++++++++++++++++