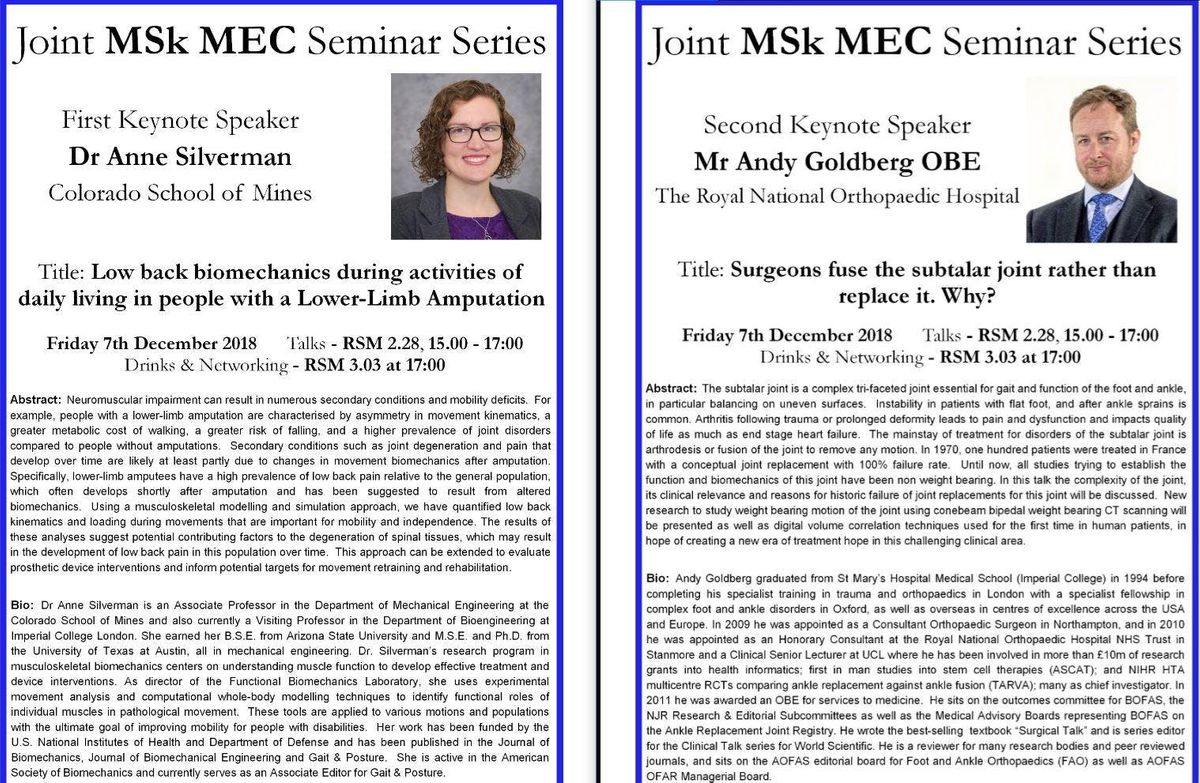 Royal School of Mines - Room 2.28 & 3.03, Imperial College London, London, United Kingdom
Eventbrite
Spread the word
The Musculoskeletal Medical Engineering Centre (MSk MEC) brings together researchers from across Imperial College London focussed on the discovery and application of new technologies to improve the understanding, diagnosis and treatment of musculoskeletal disorders, such as osteoarthritis.
The next MSk MEC seminar will take place on 7th December, 2018 at Imperial College London, South Kensington Campus, in the Royal School of Mines, Rooms - 2.28 & 3.03 from 15:00.
Our confirmed keynote speakers are Dr Anne Silverman from Colorado School of Mines and Mr Andy Goldberg OBE from the Royal National Orthopaedic Hospital. Dr Silverman will be speaking on 'Low back biomechanics during activities of daily living in people with a Lower-Limb Amputation' and Mr Goldberg will be discussing 'Why surgeons fuse the subtalar joint rather than replace it.' 
There will also be other short talks from the research groups of Prof. Julian Jones, Dr Jonathan Jeffers, & Prof. Anthony Bull.
The keynotes and talks will start at 15:00 in RSM 2.28, and a drinks reception will follow the final talk in RSM 3.03, so there would be ample time for networking and follow up questions.