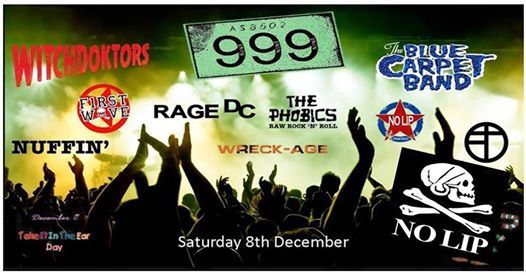 New Cross Inn, 323 New Cross Road, SE14 6AS London, United Kingdom, London, United Kingdom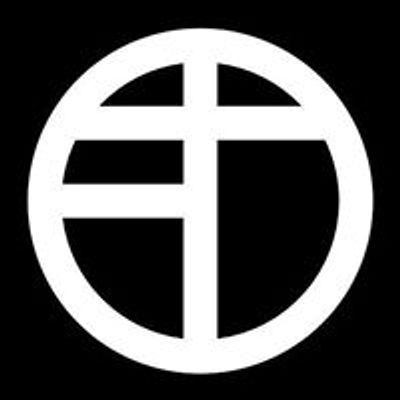 Etc.
Spread the word
Here at New Cross Inn towers we shall be celebrating the annual "Take it in the ear day" with some of the finest punky type bands around.
Doors 3pm
£12.50 ADV / £15 OTD
999
An English punk rock band formed in London in December 1976. From the period of 1976 to 1985, the lineup of 999 consisted of Nick Cash (vocals, guitar), Guy Days (lead guitar), Jon Watson (bass) and Pablo LaBrittain (drums). (As a result of injuries sustained in a motor accident, LaBrittain was temporarily replaced by drummer Ed Case aka Paul Edwards in 1980.) Jon Watson left the band in 1985; being replaced by Danny Palmer, who remained with the band until 1991. Palmer was replaced by Arturo Bassick, who remains the bass player with 999 to this date.
The reason for their longevity is not airplay, massive publicity, hype or even a major recording deal but word of mouth and that "word of mouth" now extends to nearly every country on earth.
999's debut single, "I'm Alive", was "a headlong rush of anti 9 to 5 rebellion complete with a bruising power-pop punk guitar attack and rent-a-yob pitched-in vocals."
"A ferocious live band, the group harnessed every iota of their stage performance for the studio, turning in an album that zips past at the speed of light, in a blur of chant-worthy choruses and pogo-able riffs."
https://www.facebook.com/999Music
/
http://www.nineninenine.net
/
https://www.youtube.com/channel/UCRX1WRaDYbebzgqLWkRidwQ
Witchdoktors
Deep in the darkest vaults of South London, The WitchDoktors have been honing their SuperPunkRock sound and shows, drawing on their 70s punk upbringing and adding a good ol' full measure of trashy rock'n'roll-a-billy, a dash of 60s Psyche-Out Garage, a bitter twist of cuntry and whizzing it all up with some godamming loud geetars our special brand of thunderous drums!
https://www.facebook.com/witchdoktors
https://witchdoktors.bandcamp.com
First Wave
First Wave stand for punk rock, equality for all regardless of race sexuality or creed, even drummers are welcome!
Hailing from Leicester and Northampton in the UK, they do exactly what the name says, play FIRST WAVE punk, much influenced by The Lurkers, 999, and The Clash.
https://www.facebook.com/firstwavepunk
http://www.firstwavepunk.com
The Phobics
Formed in Deptford in 1999 by a bunch of punk survivors and misfits with a love of raw rock n roll and bored with a smug and complacent music scene. Sometimes tight, sometimes not. Occasionally sober but always eventful, faster and louder. A kick up the arse with great tunes that'll hook you deep. Sign us why doncha?
https://www.facebook.com/thephobics
https://www.youtube.com/results?search_query=the+phobics
Rage DC
Originally formed in 1996 Rage DC have shared a bill with, amongst many others, the UK Subs, Sham 69, GBH, Vibrators, Stiff Little Fingers, Vice Squad, the Dickies, The Wernt, London and Jerry Dammers.
Founder member Loric is a former member of 1980s punk band The Skrews, known for their appearances at the infamous Feltham Football Club gigs.
https://www.facebook.com/Rage-DC-104383496272106
https://soundcloud.com/rage-dc
No Lip
Right, lets get this straight. We are playing no frills, straight up honest as you like punk rock. We don't bother with our own stuff it just clouds the issue, the issue being bringing these tunes back to an appreciative audience and not trying to promote our own half assed take on current affairs, we leave that to the "Facefuk" generation.
https://www.facebook.com/nolipband
https://www.youtube.com/channel/UCRnC-f_E_TYsL7xBXX2nqdA
Nuffin'
Caterham punk band first formed in 1976 and were regulars at The Roxy before disbanding in 1978, now they're back making up for lost time!
https://www.facebook.com/punkrock76
https://www.nuffin1977.com
/
Wreck-Age
Northamptonshire based punk rock band with grunge and ska influences
https://www.facebook.com/WreckAge77
https://soundcloud.com/user-832039275
ETC.
D-Beat/Doom band from London, heavy as fuck! As made by Edu (Cavalli) Tom (First) and Colm (Lamo).
https://www.facebook.com/etcetcinfinity
/
https://etcetcinfinity.bandcamp.com/releases
For deals on accommodation above the venue, please email:
events | heltd ! org