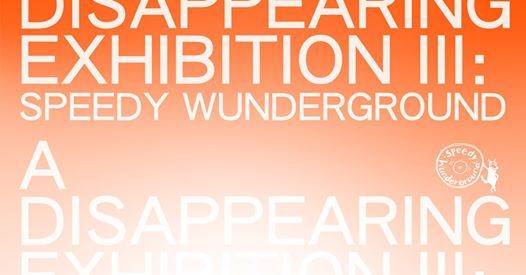 The Social, 5 Little Portland Street, W1W 7JD London, United Kingdom, London, United Kingdom
This must be for you
Spread the word
This Must Be For You are excited to announce the next in their series of Disappearing Exhibitions, this time in collaboration with record label Speedy Wunderground.
The label are best known for their 7" single releases, recorded in one day with producer Dan Carey. This exhibition will see 15 Speedy Wunderground singles reimagined with new artwork, designed by different artists & friends of the label. Featured releases and artists include black midi, Squid, Warmduscher, JW Ridley, BOSS, SINEAD O'BRIEN, Black Country, New Road, Lazarus Kane, Archie Bronson Outfit, Flamingods, Teleman, Childhood, Boxed In, Kate Tempest, FEWS, Meatraffle, Holly Whitaker Photography, Dan Carey and more.
The exhibition will run for 5 days at The Social in London from 2nd - 7th Dec. At the end of the event each record sleeve will be raffled off for free to encourage human kindness, and the idea that art should be accessible for all. TMBFY will also be accepting donations for Help Musicians UK .
The final day of the exhibition will coincide with Speedy Wunderground's Year 4 Compilation party at The Social.