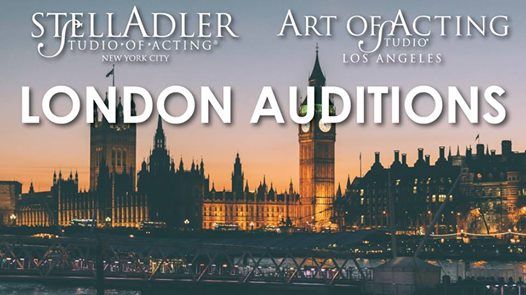 The Actors Centre, 1A Tower Street, WC2H 9NP London, United Kingdom, London, United Kingdom
Stella Adler Studio of Acting
Spread the word
The Stella Adler Studio of Acting New York and Art of Acting Studio Los Angeles will be returning to London in March 2019 to hold auditions for their world-class actor training programs.
To be considered for the 3-Year Conservatory, Evening Conservatory or Summer Conservatory all offered at the New York and Los Angeles studios, please schedule an audition for March 15-17. Website:
https://stellaadler.com
To schedule a London Audition, please fill out and submit the FREE Audition Tour Online Application at:
https://ste-web.scansoftware.com/cafeweb/tapestry?page=Audition-Tour-Int
or email
classes | stellaadler ! com
for more info. Once the studio receives the submitted application, an associate will contact you to schedule an appointment.
Friday and Sunday Audition location:
The Actors Centre
1a Tower Street, London, UK
Saturday Audition Location
RADA Studios
16 Chenies Street, London, UK
Audtion dates:
Friday, March 15, 2019 10am-5pm
Saturday, March 16, 2018 10am-5pm
Sunday, March 17, 2018 10am-5pm
The Stella Adler Studio of Acting is 501(c)3 not-for-profit organization and is accredited by the National Association of Schools of Theatre.