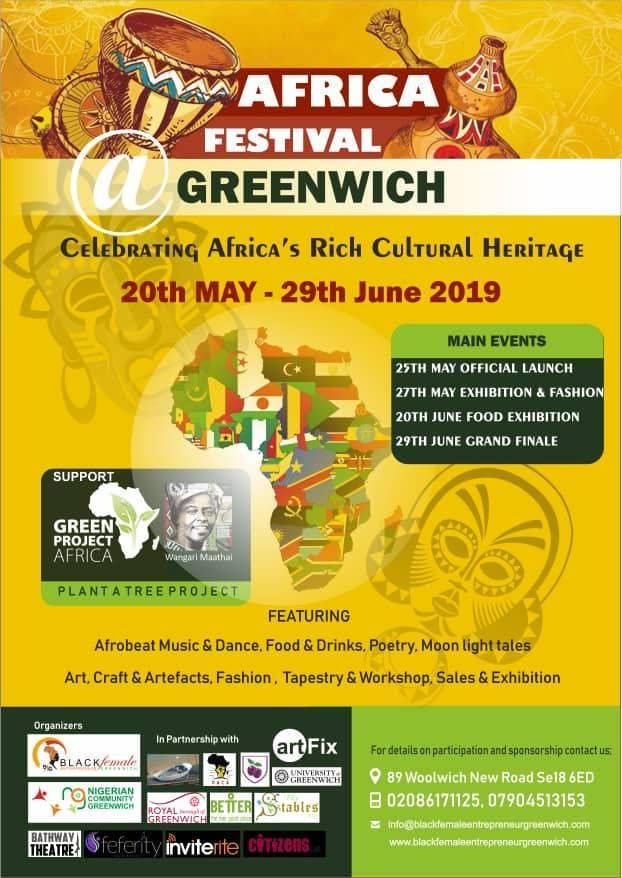 Greenwich Maritime Musuem, Park Row, East Greenwich, London, United Kingdom
Black Female Entrepreneur Greenwich
Spread the word
The Black Female Entrepreneur Greenwich (BFEG) is writing to informed you of our upcoming event in the Month of May called the "AFRICAN FESTIVAL GREENWICH" . Which will include all African community in Royal Borough of Greenwich to coming together to showcase and celebrate their African Cultural heritage with the general public. Greenwich and Woolwich is a diverse community with a large percentage of African community. The African community in Greenwich and Woolwich is part of the unique  cultural diversity of Royal Borough of Greenwich and their attributes has contributed to what make the Royal Borough Greenwich  the  melting point of rich diverse  cultural heritage .  The​ Black Female Entrepreneur Greenwich has chosen the Month of May and June to celebrate the "AFRICAN FESTIVAL GREENWICH" , as the month of May celebrates the achievements made in the development of Africa. The events culminate in Africa Day on 25 May, which is a day declared by the African Union and celebrated in Africa. The theme for Africa Month 2019 is "Wangari Maathai -Building a Greener Africa and a Better World". Wangari Maathai is from Nairobi, Kenya - Wangari Maathai is the Kenyan environmentalist who began a movement to reforest her country by paying poor women a few shilling to plant tree and who become the first African women to win Noble Peace Prize, and she died at the age of 71. In her memory , any money raise will be use to plant more trees in African.  The African Festival Greenwich will bringing together the best of African Culture and History to the Royal borough of Greenwich. It is the first  African festival in Royal Borough of Greenwich. Featuring Tradition and contemporary  fusing Afro beat music, Contemporary  and Traditional Dance, Poetry, Story telling ( Greenwich Africa Moon light tale) Art ,craft, Tapestry, Artifact exhibition, Workshop and Seminal  Food, Sales & Exhibition and fashion from across Greenwich , London and  the African continent. Young people project on African art, Tapestry, Poetry,  drummers and dance  will be run in school, library and maritime museum, community centre, The Launch of The "Greenwich African   Moon Light Tales"  by the Nigeria community Greenwich  The Black Female Entrepreneur Greenwich (BFEG) in Collaboration  Nigerian community Greenwich present you "African Festival Greenwich" Partner: PAN Afrikan Community UK  , Greenwich Maritime, Greenwich / Woolwich library and  The Aluna project
The African Festival in May will be a month programme from 20th May to 29th June 
25th  is the officer launching 
There will be one school and community activities every week starting from week beginning 20th May to the 29th June
This event and all it activities is a free community event for all to take part.
Community activities:
African food tasting / Jollof Rice Cooking competition ( Which African country cook the best Jollof Rice)  
Drumming session and African History
Artefacts Exhibition and lecture
Story telling  (Moon Light Tale) , Singing and Dancing
Fashion show
Aluna Moon Tapestry 
Sales and Exhibition
Performance Artiste  
Dancing competition (Young People)
Primary School activities:
Cake making
Card making
Clay marking
Secondary school activities
Making Customizes Ankara strew Summer hat
Making Customizes Ankara T Shirt 
making tired and dye bag
making of shea  butter hand cream
We shall promote and advertise  the work of community, school, organisation , businesses , individual and Cooperate body who sponsor and took part in this event in the Africa Festival Greenwich 2019 magazine    
29th June will be grand finally celebration which will be held at the Greenwich maritime. Lecture and Seminars will be carried out by PAN Afrikan Community UK  .