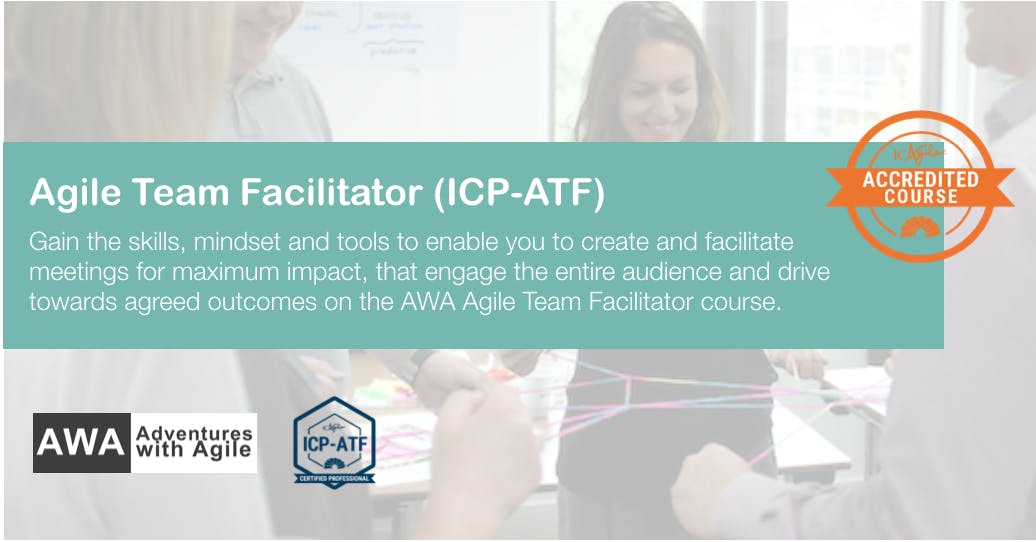 Etc Venues - Chancery Lane, 50-52 Chancery Lane, London, United Kingdom
Eventbrite
Spread the word
"This is my second course with AWA and they consistently wow and impress with their delivery."
Facilitation is a key skill required to foster collaboration and enable self-organizing teams. This two day ICAgile Certified workshop focuses on the mindset and role of an agile team facilitator and provides a range of tools and techniques that can be used for designing engaging meetings that drive towards agreed-upon outcomes.
By attending his highly interactive, powerpoint free workshop you will gain the necessary skills to design meetings for maximum impact. You will come away with both updated toolkits and practical experience that you can use back in the workplace while leveraging your new skill sets to facilitate agile practices towards successful team outcomes. You will also be eligible to attain the ICAgile-Certified Professional Agile Team Facilitator certification. This course has been designed and developed by Simon Powers and AWA Team, the global community of practice for agile and organizational change.
AGENDA:
Introduction to facilitation
How Agile facilitation differs from pure facilitation
Intro and practice of Core facilitation skills
Designing meetings for maximum impact
Models and tools for facilitation
Practice facilitating key Agile meetings
Putting it all together
Assessment
WHO SHOULD ATTEND:
ScrumMasters, Agile Project Managers, Agile Coaches and aspiring coaches, Product Owners, Business Analysts, and anyone with the desire to explore the power of facilitation.
PRE-REQUISITES:
This an intermediate-level course for practitioners with at least 6 months of hands-on agile experience. You will build upon the experience you already have working with agile teams. 
ACCREDITATION:
This course is accredited by the International Consortium for Agile (ICAgile) as fulfilling all Learning Objectives in the Agile Team Facilitation track. After successful completion of this course, you can apply for the ICAgile Certified Professional-Agile Facilitation (ICP-ATF). This continuing education certification is a key step toward achieving the ICAgile Expert-Agile Coaching (ICE-AC), the industry's first competence-based certification. There is an ongoing assessment throughout the class as well as a practical assessment at the end of the course that you will need to pass. As long as the trainers believe you have demonstrated competence and that you have understood the learning objectives and you do not miss more than 1 hour of the course then you will receive the certification. The certification is included in the price of the course. Following the class you will receive an email from ICAgile with your Certification. 
Endorsed by Scrum Alliance
By attending this course you will be eligible to earn up to 15 Category C SEU Points.
WHAT PEOPLE SAY ABOUT THIS CLASS:
"Once again I feel like I'm leaving with a bag full of new ideas that can not wait to come to reality in practice" – Bianca Schobel – Scrum Master
"A brilliant session run by brilliant people. I left feeling confident and excited to go and put my new facilitation skills into practice" – Charleigh Welburn – Scrum Master
"Outstanding world class trainers. Very privileged to be in this environment learning from them" – Alexandra Rodrigues – Agile Coach
"Really helped me focus on brushing up my facilitation skills and gave me confidence on best ways to prepare for and run sessions with a group" –  Claire Brown – Agile Coach
"Excellent course - great opportunity to learn and practice facilitation techniques. 5 stars!" - Jon Elock - Agile Coach
"The trainer has a wealth of knowledge and runs an exceptional course. Highly recommended!" - James Oliver - Scrum Master
"Dives into the reality of being a facilitator. Equips you to prepare & practice for difficult or challenging participants" - Thara Pathi Tandon - Agile Transformation Leader
"Excellent piece of work combing knowledge practice and sharing among professionals and peers" - Ivelina Petkova - Project Manager
"Really happy to be here in London to receive the agile team facilitation training. It's well designed, which has met my expectation completely." - Selena Ma - Agile Coach
"Excellent training not only useful in professional life but also in personal life too" - Mongheal Sylvaine - Offer Creation Director
"Thoroughly enjoyed this course. Great content. Knowledgeable teacher. Learnt a lot!" - Karen Botsh, Delivery Manager
"The coaches are really experienced & I really enjoyed!" - Felix Parache, Senior Manager
"One of the most engaging and creative courses I have been on that flew very naturally and made me feel well equipped to be a facilitator in any situation." - Harsh Kesarwani, Project Manager
"This is my second course with AWA and they consistently wow and impress with their delivery." - Alan Jennings, Senior Delivery Manager
"The trainer was really inspiring and it was a huge learning opportunity to grow personally and in my professional career." - Shubhang Vishwamitra, Scrum Master
"Great trainers, brilliant flow, time flew by but I had fun and I learned a lot." - Giulio Folino, Scrum Master
"A challenging and engaging course which built up gradually so that activities were always just enough in my comfort zone for me to enjoy them and learn from them." - Lynda Watson, Senior Developer
"Great trainer & training, very practical training. Thanks!" - Tom Van Baarle
"Absolutely fun and active training to improve how I facilitate!" - Akiko Kato, Delivery Manager
"Awesome course, great facilitator." - Temitope Awere, Agile Coach
"This is a great course for anyone who wants to gain further knowledge/skills on agile ways of working." - Anissa Nahal, Head of HR Oncology
"Fun course and great learning to be had." - Siobhan Price, Agile Coach
"Superbly facilitated and incredibly engaging. Reinforced areas I knew, taught me about areas I did not know." - John Harrison, Scrum Master
"Amazing course with a lot of practise and feedback on your personal facilitation technique." - Louisa Mensah, Agile Coach
"Interactive, fun and very practical session to learn to facilitate meetings." - Manika Agrawal
"Great 2-days filled with lots of tips and tricks. Opportunity to reflect and improve." - Nicole Ruszkowski, Agile Delivery Coach
WHAT YOU WILL RECEIVE:
Course manual and notebook
Improved skills and knowledge that will enable you to create and facilitate meetings that engage the entire audience and drive towards agreed-upon outcomes
Access to Slack channel community for all Agile Team Facilitator alumni
Tasty breakfast and lunch, and teas/coffees/water
Membership to Adventures with Agile community for organizational change and agile
YOUR TRAINER - One of our highly experienced ICAgile accredited Coach Trainers will facilitate this course
Speak to the training organizers - Adventures with AgileTo speak to the organizers of this course for further details:
Call: 0203 369 1125
Email: 
training | adventureswithagile ! com
Terms and Conditions
Please read our terms and conditions for bookings.