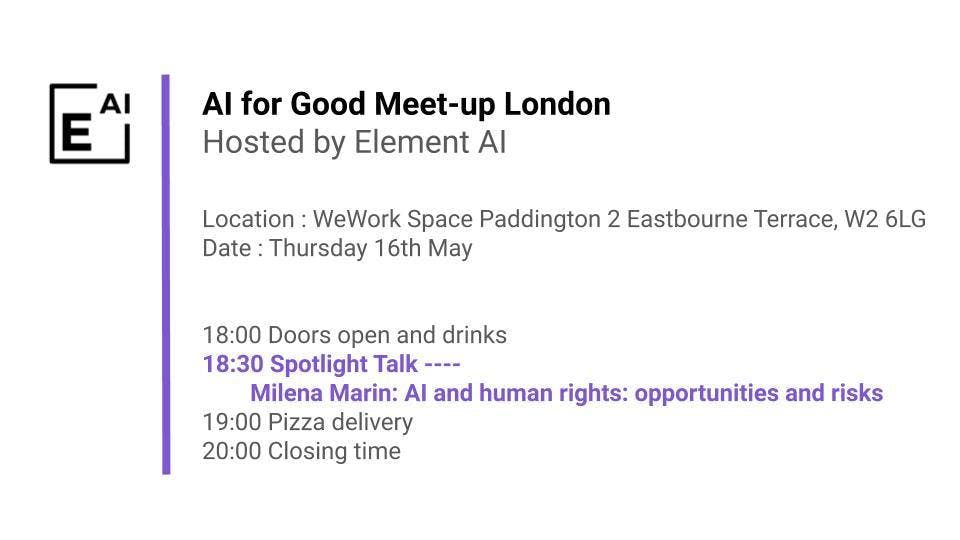 WeWork Space Paddington, 2 Eastbourne Terrace, London, United Kingdom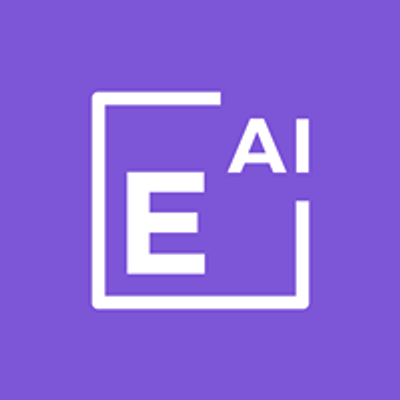 Element AI
Spread the word
We're running a series of AI for Good community meet ups, these sessions will be held on the 3rd Thursday, every other month, join us!Expect an evening social, open to anyone and everyone interested in learning about how to use AI for Good. At each event we will throw a 15 minute spotlight on our guest speaker, who will share details on a current project.Our speaker this month is Milena Marin, Senior Advisor in Amnesty International's Evidence Lab, where she works on complex human rights investigations leveraging open source information, data science and crowdsourcing.
Talk title -- AI and human rights: opportunities and risks
Abstract ---  As technologies that employ artificial intelligence and machine learning advance in capability and increase in use, we must examine their positive and negative implications.
On the one hand, AI can pose a major challenge to human rights. From policing, to welfare systems, online discourse, and healthcare, AI can vastly and rapidly change and reinforce power structures or inequalities on an unprecedented scale. On the other hand, AI has the potential to be used for good and scale the ability of human rights investigators to shine a light on human rights violations globally.
This talk, led by Amnesty International's Senior Advisor for Tactical Research, will discuss how the organisation is adapting and increasing its abilities to both scrutinise biased AI systems and implement the technology in large scale, impactful investigations. It will also feature examples of how the organisation is partnering with leading tech organisations like Element AI to fully take advantage of the technology while focusing on its core human rights mission.
Milena Marin's biography ---Milena has over ten years' experience working at the intersection of technology, data and social good on issues like human rights, public sector transparency, anti-corruption and open data. She leads Amnesty Decoders, an innovative platform using data science, crowdsourcing and artificial intelligence to process and analyse large volumes of data such as documents, satellite images and pictures. Previously she worked as programme manager of School of Data where she trained and mentored numerous NGOs and journalists around the world to make the most of their data and reach new audiences. She also worked for over 4 years with Transparency International where she supported TI's global network to use technology in the fight against corruption.
AI for Good : Meet-up LondonHosted by : Element AIDate: Thursday 16th MayLocation : WeWork Space Paddington, 2 Eastbourne Terrace, W2 6LG18:00 Doors open and drinks18:30 Spotlight Talk | Milena Marin, AI and human rights: opportunities and risks19:00 Pizza delivery and more great conversations20:00 Closing time
Our meet-ups are hosted by AI for Good, a dedicated group within Element AI, a B2B product company, co-founded by JF Gagné and Prof. Yoshua Bengio in 2016. The London-based team focuses on bringing its deep expertise in machine learning to help solve human rights, humanitarian and environmental problems.
We achieve our AI for Good mandate through collaborations with non-government organizations (NGOs), international organizations and the public sector to develop reusable AI tools which they can use to scale up and enhance their work.