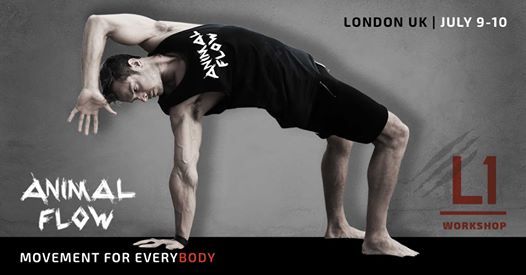 London School of Capoeira, Leeds Pl Unit 1 & 2, N4 3RF London, United Kingdom, London, United Kingdom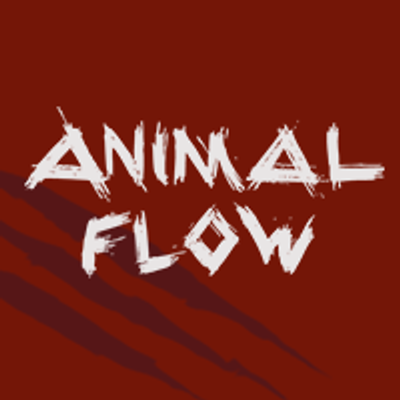 Animal Flow
Spread the word
Join us for the Animal Flow® Level 1 Workshop in
London, UK on July 9-10, 2020. The two-day event is six hours each day, from 11:00am-5:00pm on THURSDAY and FRIDAY. It will be hosted London School of Capoeira. We'll hold at least a portion of it outside, to allow for fresh air and appropriate distancing. This workshop will be taught in English, by Master Instructor Richard Scrivener.
L1 is an intensive two-day workshop (12 hours total) where you'll learn all 30 Level 1 moves, including regressions, progressions, and variations for all skill levels. You'll explore how and when to use each movement individually, as well as how to link them together into flows of your own design.
The workshop is open to fitness professionals and non-professionals, as we welcome everyone interested in becoming a better mover. Fitness professionals are eligible to become Certified AF Instructors, who are allowed to teach AF in personal training, group fitness classes, or other fitness programs. Becoming certified requires completing the test process after the workshop. Non-professionals all welcome to take the course for their own benefit, but are not authorized to teach it without first attaining an appropriate fitness credential.
You'll cover all 6 elements of Animal Flow, including the Traveling Forms (the "ABCs" of animal movements); Switches and Transitions; Wrist Mobility; Activations; Form Specific Stretches, and, of course, Flows. The workshop starts with base positions, which systematically build in difficulty and complexity over the two days. Movements are taught within the context of scientifically-based concepts relevant to anyone working in health and fitness industries.
What's Included
Your registration includes:
- Complimentary access the full library of instructional videos for all Level 1 movements
- Hard copy of the 74-page Student Manual
- Access to the private AF Instructors Facebook group.
- Access to Mike Fitch's tutorial series reviewing the Call Out language used in AF
- Certificate of Completion, including proof of participation for Continuing Education credits.
Continuing Education Credits
The Level 1 course is approved to provide continuing education credits from: ACE 1.1 CEUs; National Academy of Sports Medicine (NASM) 1.1 CEUs; Athletics and Fitness Association of America (AFAA) 11 CEUs; UK Registered Exercice Professioanla (REPS) from PD:Approval 10 CPD; New Zealand Registered Exercise Professionals (REPs) 13.75 5 CPDs; UAE REPS; Canfitpro – 8 canfitpro CECs (Assesement & Exercise Portion: 4 PTS; Program Design Portion: 4 PTS); Fitness Australia – 9 CECs pending renewal; Physical Activity Australia 3 PDPs
Who and Where:
This workshop will be taught by Animal Flow Master Instructor Richard Scrivener.
It will be hosted in London at London School of Capoeira, on THURSDAY & FRIDAY.
Cost and Payment Plan Options:
Regular cost for the Level 1 Workshop is $595 USD. If you are paying in a foreign currency, the conversion is done automatically at checkout.
- Payment plans available: You can register with a 50% deposit. You will receive an email reminder to pay the balance 30 days later. Note that we do not collect credit card information and thus cannot automatically rebill you; you will need to click on the balance payment email to make the second payment.
iCause.com promotes public events for free and helps event organizers connect with nonprofits to attract more participants like you.
Additionally, the iCause Global Foundation enables good people to fund great causes around the world. Together, our impacts are limitless!