The Pride of Paddington,, 1-3 Craven Road,, London, United Kingdom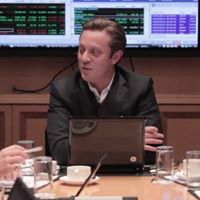 Institute of Trading and Portfolio Management
Spread the word
You are invited to join Anton Kreil from the BBC TV show Million Dollar Traders to celebrate the 10 year anniversary since the first Episode of the show being televised. 
ANTON KREIL WILL BE PUTTING A GBP10,000 TAB BEHIND THE BAR. FANS OF THE SHOW ARE INVITED TO DRINK FOR FREE ON HIS TAB TO CELEBRATE. GBP1,000 FOR EVERY YEAR SINCE THE FIRST EPISODE WAS AIRED! 
YES YOU READ THAT CORRECTLY! Anton Kreil who is now the Managing Partner of the Institute of Trading and Portfolio Management and who starred in Million Dollar Traders will be flying into London for one night and one night only to put GBP10,000 of his own money behind the bar for fans of the show to join him in the celebrations. 
PLEASE NOTE: This Invitation is open to any and all members of the public who are fans of the show and the bar tab is likely to get consumed very quickly. Capacity for the event is maximum 200 people. When there are 200 people in the bar, security on the door will operate a "One out, One in" policy.  
ANTON KREILS MILLION DOLLAR TRADERS 10 YEAR ANNIVERSARY PARTY 
JANUARY 11TH @ The Pride of Paddington Pub, London.
REGISTER YOUR TICKET AND PRESENT IT TO SECURITY AT THE DOOR WHEN YOU ARRIVE WITH A VALID PHOTO ID THAT MATCHES THE NAME ON YOUR TICKET AND YOU WILL BE DRINKING WITH ANTON KREIL ALL NIGHT TO CELEBRATE!!!!!!
TIMETABLE 8PM TILL LATE! 
FAQs 
Q: WHY IS ANTON DOING THIS? WHATS THE CATCH? > A: Because he can and there is no catch.
Q: DO I NEED TO PAY FOR DRINKS? > A: Not until the bar tab runs out. Who knows? The Bar tab may get extended!
Q: WILL THERE BE FOOD AVAILABLE? > A: Eating is cheating. But if you're a cheater there will be British Pub finger food served to make yor fingers even greasier than they already are :-)
Q: WILL THERE BE ENTERTAINMENT AT THE EVENT? > A: There won't be a live band but there will probably be some M&M's i.e. Midgets & Models serving you drinks.  
Q: CAN I RIDE A SANTANDER BICYCLE TO THE EVENT? > A: Yes. But we can assure you that you won't be able to ride one home. So make contingency plans! 
Q: CAN I BRING MY BACKPACK INTO THE BAR? > A: Seriously no! If you show up with a backpack you wont be allowed onto the premises. Leave it in the office or at home. This is a serious answer. The event space capacity is for 200 PEOPLE. Not 200 MORONS with backpacks. 
Q: WILL ANTON BE ABLE TO ANSWER ALL MY QUESTIONS ABOUT BITCOIN AND CRYPTOCURRENCY? > A: No! F**k off! If that is why you want to attend, don't bother coming. This is a celebration for the 10 year anniversary of the first episode of Million Dollar Traders being aired on the BBC for the fans of Million Dollar Traders. If you show up and start asking moronic questions related to random trading issues that you have, Anton will just walk away from you and security may eject you from the premises. 
Q: I AM AN ITPM TRADER AND / OR I HAVE BEEN TO AN INSTITUTE SEMINAR / TAKEN AN ITPM EDUCATIONAL PROGRAM BEFORE. CAN I ATTEND FOR FREE? > A: No. This event is not an Institute of Trading and Portfolo Managment event. Nor is it a "Meet up" for Institute Traders and / or people who have been to ITPM seminars / completed ITPM online Educational courses before. People who fall into this category must purchase a ticket for $80USD. The GBP10,000 bar tab is for fans of the Million Dollars show that have never interacted with the Institute or met Anton, NOT for ITPM students, former ITPM seminar delegates or Institute Traders. You have to pay your own way up front. 
Q: WHAT IS A VIP TICKET? > A: If you purchase a VIP Ticket you will be going for a very long and boozy lunch with Anton at 3pm till 8pm before the event starts. Our London office will email and call you with the details 3 days prior to the event. There are only 4X VIP Tickets available. 
Q: CAN PEOPLE WHO DISLIKE OR HATE ANTON KREIL TURN UP AND DRINK HIS BOOZE FOR FREE? > A: Yes, as long as you are a fan of the show Million Dollar Traders and even if you dislike or even HATE Anton with a passion, you can show up and drink as much as you want. At least when you wake up in the morning you will feel like you have won a small victory for once in your life. But if you start any trouble at the event our meathead security team of MMA fighters have been instructed to eject you quickly and efficiently. If you intend to cause trouble make sure your health insurance policy covers Extreme Sports Accidents.
Q: WILL LEX VAN DAM BE ATTENDING? > A: No. Lex Van Dam will not be attending 
Q: WILL THE CONTESTANTS OF THE MILLION DOLLAR TRADERS SHOW BE ATTENDING? > A: No. None of the contestants from the show will be attending.  
Q: WHY ARE LEX VAN DAM AND THE SHOW CONTESTANTS NOT ATTENDING? > A: Because Anton did not invite them. This is Anton's party to celebrate the 10 year anniversary of the Million Dollar Traders show being aired on the BBC and it has nothing to do with them. If they want to have their own party to celebrate they can. Anton will not be attending their party if they have one, because he is having his own celebration which will be much more fun.
Q: How tall is Anton Kreil? > A: 6ft 
Q: What shoe size is Anton Kreil? A: UK 9 / US 10 / EUR 42. 
Q: I WOULD LIKE TO BUY ANTON KREIL A DRINK TO SAY "THANKS FOR THE INSPIRATION" ON THE NIGHT. WOULD THAT BE OK? > A: The word "inspiration" is a banned word at the Institute of Trading and Portfolio Management and is in Anton Kreil's top 10 hated words of all time. If you want to buy him a drink then buy him one. He is very unlikely to refuse. Just dont use the word "inspiration" when doing so, or infact EVER in your life!
Losers get inspired. Winners get reuslts! 
BOOK YOUR TICKET & SEE YOU AT THE EVENT !!! 
Regards,
The Institute of Trading and Portfolio Management on behalf of Anton Kreil