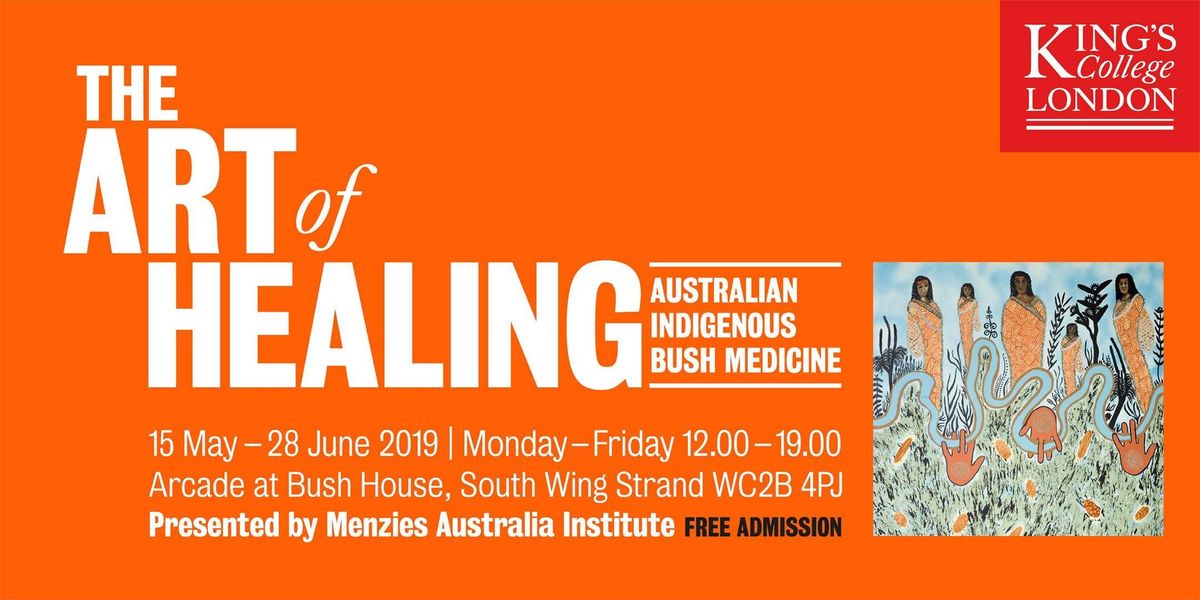 King's College London, Bush House, 8th Floor North , London, United Kingdom
Eventbrite
Spread the word
Ngangkari (traditional healers)
Iriti-nguru kuwari-kutu, ngarala ngaranyi | Unchanged from long ago until today, our work continues.
With Rene Kulitja, Pantjiti Lewis and Professor Sandra Eades
We are honoured to be joined by Ngangkari (traditional healers) Rene Kulitja and Pantjiti Lewis from the Ngaanyatjarra Pitjantjatjara Yankunytjatjara Women's Council (NPYWC), in conversation with world-leading scholar, Professor Sandra Eades, University of Melbourne.
Join us for this panel discussion in which Professor Eades will converse with the Ngangkari (traditional healers) about their work and the importance of Indigenous practices to healthcare in Australia.
Image: Rene Kulitja
For Anangu, the Ngaanyatjarra, Pitjantjatjara and Yankunytjatjara people of the vast desert country that crosses the Northern Territory, South Australia and Western Australia, ngangkari means healer. Ngangkari are deeply rooted in the language, country, culture, tjukurpa of Anangu. Ngangkari have always been responsible for the health and well-being of Anangu, and their practice continues today, unchanged.
Anangu culture holds its own view of causation and recovery from physical and mental illness, and attributes many illnesses and emotional states to harmful elements in the Anangu spiritual world. Ngangkari are highly valued for their unique ability to protect and heal individuals and communities from this harm, no less so today than in the past, despite enormous changes in contemporary life. Today, Anangu believe that the best outcomes for health and well-being come from Ngangkari working together with Western medicine.
Speakers
Pantjiti Lewis
Pantjiti Imitjala Lewis, who grew up in Pukatja, is a traditional owner of Uluru and is a director of the Uluṟu-Kata Tjuṯa National Park Board of Management. She is a Ngangkari and also a long-term health worker at Nganampa Health clinic at Pukatja community in the APY Lands. Pantjiti has extensive practical knowledge and experience, working with both traditional and mainstream medicine. She is also an acclaimed artist, singer and dancer, and a member of the NPYWC Uti Kulintjaku team.
Rene Kulitja
Rene was born in Pukatja and grew up in the APY Lands in the far northwest of South Australia.
When Uluṟu-Kata Tjuṯa National Park was handed back to traditional owners in 1985, she moved to Muṯitjulu with her family to work in tourism. As a traditional owner for Uluru-Kata Tujta National Park, she has welcomed many dignitaries to Uluru, including Prince William and Princess Kate.
Rene is well-known as an artist; she attributes her passion to her parents, Walter Pukutiwara, and Topsy Tjulyata, both acclaimed wood carvers and founders of Maruku Arts. Her most famous design would be 'Yananyi Dreaming', which covers a Qantas Boeing 737. She was a founding director of Walkatjara Arts at Uluru and is chairperson of Maruku Arts Governing Committee. In 2015, she represented Tjanpi Desert Weavers at the 2015 Venice Biennale.
Rene has been a member of both the Muṯitjulu Community Council and sits on the Board of Management of Uluru-Kata Tjuta National Park.  
As a community advocate, Rene has campaigned to address the issues of petrol sniffing in Aboriginal communities in Central Australia. More recently, in 2015 Rene was instrumental in advocating and seeking an increase in Renal Dialysis machines in NPY Communities, as well as seeking corporate sponsorship for Women's Only Law and Culture meetings, driven through the Larapinta Extreme Trail fundraiser.
In recent years, Rene joined the Central Australian Aboriginal Women's Choir (CAAWC). As well as performing in Central Australia, the choir toured Germany in 2016 and the United States in 2018. Rene is a director of NPY Women's Council and a member of the Uti Kulintjaku team
Professor Sandra Eades
Professor Sandra Eades is a Noongar woman from Mount Barker, Western Australia. She is Associate Dean (Indigenous) of the Faculty of Medicine, Dentistry and Health Sciences, University of Melbourne.
In 2003, Professor Eades became Australia's first Aboriginal medical doctor to be awarded a Doctorate of Philosophy. Her PhD investigated the causal pathways and determinants of health amongst Aboriginal infants in the first year of life.
Professor Eades was named NSW Woman of the Year 2006 in recognition of her research contributions to Aboriginal communities. She also received a 'Deadly Award' (National Aboriginal and Torres Strait Islander Awards) for Outstanding Achievement in Health.
Over the past decade, she has made substantial contributions to the area of Aboriginal health and has provided leadership at a national level in Aboriginal research. Both Indigenous and non-Indigenous colleagues acknowledge Professor Eades as a leader and role model in Indigenous health research.
About the NPYWC Ngangkari Program and NPY Women's Council
The NPYWC Ngangkari Program is a dynamic group of Ngangkari who are also highly respected artists, teachers and health workers. As well as applying their traditional skills as healers in their communities, they provide advice to Indigenous and non-Indigenous people outside their communities, using their extensive knowledge of culture and family.
The NPY Women's Council (NPYWC) is a service delivery, advocacy and support organisation created by Anangu women from the 28 remote communities in the tri-state border region of the Northern Territory, South Australia and Western Australia. The NPYWC delivers a range of services and programmes working with Anangu to improve their health, well-being and safety, as well as supporting ongoing cultural practice.     
In partnership with