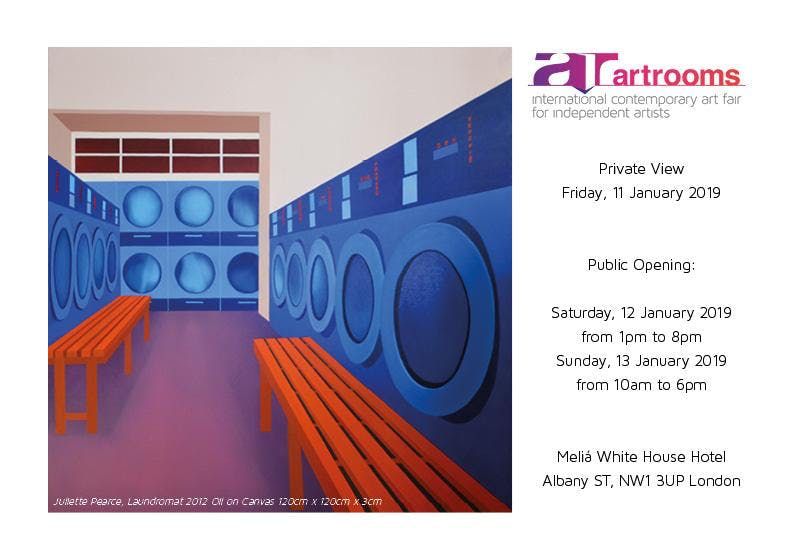 Meliã White House, Albany St., London, United Kingdom
ARTROOMS
Spread the word
Artrooms Fair London 2019
The International Conteporary Art Fair for Independent Artists
The Fair will run from 11th-13th January 2019 at Melia White House, London, NW1 3UP, UK
"The Artrooms concept turned out to be really unique. It seemed like wandering through a maze." - The BBC
Standard Ticket:
– £ 15 online     – £18 at the door
Opening Hours:
Saturday, 12th January 2019 1-8pm – Open to the Public TBC – Talks – Michael Barnett presents "In Bed with the Artists" Room 149
Sunday, 13th January 2019 10am-6pm – Open to the Public
Artrooms Fair London 2019
Running from the 11th to the 13th of January 2019 at the Meliá White House Hotel, in Regent's Park, the Artrooma Fair comprises 70 selected Artists plus Guest Artists from several countries across Europe, Canada, USA, South America, Far East and Australia.
Attracting leading galleries, collectors, curators, critics and art dealers, ARTROOMS Fair is the premier show for independent artists looking to enter the London Art Market. ARTROOMS Fair offers an innovative platform to support and to nurture the artist career. Each artist gets the unique opportunity to transform one room into their own creative space and turn it into a unique and intimate environment to showcase their work.
Visitors get the chance to meet the person behind the work and buy art on scene, while art galleries seem to have found a hunting ground for scouting unrepresented talents.