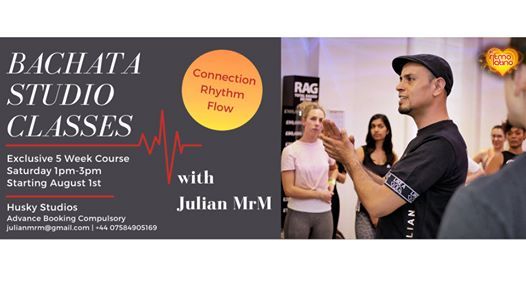 Husky Studios, 29A Amelia Street, SE17 3PY London, UK, London, United Kingdom
Ritmo Latino London
Spread the word
Julian Mr M's Bachata Solo Challenge
Footwork and Technique Dance Classes at Husky Studios London
Every Saturday in August from 1pm till 3pm
Saturday 1st August 2020
Saturday 8th August 2020
Saturday 15th August 2020
Saturday 22nd August 2020
Saturday 29th August 2020
ABOUT THE COURSE
* 5 Weeks Bachata Dance work for individuals who want to learn, improve and master the beauty of Bachata.
* Over 100 different steps to apply to Bachata Music with combinations and different Levels to appeal to Bachateros that want to add more style, fun and technique to their dancing.
* You will learn 1 of three different footwork choreographies and how to apply them either as a follower or a leader (for when we come back to doing Partner work.
APPLICABLE DANCE CONCEPTS
* Applied Musicality
* Bachata Footwork Combination
* Body as an Instrument
* Dance Technique that applies to all styles
PRICE:
EARLY BIRD: £55 or £5.50p/hour before Tuesday 28th July 2020
FULL PRICE: £80 or £8/hour Payment accepted only until:
Friday 31st July 2020.
ADVANCED BOOKING IS COMPULSORY
The course will be one of the most fulfilling courses you will ever take in Bachata with a comprehensive and extremely structured dance syllabus aimed at making you the best Bachata dancer you can be.
This is the syllabus that have taught hundreds of great students both nationally and internationally as well as the syllabus from which some of the best Bachata teachers in London still use and have learnt from.
This is Julian Mr M's Ritmo Latino London Bachata Syllabus.
The syllabus breaks down all the instruments in Bachata and puts music theory into danceable elements.
Breakdown of Week by week Learning will be provided once you make the payment.
WEEK 1: SATURDAY 1st of AUGUST: CONTENT AVAILABLE ON PAYMENT
WEEK 2: SATURDAY 8th AUGUST: CONTENT AVAILABLE ON PAYMENT
WEEK 3: SATURDAY 15th AUGUST: CONTENT AVAILABLE ON PAYMENT
WEEK 4: SATURDAY 22nd AUGUST: CONTENT AVAILABLE ON PAYMENT
WEEK 5: SATURDAY 29th AUGUST: CONTENT AVAILABLE ON PAYMENT
All classes will be available to watch again with clear instruction after class and will be available for 1 week after course has finished on easily accessed website.
ALL COVID-19 POLICIES AND SAFE PRACTICES WILL BE MAINTAINED, OBSERVED AND ENFORCED DURING THE CLASSES
PLEASE TAKE A MINUTE TO READ THROUGH ALL OF THE GENERAL CLASS POLICIES, THE STUDIO POLICY AS WELL AS GOVERNMENT GUIDELINES AND ADVICE.
As gyms and Dance Studios are allowed to open again after being on lockdown for almost 5month, It has come as a relieve to be able to make arrangements to begin Dance lessons nationwide from the 25th of July 2020 with strict guidelines to keep everyone attending or working as safe as they possibly can be in an environment that has safety as the prime focus of its activities.
* Pre Booking Only event: Booking closes as soon as 25 people have been reached or by 31st July 2020, whichever is sooner
* Only 29 people allowed in the studio at any one time
* Studio attendance lowered from 70 to 30 people as agreed numbers to maintain safe pace between dancers
* Masks are compulsory anywhere in the studio
* Please try to reduce the amount of time you spend on public transport prior to coming to workshops.
* Track and Trace system will be put in place and enforced by the Dance Studio
* All Dancers will be encouraged to Wash hand and Hand Sanitised at regular intervals. Hand sanitising stations will be available throughout the Dance Studio.
* Social Distancing is required in conjunction to the wearing of masks
* Every Dancer can expected to have at least 2meters in all directions free for movement.
* Signage is to be respect all across your stay in the workshop and dance studio.
* Partnered Dancing is strictly not allowed.
* Workshops are only individual training and technique work
* Only selected Dance teachers of Ritmo Latino London and the workshop participants on the List of Attendees will be allowed into the studio. Please do not bring any friends and do not turn up if you have not pre booked the workshops.
* Please do not attend if you are under the vulnerable persons box
* Temperature checks upon entrance
* AIR MANAGEMENT FEATURES HEPA FILTRATION. (The acronym HEPA stands for 'High-Efficiency Particulate Arresting', with HEPA filters forming a key part in each unit's air purification technology. These multi-layered HEPA filters are designed to remove viruses and bacteria from the air.)
* AntiViral wipes will be available at entrance and exit of workshop provided by Ritmo Latino London.
** GENERAL POLICIES FROM HUSKYS STUDIOS AGAINST COVID19
ZERO TOLERANCE
Husky Studios shall exercise a zero tolerance policy for any person who poses a risk to other users of the building by failing to comply with our Covid 19 policies and practices. Any person who fails to comply shall be required to leave the building immediately. Furthermore, Husky Studios reserves the right to cancel without refund (and with immediate effect) any booking where a hirer fails to comply with our policies and practices and/or to enforce on their participants such policies and practices.
NHS TRACK AND TRACE
The opening up of the economy following the COVID-19 outbreak is being supported by NHS Test and Trace. Husky Studios is assisting this service by keeping a temporary record of all attendees to the building for 21 days, and will assist NHS Test and Trace with requests for that data if needed. All hirers are required to provide a full list of attendees (via our website) in advance of each of their sessions. Regular weekly hirers must provide a list for each and every weekly session taking place during the current pandemic. Any person whose name does not appear on the provided list will not be admitted to Husky Studios. Templates for the lists will be provided and these will reflect the safe room capacity. The list must only include active participants involved with the hire. Spectators are not permitted in Husky Studios. Where the hire involves participants under the age of 18 and/or vulnerable persons, it is the hirer's responsibility to provide appropriate chaperoning and/or supervision and the hirer must ensure that they include the name of all chaperones and/or supervisors within the number of places permitted for the studio on the list.
HYGIENE
All attendees should wash their hands at home/work prior to leaving for Husky Studios. All persons entering Husky Studios must wear a face-mask and must sanitise their hands using the sanitising station on entry to the building. National guidance Husky Studios expects all hirers to follow guidelines issued by their activity's governing body. Individual national governing bodies will often provide specific guidance on how their sport/ activity can be played, undertaken or adapted to enable social distancing which must be followed.
NATIONAL GUIDANCE
Husky Studios expects all hirers to follow guidelines issued by their activity's governing body. Individual national governing bodies will often provide specific guidance on how their sport/ activity can be played, undertaken or adapted to enable social distancing which must be followed.
TO PREVENT AIRBORNE TRANSMISSION
FACE COVERINGS
Wearing of face masks is mandatory and a condition of entry to Husky Studios. Signage reflecting the above appears throughout Husky Studios Within the actual studios, face masks should be worn in compliance with recommendations issued by the governing body of the relevant activity.
Disposable masks will be available for purchase at reception at a cost of £5 each.
SOCIAL DISTANCING
Strict "one metre plus" social distancing is required in conjunction with the wearing of face masks.
Signage reflecting this appears throughout Husky Studios At tight pinch points in the building's corridors, customers and users who are entering Husky Studios or heading away from the entrance must give priority to those who are exiting the building or heading closer towards the exit and they must wait behind the clearly marked signage until it is clear to proceed further into the building.
Each studio now has a maximum capacity which is posted on each studio door Studio floors have been marked to allow 100 cubic feet per person for both social distancing and ventilation purposes.
Whenever speaking to other attendees in the studio, hirers must keep their music levels low enough so as to avoid the need to shout across the studio.
In order to avoid over-crowding in public areas:
1. Hirers and participants shall only be permitted to enter Husky Studios five (5) minutes prior to their start time.
2. Only hirers and participants in studio activities shall be permitted to enter Husky Studios. Spectators and waiting parents are prohibited from entering Husky Studios.
Entry to Husky Studios will be closely monitored using video entry system and internal CCTV.
A perspex screen has been installed in the reception office between reception staff and customers
TO PREVENT TRANSMISSION THROUGH CONTACT
Govt. Statement "Primary control for minimising transmission through contact is through sufficiently frequent handwashing/sanitising and avoiding sharing of objects"
Our basic principle re physical objects is : clean/sanitise before each use.
Husky Studios shall provide hand sanitiser at point of entry. It is mandatory for all persons entering the building to use this.
Bathrooms are all provided with anti-bacterial hand wash in wall mounted dispensors.
All persons entering the studios should bring hand sanitiser with them. Doors within corridors are locked open to avoid the need to touch.
After initial entry at the commencement of a booking, users should, as much as possible, refrain from using the studio doors until the conclusion of the booking.
All users are prohibited from touching light switches Sound systems in our dance studios have been reconfigured for wireless "touch-free" bluetooth connection, to be controlled solely from the hirer's personal music device.
Power sockets are available only for the use of hirers. Hirers must only plug in items that have a current PAT test certificate.
We have removed all furniture items from studios and corridors so as to minimise the number of touch surfaces. One chair will be provided in each studio.
Hirers should use an anti-bacterial wipe to disinfect/ clean this before use.
Wipes are available from reception upon request.
Use of trestle tables and additional chairs anywhere in the building will be by pre-arrangement only with a £5 administration fee to be charged for such usage.
Hirer must clean any additional furniture items they request before and after use. Husky Studios will provide the cleaning materials.
Ballet barres have been removed from use.
Signage to remind customers not to touch mirrors, other items and surfaces is posted throughout the building.
Users should not share any items with others, touch any items belonging to someone else and in particular should not drink from anybody else's water bottle.
Water bottle filling station Due to a lack of compliance pre-lockdown with customers drinking directly from the central water bottle filling station ignoring the large clear signage prohibiting them from doing so, this facility has now has been disabled to prevent any possible risk of mouth-to-tap contamination. Attendees should bring their own pre-filled labelled water bottles to the studios.
Bottled water is available for sale at reception.
Official UK Government advice
Visit the following links for official UK government advice on Coronavirus (COVID-19).
* Coronavirus (COVID-19): UK government response:
https://www.gov.uk/government/topical-events/coronavirus-covid-19-uk-government-response
* Stay at home: guidance for people with confirmed or possible coronavirus (COVID-19) infection:
https://www.gov.uk/government/publications/covid-19-stay-at-home-guidance/stay-at-homeguidance-for-people-with-confirmed-or-possible-coronavirus-covid-19-infection
* Overview – -Coronavirus (COVID-19):
https://www.nhs.uk/conditions/coronavirus-covid-19
/ S
https://www.gov.uk/guidance/meeting-people-from-outside-your-household-from-4-july
iCause.com promotes public events for free and helps event organizers connect with nonprofits to attract more participants like you.
Additionally, the iCause Global Foundation enables good people to fund great causes around the world. Together, our impacts are limitless!