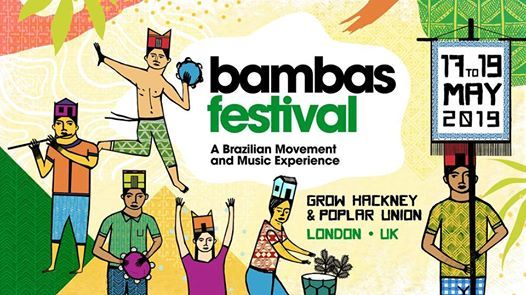 London, United Kingdom
Portal Abieié by Irineu Nogueira
Spread the word
Welcome to Bambas Festival 2019!
Abieié Dance by Irineu Nogueira and CRIA DA CASA Productions invite you to the 2nd edition of this unique Brazilian Movement & Music Festival in London, UK!
We are extremely excited to host a full weekend of workshops by world-class Brazilian masters.
8 DANCE WORKSHOPS
- Rosangela Silvestre: Silvestre Technique and Orixas Movements
- Irineu Nogueira: Abieié Afro-Brazilian Fusion and Samba Reggae
- Adriano Oliveira: Maculelê
- Mayara Santos: Samba no Pé and Samba de Passista
- All Teachers: Roda de Bambas // mix of styles of Sambas, Afro and Maculelê
Live Music by Alysson Bruno, Wagner do Groove, Mac Dendê and Jon Hardeman & Bristol Group.
DRUMMING WORKSHOP // 2h
- Wagner do Groove and Mac Dende: Samba Reggae and Samba Afro Rhythms
TIMETABLE (subject to minor changes)
17/05 FRIDAY from 18:00 - 23:30 at Grow, Hackney
Bambas Festival Launch Party // Live Music & DJ // Free Entry
Pedro D-Lita on the decks and live music by Dendê Nation - London Samba-Reggae
18/05 SATURDAY from 10:00 - 20:00 at Poplar Union
Bambas Festival Day 1
10:00 - 11:00 Check In/Registration
11:00 - 12:30 Silvestre Technique with Rosangela Silvestre
12:30 - 14:00 Abieié Afro-Brazilian Fusion with Irineu Nogueira
14:00 - 15:30 Lunch Break*
15:30 - 16:30 Maculelê with Adriano Oliveira
17:00 - 18:30 Samba no Pé with Mayara Santos
18:30 - 20:00 Get together*
19/05 SUNDAY from 10:00 - 18:30 at Poplar Union
Bambas Festival Day 2
10:00 - 11:00 Check In/Registration
11:00 - 12:30 Symbology of Orixas with Rosangela Silvestre
12:30 - 14:00 Samba Reggae with Irineu Nogueira
14:00 - 15:30 Lunch Break*
15:30 - 17:00 Samba de Passista with Mayara Santos AND
15:30 - 17:30 Samba Reggae and Samba Afro Drumming Workshop with Wagner do Groove and Mac Dendê
17:30 - 18:30 Final Roda de Bambas with all teachers // mix of styles of Sambas, Afro and Maculelê.
*Traditional Food and Drinks available!
WORKSHOPS TICKETS
Full Weekend Dance Experience = 100 GBP + Eventbrite Fees
1 Day Dance Experience = 70 GBP + Eventbrite Fees
Samba Reggae & Samba Afro Workshops (Sunday) = 60 GBP + Eventbrite Fees
Visitors enjoy FREE access!
BOOKINGS via Eventbrite.
Bambas Festival T-Shirt // Pre-order NOW for £15 via Eventbrite
PRIVATE CLASSES WITH MAYARA SANTOS
Requirement: to be registered in at least one day at the Bambas Festival. Please get in touch with us to book your private training session! Book it via Eventbrite and send us an email to confirm your slot.
Availabilities:
Venues:
Grow Hackney // 98c Wallis Rd, London E9 5LN, UK
Poplar Union // 2 Cotall St, Poplar, London E14 6TL, UK
Follow us on:
Instagram: @bambasfestival // Facebook: Abieié by Irineu Nogueira
Get in touch:
bambasfestival | gmail ! com
// +44 (0)7720605126
BIOS
Rosangela Silvestre is choreographer, instructor, dancer and creator of the Silvestre Dance Technique. Native of Salvador, Bahia, Brazil, where she graduated with a Bachelor's Degree in Dance and post-graduated in choreography. She has researched dance and music in Brazil, India, Egypt, Senegal and Cuba as part of her ever-evolving and eclectic palette of movement. She acquired training in such diverse techniques as: Martha Graham, Limón, Horton, Floor Barre, Classic Ballet, Dunham Technique, and has experienced diverse dance expressions - such as Germany Theater Dance, Contemporary, Folkloric, as well as Traditional dances of Africa and other continents
Mayara Santos is very talented and dynamic dancer in Afro, Samba de Mulata, Samba de Gafieira, Street Jazz and Hip Hop. She is the creator of Samba Fitness, a training approach tailored to Carnaval musas as they get ready for the very demanding and high energy parades. Her inspiration for her Musa training was to provide support to those who, unlike her, were not raised in a samba environment and were not part of the Carnaval parades since childhood. The Brazilian Carnaval is a true passion for Mayara, and she was chosen 1ª Princesa of the São Paulo Carnaval Court in 2014.
Irineu Nogueira is a Brazilian artist and movement specialist based in London and Munich. Back in Brazil Irineu developed a respectful reputation in Samba and Afro-Brazilian dances which resulted in his own dance method named Abieié and in several masterclasses worldwide. Irineu has a Master Degree in Performance Design and Practice from Central Saint Martins/UAL; is a dance teacher at The Place London; and movement tutor for actors at the renowned Guildhall School of Drama & Music. He is the founder of Bloco Serafina Carnival group, Bambas Festival - An annual Brazilian Movement & Music Festival in London, VOA Dance Retreat - An annual dance trip to Brazil and International Samba Congress Europe.
Alysson Bruno is a phenomenal artist with a deep understanding of Candomblé. He has been working with Irineu Nogueira for the last 12 years and they have developed a special father, son connection as well as inspiring, creating and composing works together. Alysson was born and raised in the religion of Candomblé of the Ketu nation, Alysson began his training with the social and cultural organization Abaçai Cultura e Arte, led by one of Brazil's most prominent percussionists and researchers, Ari Colares. Alysson has considerable training and performance experience as a dancer, having worked with the Balé Folclórico of the state of São Paulo, the Nucleo Luiz Ferron Contemporary Dance Company, and Gumboot Dance Brasil. Alysson has worked as a musician with a variety of artists including Guga Stroeter and his Orquestra HB, Pepeu Gomes, Letierez Leite (also a musician of Rumpilezz), and world renowned artists Ilê Aiyê and Criolo. He currently plays with various bands in Brazil including; Alafia, Höröya, Batucada Tamarindo and Coletivo Roda Gigante. Alysson has played, composed, and performed with choreographer Irineu Nogueira. He is the main percussionist and composer with the choreographer and creator of the Silvestre Dance Technique, Rosangela Silvestre. Alysson has also worked as Musical Director for Canadian dance company Dance Migration's latest theatre production, Gaia and has composed for drumming group Baque de Bamba.
Pedro D-Lita, producer, brazilian, selecta (dj set) and director of the label B•Mundo (Music Art Concept)
Co-founder of Stereo Maracanã group with which he participated in many festivals in Brazil and Europe: Humaita pra Peixe (RJ-2003), Abril Pro Rock (PE-2003), Popkomm (2008) in Berlin, and with which he performed in various concert halls in Paris, London, Brussels and Amsterdam (2007 and 2008). Launching a cd "Combatente" under the label "Maianga" YB mixed in São Paulo. Mastering directed by Tom Coyne - Sterling Sound Studio in NYParticipation in British music compilations Brazilian, "Brazilian Beats" and "Essential Brazilian Flavas".