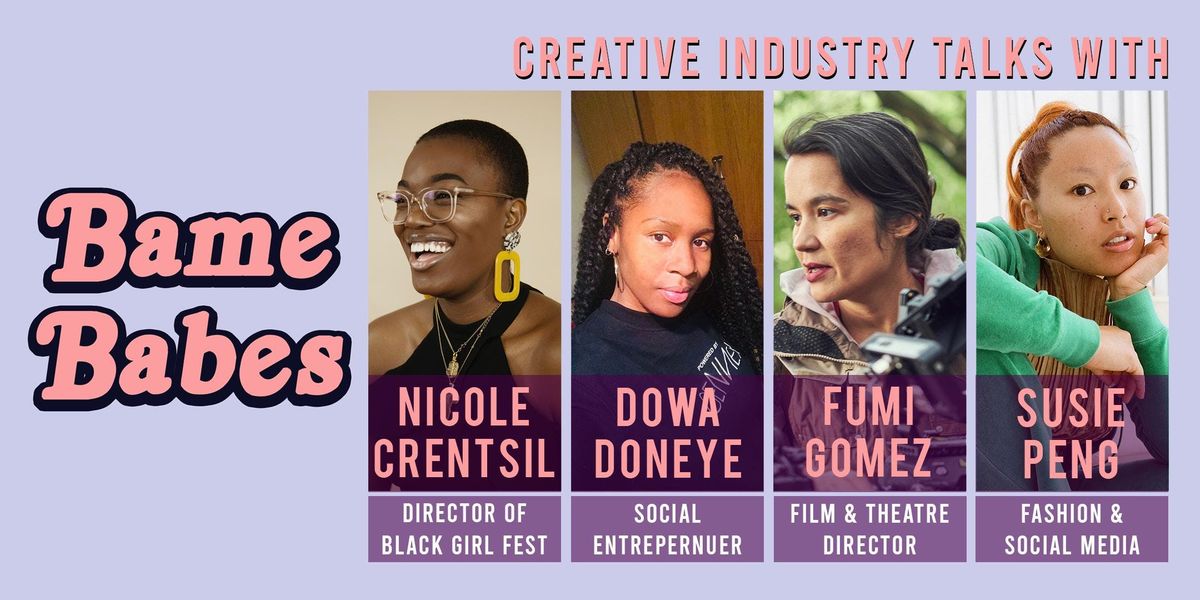 Karamel Restaurant - Mc Queen Entrance, 4 Coburg Rd, London, United Kingdom
Eventbrite
Spread the word
Who is this event for ?
BAME WOMEN (Black, Asian, Ethnic Minority) who are aged between 18- 35
BAME BABES TALKS is an event to hear firsthand from BAME women working the creative industries, how they got there and how you can use their experience to enhace your own.
BAME BABES TALKS is a space to meet like minded creatives.
Feel empowered and access support, advice and guidance.
An event created for Women to share their experiences and how they have navigated the creative industries.
Hear from
Nicole Crentsil - Curator, Arts Producer & Director of Black Girl Fest
Nicole Crentsil is a London-based Ghanaian born curator, cultural researcher, public speaker and arts producer. She's the founder of Unmasked Women, a TEDx speaker, host and freelance project manager and consultant.
https://www.blackgirlfest.com
/    
Dowa Doneye - Entrepaneur
Dowa has over 6 years experience traveling and researching the electrical power needs of developing countries. With a passion for international business strategy and human rights, Dowa co-founded renewable energy company GeNNex in 2013.  
https://gennex.co/
/>
She has recently co-created a UK based project which has been awarded funding from the National Lottery Heritage Fund. The project focuses on highlighting women of colour throughout London history'


https://www.theycamebeforeus.com/
/>
Fumi Gomez - Film and theatre director

Fumi Gomez is a freelance film and theatre director. She's worked in the performing arts industry for the past decade. She is co-founder of Horatio Productions, specialised in new writing for science fiction theatre and film.

She is heavily invested in theatre and film that speaks from a female, BAME, diverse, intersectional perspective, in a way that is clear, political and most importantly, entertaining.


https://www.scifitheatre.com/fumigomez
https://twitter.com/fumigoation
Susie Peng - Fashion e-commerce director, stylist, creative director, social media content creator
Susie Peng is a fashion e-commerce owner selling vintage clothes and accesories. A freelance producer and creative director for somehwere films. Susie also creates social media content for a heritage lottery funded project .
https://www.somewherefilms.com
/        @vintingss
BAME BABES TALKS ITINERY
1:30- Networking and drinks
2:00 Welcome 
2:10-20 Susie TALKS Power of Social media - 
2:30-40 Fumi Filmmaker TALKS Filmmaking -
- Break- (10 mins)
3:00-10 Dowa TALKS Entpernurship - 
3:20 - 3:50pm Nicole @blackgirlfest   &  Q&A
4:00 onwards - Drinks and networking in Karamel restarant
*****SAFE SPACE TO MEET LIKE MINDED INDIVDUALS IN FEEL REPRESENTED*****
Creating & taking up space in the creative industry 
Contact -
office | collage-arts ! org