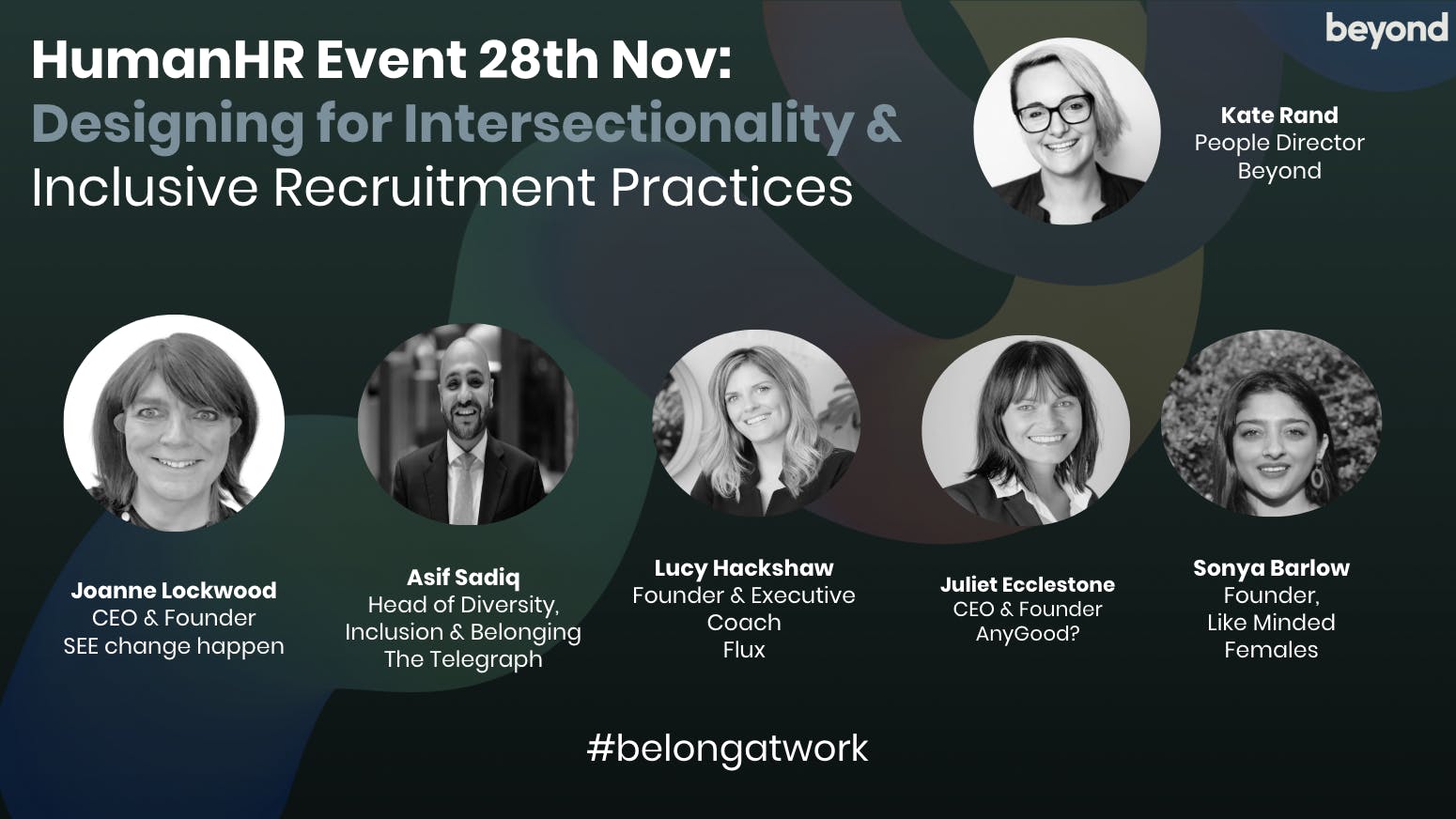 Beyond, 75 Bermondsey Street, London, United Kingdom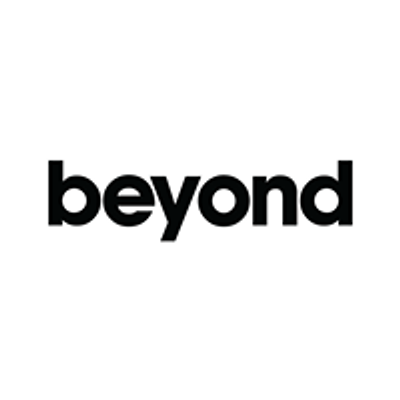 Beyond Digital
Spread the word
This will be our third meet up, and the final one for the year, so let's make it count!I'm excited to announce our topics, incredible panelists and insightful experts. There are still more to come, so watch this space!  
Topics for the evening
How to design people experiences & processes to integrate Intersectionality- Panel Talk  
Practical tips for designing an inclusive recruitment process- Expert speakers share case studies and practical take aways
Schedule:
Registration & Drinks 6-6:30
Introductions 6:30-6:45
Panel talk: Designing for Intersectionality 6:45-7:30
Facilitator
Kate Rand, People Director Beyond, Associate, AgileHR Community
Kate is an award-winning People Operations Director and certified Agile HR practitioner based at Beyond. Most recently she has been shortlisted for Best Resourcing & DI initiative by the CIPD, and won best D&I Strategy at the 2019 EE awards.
Kate regularly speaks at events on HR and business-related topics, including talks for the CIPD, CIMA and Unleash, producing content for publications including the Forbes HR council. She specialises in advising start-up and growth stage organizations on scaling their structure and people functions and is passionate about driving a progressive and transformational approach by focusing on organisational development, so that the sector can support the businesses of tomorrow in a human-centric way.
Panelists: 
Joanne Lockwood, CEO & Founder of SEE change happen
https://seechangehappen.co.uk
Joanne Lockwood is the founder and CEO of SEE Change Happen, an Equality Diversity & Inclusion practice specializing in providing Transgender Awareness and support to organizations and businesses.
Her mantra is Smile, Engage and Educate and she passionately believes that "people are people" and, no matter who they are, deserve to be treated with dignity and respect.
Asif Sadiq MBE, Head of Diversity, Inclusion & Belonging at The Telegraph
Asif is Head of Diversity, Inclusion & Belonging for The Telegraph. He was formerly the Head of Diversity and Inclusiveness for EY Financial Services and was also previously the Head of the Equality, Diversity and Human Rights Unit for the City of London Police. He is a Multi-Award Winning Diversity and Inclusion expert with a proven track record in achieving operational and strategic targets, managing quality, performance, risk and change through promoting equal opportunities and diverse cultures.  Asif has received a number of accolades for his professional and volunteering work that include the Mosaic (Prince's Trust) Award for mentoring and NAMP Multi Faith Award, Police Officer of the Year Award, the Civil Servant of the Year Award, the prestigious Asian Professional Award and the highly commended Head of Diversity Award at the European Diversity Awards. Asif was honoured in 2017 in the Queen's birthday honours list with an MBE for his services to Policing and the Communities and is a member of the HR Guild and is a Freeman of the City.
Lucy Hackshaw, Founder & Executive Coach at Flux
https://www.fluxfutures.com/
/>
A natural born leader, at 28 Lucy Hackshaw founded start-up creative agency, Seen Displays. After taking it from £0-£5m turnover inside four years, Lucy exited to invest in her next idea. Lucy's tenacity, resilience and desire to solve human problems led her to bridge a gap in leadership coaching. Powered by cutting-edge scientific research, Flux was born to coach leaders to optimise cognitive potential, thrive in uncertainty, and embrace the lightning pace of 21st century business. Underpinned by the value of citizenship, Flux welcomes and rewards curious, candid and compassionate leadership, fosters purpose, and builds inclusive communities. Passionate about social impact and inclusion, Lucy is working with HMPPS to design a bespoke coaching programme to provide those most vulnerable with access to tools and resources to safely explore an alternative way of being.


Sonya Barlow, Founder of Like Minded Females


https://www.likemindedfemales.com/
/>
Sonya Barlow is a Rising Star in technology and the Founder of Like Minded Females (LMF), a social enterprise to empower females and drive cultural change. In 2019, Sonya was able to give her TED talk on how we can use technology to build communities. Some of her awards include The Rising Star 2017 and UK tech business women of the year 2018 finalist PWC. Sonya has been published in the Metro newspaper and makes regular appearances on the BBC. Sonya believes in leading on opportunities globally to create a Tech community. This year, she will start a research PhD on the barriers for Females in Tech, with a focus on Ethnic Minorities, at the University of Bath in September. Her Instagram is @sonyabarlowuk and Linkedin 
https://www.linkedin.com/in/sonyabarlow/
/>
Break- networking & drinks 7:30-7:45

Second section: Practical tips for creating an inclusive recruitment process 7:45-8:30


Juliet Ecclestone, CEO & Co-Founder, AnyGood?

Case study Title: Inclusive Recruitment - Designing For the Extremes" 


https://anygood.com
Juliet is CEO and co-founder of the crowdsourced talent platform AnyGood?, a diverse network of professionals who recommend other professionals for roles. Juliet's background is in delivering large scale technology change programmes. After 20 years building high performing teams, Juliet's frustration with the process for hiring talent drove her to develop an alternative. AnyGood? launched in 2017 and now works with companies such as Aviva, Sony, easyJet, Whitbread as well as SME's and start-ups.
Expert Slots 2&3 TBD
Close and networking 8:30-9pm